Practical Buyers Guide to Choose

the Best Recumbent Trike For Seniors
Recumbent tricycles have been out on the roads in force over the past few years thanks to the wide range of advantages they offer over traditional bicycles.
Quick Answer : Best Recumbent Tricycles
Recumbent trikes can allow adults and seniors alike to ride more easily with less stress on the knee joints while also ensuring the stability that having only two wheels simply can't provide.
In This Article, We'll Explain Everything You Need To Know About How To Choose The Recumbent Tricycle And Review Five Of The Best Recumbent Trikes On The Market Today.


We hope you will love the products recommended here, FYI we may get a small share of the sale if you buy through our links and it will not affect product price in any way
Mobo Triton Pro Recumbent Tricycle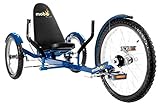 This modestly priced folding tricycle is perfect for both getting in a high-intensity cardio workout without putting a strain on the knee joints and simply getting around town. The recumbent trike is extremely stable thanks to its low center of gravity, a sturdy high-tension steel frame, and delta tricycle design that distributes the rider's weight evenly across the rear axle. The trike also has wide cruiser wheels that have good traction on most road surfaces.

What sets this tricycle apart is that the pedals are connected directly to the freewheel hub on the front wheel, which means that there is no chain as on most standard recumbent trikes. This means no chain or drivetrain maintenance, which can be a big advantage for those who want to get out and ride. However, it also means that there is no gearing for tackling hills.

This trike also has innovations in the frame and steering. The frame is extendable to fit riders of a wide variety of heights, which is ideal for riders who are typically in between frame sizes or share the trike with a friend or spouse. The trike also has intuitive rear wheel steering controlled by the handlebars similar to a steering wheel, which is easier than standard tricycle handling for many people.
Performer JC26X Recumbent Trike
This performance-focused recumbent trike from Performer is perfect for riders who are looking to expand their cycling range and get in a workout.The trike features a tadpole design with a rear suspension that maintains pedaling efficiency while also significantly dampening vibrations from shocks to the rear wheel. The frame itself is aluminum to provide a good balance between speed and durability.

The trike is built for fast riding through terrain with rolling hills, and as such has a nine-speed Shimano cassette and three-speed chainring to give you the most versatility in gearing for climbing and descending.
Also, the front wheels are each equipped with disc brakes to provide superior stopping power during descents or on wet roads. The wheels are relatively narrow to reduce rolling resistance, yet still plenty wide enough to ensure you'll have traction when making turns at speed.
Plus, the tires are puncture-resistant hybrid tires so your ride won't end in a flat.

The seat geometry on this trike can take some getting used to as it is very reclined, but this position allows you to deliver more power to the pedals with your legs. The bike comes with fenders over each wheel and a rear rack and dual-sided flat/clipless pedals.

Performer JC70 Recumbent Trike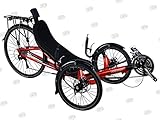 This recumbent trike from Performer is perfect for seniors looking to get a cardio workout without damaging their knees in the process. The seat is arranged in a very laid-back position, which can take some getting used to for riders who are used to more upright, recumbent bikes.
However, this relaxed position puts the minimum possible strain on your knee joints while still allowing you easy access to the handlebars for steering. The headrest also adds comfort to the seat, supporting your neck so that you can watch the road ahead as you ride.

The trike is built with medium-diameter hybrid wheels that provide an excellent balance between vibration reduction and fast riding. Also, both front wheels are equipped with disc brakes to provide rapid braking when needed – a big advantage when riding hills or in heavily trafficked inner cities.
Handling is easy using the prominent and grippy handlebars, which also have bar-end shifters and levers for controlling the disc brakes.
The trike's drivetrain uses mixed components to reduce the overall cost of the tricycle and includes a nine-speed rear cassette and three-speed front chainring to provide a range of 27 gears for tackling rolling hills.

Mobo Shift Recumbent Trike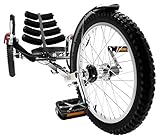 This burly and futuristic-looking recumbent trike from Mobo is designed to handle all situations and road surfaces, including dirt and gravel.

The trike features a solid shaft that is extendable to accommodate riders from just four feet tall to over six feet tall with ten sizing slots. Also, the seat has six different angles of adjustment to allow you to choose the riding angle that is most comfortable for your neck, back, and knees while still allowing you to efficiently pedal.
The seat design itself is intended to be comfortable by using six foam rollers instead of a standard seat back, but beware this seat construction can become painfully uncomfortable during longer rides.

The trike features extra-wide wheels with tires that straddle the line between hybrid tires and mountain bike tires to allow you to ride on uneven and bumpy surfaces without flatting.
The extra wheel width is particularly useful with the trike's rear-wheel steering, which allows you to make flawless turns in a steering wheel motion just like you would when driving a car.

What sets this trike apart is the ability to move in reverse. The trike does not have any traditional gears since the pedals are connected directly to the hub, which allows it to function without a chain.
However, it does have a bar-end shifter that reverses the direction of the drivetrain so that pedaling forward to allows the bike to move backward rather than forwards.

Trident Adult Recumbent Tricycle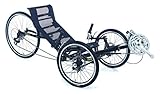 For riders who need a recumbent trike that can fold up for transport in a car or by public transit, there are few options better than this trike from Trident. The trike's frame is designed with a single latch that allows the front half to fold over the back half, drastically reducing the overall size of the trike when the rear wheel is removed as well.
Folding and unfolding takes under one minute, although it is worth noting that portaging the trike can still be somewhat difficult as it weighs nearly 80 pounds.

Whereas most other recumbent trikes opt for a solid seat, Trident chose to construct a highly breathable and flexible mesh seat that feels more like a hammock than a standard trike seat. The seat is highly reclined to reduce pressure on the knee joints but has a headrest so you can keep an eye on the road ahead.

The trike is also equipped with disc brakes on both of the front wheels and features extremely smooth handling thanks to the wide hybrid wheels and intuitive handlebar design.
The drivetrain has an eight-speed cassette and a three-speed front chainring, giving you a total of 24 gears to choose from for climbing and descending on hilly roads.

Advantages of a Recumbent Tricycle
---
There are many advantages to riding a recumbent trike as opposed to a traditional bike.

First, most riders find them much more comfortable and less likely to lead to overuse injuries. The comfortable, full-back seat found on recumbent trikes spreads your weight across much more of your body as opposed to just a tiny area sitting on a small bike seat.
Plus, the upright handlebars found on most recumbent trikes are more comfortable to hold for the majority of riders and cause less wrist pain since they resemble the grip you would have on a car's steering wheel.
Best of all, the reclined position of pedaling on recumbent trikes is far less likely to put pressure on your knee joints with each push and pull compared to pedaling on a standard bicycle.

Another important advantage to riding a recumbent trike is that having three wheels as opposed to just two adds stability. This can be a major help when riding on curvy roads, and tricycles with a single front wheel retain the tight turning radius of a bicycle.
Plus, the recumbent position puts your center of gravity very close to the ground, making it very difficult to roll the trike over even when riding fast.

How to Choose a Best Recumbent Tricycles
---
Tadpole vs. Delta Tricycles
There are two different types of recumbent tricycle designs – tadpole trikes, which have two small wheels in front and a larger wheel in the rear, and delta trikes, which have two small wheels in the rear and a larger wheel in the front.

Tadpole trikes offer a higher performance design since they place the rider lower to the ground in a position that feels akin to being in the cockpit of the trike. Thanks to this lower center of gravity, tadpole trikes are more aerodynamic and have more stability when cornering at high speed. However, tadpole trikes also turn using both front wheels, so they can have quite a large turning radius that makes them less maneuverable.

On the other hand, delta trikes have a slightly higher center of gravity, but since the turning is controlled by the single front wheel, they have a turning radius that is essentially just the length of the trike. This style of the tricycle is ideal for riders who value maneuverability over speed.

Seat
The seat is an extremely important component of every recumbent tricycle since it will determine how your back and neck are supported as well as how much pressure is placed on your knee joints when pedaling.

In general, a more upright seat position will feel more natural and will support your back and neck in a position that allows you to look ahead to where you're going. However, the more upright you are, the more pressure will be put on your knees with every turn of the pedal. As a result, many recumbent trikes opt for a more relaxed seat position with a pronounced headrest to support your head and allow you to look forward. Some trikes even offer a seat with an adjustable angle.

It's also important to consider the material of the seat since this can affect comfort. If you plan to ride during hot summer days, a solid seat that is not ventilated or breathable can quickly become soaked in sweat and leave you feeling gross. On the other hand, you'll need enough support behind your back to feel comfortable, so it may take some trial and error to find a seat style that works best for you.

Wheels
Most recumbent trikes are designed with two smaller wheels on an axle together and a third larger wheel. The larger wheel is good for lifting your body off the road slightly and placing the trike at an angle so you can see forward or more easily reach the pedals.

When evaluating recumbent trike wheels, think about what type of road surfaces you'll be riding on. Skinny road wheels with smooth tires will work well on recently paved asphalt but can be prone to bumping and flatting on rough roads with rocks and potholes.
Hybrid wheels tires are the standard on many recumbent trikes for a workout and getting around town because they offer relatively low rolling resistance while also being relatively durable. However, if you plan to travel off-road at any point, you'll want to look for a recumbent trike with wide wheels and heavily grooved or studded mountain bike tires that can handle the abuse of gravel and dirt.

Gearing
Recumbent trikes are available in a wide range of drivetrain configurations, from offering only a single speed to having a road bike-style cassette and front chainring with 20 speeds or more. The amount of gearing you need comes down to how and where you'll be riding. If you expect to find yourself in hilly terrain, having more gears gives you more options for doing your climb easier and your descent faster.

However, more gears aren't always better if you expect to be riding on mostly flat roads. Having multiple gears makes maintaining your tricycle's drivetrain vastly more time-consuming and expensive. Some single-speed delta trikes do away with the chain – and the maintenance that comes with it – altogether by mounting the pedals directly on the front wheel.

Accessories
One of the best ways to get more value out of a new recumbent trike purchase is to choose a trike that comes with accessories like fenders and a rear rack.
While these aren't strictly required for exercise cycling, they can improve the versatility of your new trike for activities like commuting and grocery shopping and make riding on wet roads more pleasant.
Also, remember that you'll need a flag to help yourself be seen by drivers and other cyclists when riding a recumbent trike.
A recumbent trike offers a fun way to cycle without putting a strain on your knees or suffering from the lack of balance and security that is a hallmark of two-wheeled bicycles. We feel the Performer JC26X recumbent trike is the overall best recumbent tricycle for the majority of cyclists thanks to its speedy tadpole design and wealth of features for the casual and advanced rider.
The tricycle is constructed from a lightweight, yet durable aluminum frame and can handle rides through hilly terrain thanks to the 27-speed drivetrain. Plus, while the wheels and tires are more resistant to punctures than true road tires, they are narrow enough to keep rolling resistance to a minimum.
Disc brakes ensure that you'll be able to stop in any condition, and the trike even comes with fenders on all three wheels and dual-sided flat/clipless pedals so you can ride with or without cycling-specific shoes.