Having the right cycling shoes can improve your performance on the bike and make your rides more comfortable. But, with so many shoes on the market, choosing the right pair for your ride can be tough.
In this guide, we'll explain everything you need to know about picking the best road bike shoes for your needs.
We'll also highlight Top 10 road bike shoes that are perfect for beginners, offer excellent value for your money, or maximize your performance.

Quick Answer: Road Bicycle
Shoe Reviews
Pearl iZUMi Men's Select Road V5 Cycling Shoe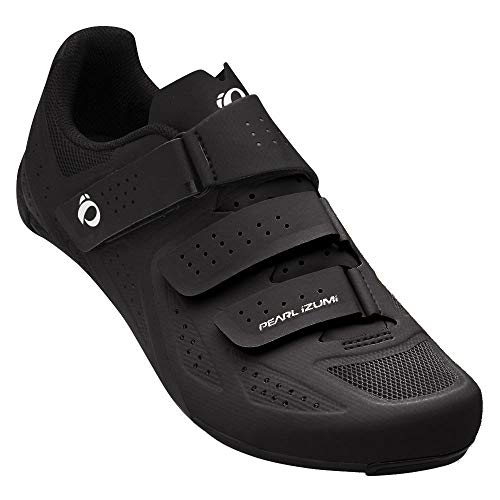 These cycling shoes from Pearl iZUMi are on the pricey side for a beginner, but they're built to grow with you as you become a stronger cyclist. The shoes feature a synthetic road sole and a SELECT 1:1 Composite Power Plate that maximizes the efficiency of power transfer from your legs to the pedals. This plate is made of nylon, so it's durable and lightweight without pushing the price of this shoe up too high.

The three-layer construction of the upper is another advantage to this shoe. It's highly breathable, with ventilation dots all over the shoe and a mesh covering over your toes. This is combined with three Velcro straps, which give you plenty of control over how tight you want your shoe over the length of your entire foot. However, beware that the straps are somewhat narrow, so they can lead to pressure points on longer rides.


Tommaso Strada 100 Road Touring Cycling Shoe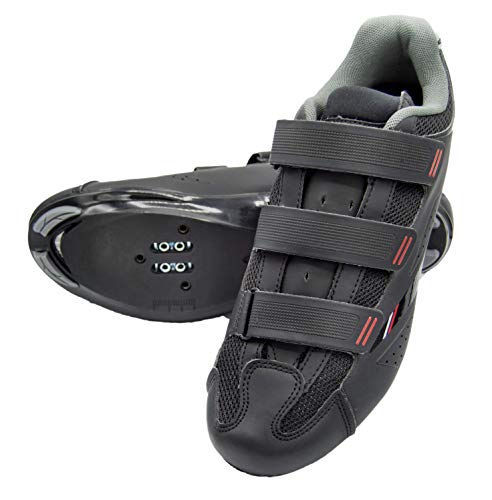 This entry-level road shoe is designed with beginners who spend a lot of time on the trainer in mind. You can buy just the shoe and order cleat separately, but Tommaso sells it with SPD cleats already attached. That makes it easy to use this bike shoe for spin bikes, a Peloton, or another bike trainer. More advanced cyclists who want to reduce wear on their carbon road shoes while training indoors during the winter may also like the Strada 100.

The shoe itself is relatively simple, as you'd expect from a beginner shoe. It features a fiberglass and nylon sole to provide reasonable efficiency, but it's not the stiffest or lightest road shoe on the market. The heel of the shoe is thickly padded, which is somewhat unusual for cycling shoes but increases comfort. It also doesn't take much away from the shoe's breath-ability, as much of the front of the upper is made of ventilating mesh.

The shoe's closure system consists of three simple Velcro straps. They're a little on the narrow side, but they get the job of allowing you plenty of room for adjustments done just fine.

Giro Apeckx II Cycling Shoe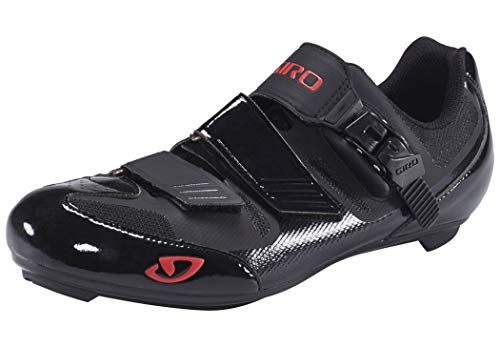 The Apeckx II road bike shoe from Giro is at the performance edge of beginner shoes. This shoe features a Zytel nylon sole that keeps weight to a minimum while ensuring that you'll have plenty of stiffness underfoot. The shoe weighs in a 275 grams, making it one of the lightest entry-level road shoes we've seen.

The closure system on this shoe is also worth your attention. The system uses two Velcro straps on the bottom of the shoe – which are designed wide enough that they won't cause pressure points – and a cinching buckle on the top of the shoe. This system doesn't distribute pressure on your foot evenly like a Boa closure, but it does let you fine-tune the toe box so your feet aren't crunched during long rides.

The one thing to watch out for with the Apeckx II is that Giro didn't leave room to use many different cleat types with it. The shoe's base only has bolts for a three-hole cleat. So, you'll have a tough time pairing this shoe with most bike trainers for wintertime rides indoors.

Fizik R5 Road Cycling Shoe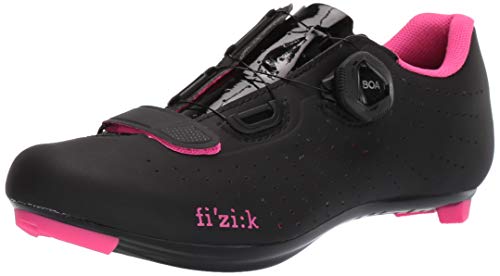 The R5 from Fizik is the company's all-around road cycling shoe, designed to blend comfort and efficiency for rides of any length. The shoe features a synthetic sole and a lightweight exterior construction. The shoe is a little bit thinner than some other entry-level road bike shoes, so it can wear through faster as well. But, this also means that its very breathable even though it lacks the obvious mesh panels you'll find on the uppers of most other road shoes.

One of the nice aspects of this shoe is that it comes with a Boa dial system so you can dial in the perfect pressure across your foot. Interestingly, inside the shell casing, there's a hidden Velcro strap that you can use to mold the upper more closely to your foot's contours. The sole also uses a composite carbon and nylon construction as opposed to just nylon, ensuring that this is one of the stiffest and most efficient beginner road bike shoes on the market.

Gavin Velo Road Bike Cycling Shoe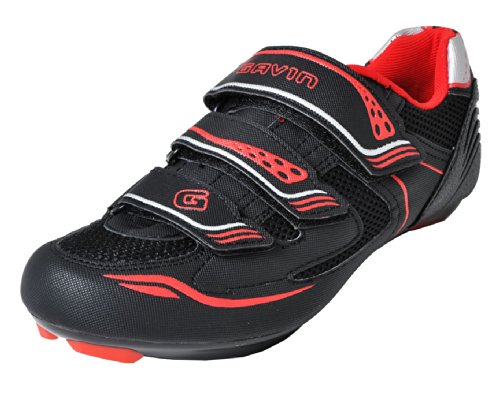 This basic and inexpensive road bike shoe is a great choice for many cyclists because it's designed for versatility. The shoe's base is constructed with bolts for either two-hole or three-hole cleats, meaning you can use this shoe with your existing pedal system or switch down the line without any problems. Many riders use these shoes interchangeably for spin bike rides and outdoor rides with different pedal systems.

The shoe is definitely on the heavy side, with a thick construction and a nylon and fiberglass sole. However, Gavin put extra effort into ensuring that the shoe is breathable. There are several mesh panels on the shoe's upper, including over the toe box, and the sole includes air flow vents under the arch of your foot.

Venzo Road Cycling Riding Shoes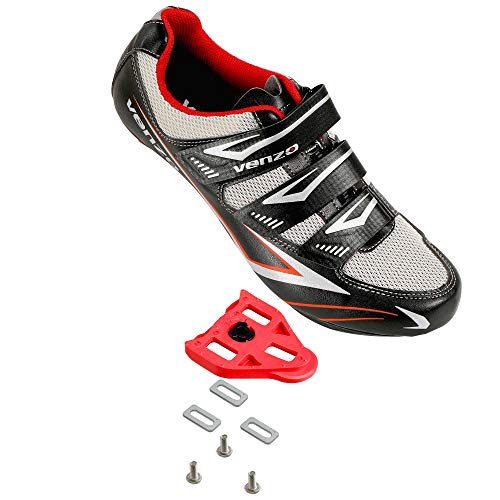 These cycling shoes from Venzo look – and feel – like tennis shoes more than cycling shoes. They're designed to maximize comfort around your feet and sport an extremely breathable upper that's almost entirely constructed of mesh. Between that and the removable sock liner, these shoes can dry very quickly after a sweaty workout and feel great against your skin if you prefer to ride without socks.

Helpfully, Venzo designed the soles of these road shoes to work with any two-hole or three-hole cleats. That makes them quite versatile, especially if you spend much of the winter riding on a Peloton or another trainer.

The nylon sole is a little more flexible than you might expect, so don't count on these shoes for maximizing performance. In addition, there's no getting around the weight of these shoes – they measure in at 586 grams, which is seriously weighty for road shoes. But, if you're looking for an all-around training shoe, the comfortable design has a lot to offer.

Shimano SH-RP1 Cycling Shoe
These lightweight and inexpensive road shoes from Shimano offer an attractive mix of features. They're extremely light and stiff thanks to a fiberglass-reinforced nylon sole and a relatively thin upper. The upper is dotted with ventilation holes and features mesh paneling around the toe box, so the shoes also do a nice job of promoting breathability.

The shoes don't have much padding on the inside, which may be good or bad depending on how long your typical ride is. Beware that the thin upper can definitely wear through if you frequently take these shoes on long outdoor rides.

Shimano went with a two-Velcro strap system rather than a three-strap system, so it can be a little hard to dial in the right pressure on the top of your foot. But, the straps are decently wide, which helps to ensure that you won't end up with painful pressure points. The shoes are compatible with both two-hole and three-hole cleats.
Giro Empire ACC Cycling Shoes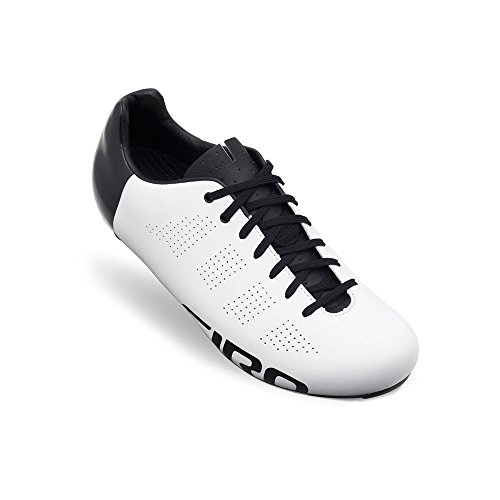 It doesn't get much more premium than these impressively fast shoes from Giro. They're sleekly designed to minimize air resistance while you're riding at top speed, constructed from a one-piece thin leather upper. All of the ventilation holes are along the side of the upper rather than the front to further reduce resistance, although this does mean that the shoe can build up heat in the toe box.

The closure system consists of a simple lace. While that may seem low-tech compared to Boa dials, it ensures that you can fine-tune the pressure around your foot easily. If you ride the shoes in the rain (or wet them before you go out), it makes it a bit easier to break in the leather upper to mold it to your foot.

As you'd expect from a high-performance road bike shoe, the Giro Empire ACC is extremely lightweight. It measures just 215 grams. The sole is constructed from super stiff Easton EC90 ACC carbon fiber, which is optimized for power transfer from your legs to the pedals with almost no loss of watts.

Sidi Men's Genius 7 MEGA Cycling Shoes
These high-performance shoes are ideal for long, fast rides. The Millennium 5 carbon sole is designed to maximize power transfer to the pedal by giving you a truly stiff base to push against. It's lightweight, and Sidi built the heel of this shoe with a widened cup to ensure that you have plenty of room to push yourself without creating friction.

The shoe's upper is made not from leather, as many other performance road bike shoes are, but from Microtech microfiber. It's a relatively rigid material without being uncomfortable, and its has the advantage of being water repellent for wet rides. But, this material is also somewhat heavier and less durable than leather, which takes away from these shoes for serious riders.

The closure system is also curious. It involves two Velcro straps and a ratchet closure, similar to the Giro Apeckx II. This is a nice closure system, but it's not quite what you'd expect on a high-end shoe. The system doesn't distribute pressure evenly across your foot, adds quite a bit of weight to the shoes, and isn't all that aerodynamic.
On the whole, this system makes it seem as if these are designed more as performance training shoes than race day cycling shoes.
Sidi Wire 2 Carbon Road Cycling Shoes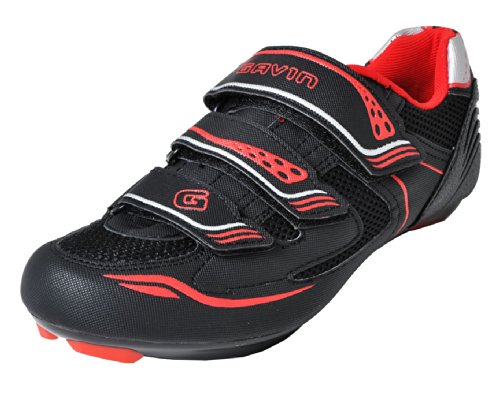 Sidi's Wire 2 carbon cycling shoes are more designed for racing than the company's Genius 7 MEGA shoes. This set of road bike shoes is lighter, more aerodynamic, and tighter fitting.

To start, this cycling shoe is built around a ventilated carbon sole that's exceptionally lightweight and ultra-rigid. Sidi also redesigned the typical heel cup the company uses in its performance cycling shoes to cut weight and allow for greater adjustment. As a result, you can completely eliminate heel lift when pedaling to get even more efficiency from your stroke.

The upper of this shoe is crafted from leather and offers a nice middle ground in thickness. One of the big changes that sets the Wire 2 shoes apart is the Boa dial system. Instead of the standard Boa dials, this closure system includes a push-dial adjuster on the top of the upper that you can use to fine-tune the distribution of pressure on the top and bottom half of the lace.
How to Choose the best road bike shoes

---
Here, we'll highlight some of the most important things you need to consider when picking a pair of best road cycling shoes and answer some common questions.
Sole
The first thing to look at when considering road bike shoes is the sole. This is where the rubber meets the road for a cycling shoe – or, more literally, where your foot meets the pedal. The stiffer the sole, the closer you'll get to transferring 100% of the power your leg produces into the pedal to drive the bike forward. The more flex your shoe's sole has, the more energy you'll waste bending the shoe around rather than pushing down on the pedal.

So, what makes a good sole? The material that the sole is made of is the most important factor. High-end, performance road bike shoes almost universally use a carbon sole. This material is extremely rigid. But, it's also expensive, so you won't see carbon soles on many entry-level shoes.

More beginner-friendly cyclists turn to shoes with nylon or fiberglass-reinforced nylon soles. These are still pretty stiff, to be sure, but they do flex a little bit more than a carbon fiber sole. Some shoes, like the Fizik R5, blend rigidity and price by combining nylon and carbon fiber in a composite sole.

Cleat System
After determining what sole type is best for you, you need to think about what types of cleats and pedals you're going to use. Road bike shoes may be compatible with two-hole cleat and pedal systems, three-hole cleat and pedal systems, or both.

There are various advantages and disadvantages to different pedal systems – cyclists are more than happy to debate whether Look pedals can earn you a few more watts than SPD-SL pedals, for example. I won't dive into which pedal system is right for you, but it's important to figure out what types of pedals you're planning to use before settling on a pair of shoes.

In general, most road cyclists use a three-hole cleat system. This is particularly common as you move into more performance-oriented road bike setups. However, two-hole cleats can be useful if you ride indoors on a trainer or a Peloton during the winter months. Most spin bikes use SPD pedals, which require two-hole SPD cleats. It may be worth investing in two pairs of bike shoes – one for your road bike and one for the spin bike – or you may prioritize versatility and opt for shoes that are compatible with both hole types.

Upper and Ventilation
The upper is the part of the shoe that surround the sides and top of your foot. Ideally, the upper of your shoe should tightly conform to your foot so that you can't lose power by having your foot shift around while pedaling. But, there are also considerations of comfort to take into account.

There's no single best upper design for every rider. The best thing you can do to figure out what styles of upper work for you is to try on many different shoes and see how they feel. Keep in mind that leather, which is popular in performance road cycling shoes, will take some time to break in, but eventually molds tightly to your feet.

The other important thing to think about when evaluating road cycling shoe uppers is ventilation. Many shoes have small ventilation holes distributed all around the upper to let heat and moisture escape from the shoe. But, it's a good idea to look for mesh paneling, as this provides a much greater surface area for air exchange. Make sure the toe box in particular is breathable, as this is a common area in cycling shoes where heat can build up.

Closure System
The closure system is important because it helps you distribute pressure from the top of your shoe evenly over the top of your foot. The different types of closure systems commonly used in road shoes tend to track with the prices of shoes.

Inexpensive, beginner-friendly road shoes often use Velcro. The reason is that it's easy and quick to adjust – you can even reach down from the saddle and loosen or tighten a strap without pausing your ride. Ratchet closures work similarly to Velcro straps, although they're even easier to adjust.

Unfortunately, Velcro and ratchet straps don't apply pressure evenly. You'll feel the most pressure right underneath the straps. As a result, Velcro can lead to pressure points over the course of long rides.

More premium cycling shoes tend to use Boa dials. These closure systems consist of a thin lace that connects to a dial at the top or side of the shoe. To tighten or loosen the shoe, you simply turn the dial. The advantage here is that the lace is pulled evenly up the length of the shoe, so pressure is distributed uniformly across your foot.

While traditional laces disappeared from shoes for a long time, they're starting to make a comeback on high-end shoes like the Giro Empire ACC . Laces are pretty low-tech, but their simplicity is also an advantage. It's easy to fine-tune the tightness of any part of the shoe to your liking. The only downside is that you can't easily fix an untied lace mid-ride, so you need to be confident in your knots.

Weight
As shoe manufacturers are combining all of the features above in a road shoe, there's one major consideration constantly hanging over them: weight. Since you're lifting your cycling shoe with every stroke of the pedals, weight is hugely important in efficiency and endurance. A difference of just a couple dozen grams can make an impact under high-performance or race conditions.

It's important to consider how important weight is to you when choosing a cycling shoe. Many beginner riders may not care about weight at all, while racers may be entirely focused on it. Just be sure that you're getting all the other features you need, since an uncomfortable cycling shoe is much worse than a heavy one.

Frequently Asked Questions
Do I need a pair of road cycling shoes?
You could ride your bike with standard tennis or running shoes. But, in doing so, you're really limiting the efficiency of your pedaling – and as a result, limiting the speed and distance that you can ride.

The importance of shoes is that they connect your feet to the pedals and provide a rigid base for your foot to press against. As a result, you can transfer much more of the power that your legs produce with each turn of the pedals into downward force on the pedals themselves. Without road cycling shoes, you can't press down with your whole foot and a lot of your power simply goes into bending your shoe's flexible sole downward.

Do road cycling shoes come with cleats?
Most road cycling shoes do not come with cleats. That's because the type of cleat you need will depend on what pedals you have on your bike. Some shoes, like the Tommaso Strada 100, can be purchased with cleats in a bundle. But, most of the time you have to find cleats separately from the shoes.
What's the difference between men's and women's road cycling shoes?
Most of the difference between men's and women's road bike shoes has to do with fit. Women's bike shoes tend to be narrower than men's shoes. But, if the shoes fit your feet comfortably, there's no reason why women can't wear road bike shoes labeled for men or vice versa.
While it was difficult to pick an overall favorite road cycling shoe, we liked the Giro Empire ACC shoe. The ridiculously streamlined one-piece leather upper demonstrates the level of design that went into this road shoe.
At the same time, the Easton EC90 ACC carbon fiber sole is incredibly lightweight and stiff for maximum power transfer. For beginners, we'd recommend the Fizik R5 cycling shoe. It's a little on the pricey side, but that shoe will grow with you as you become a better rider thanks to the composite sole.

Of course, we think any of the top 10 road cycling shoes we highlighted would be a great choice to step up your riding. With our road bike shoes reviews and guide, it's easy to find the best shoes to tackle any ride.