Best Adult Tricycle Reviews & Ratings
Adult tricycles are growing in popularity among people of all ages looking to get outside and for good reason. Tricycles offer the freedom of a bicycle with a ton of added stability and other welcome features.

Quick Answer : What is The Best Tricycle For Adults?
To make choosing the best adult tricycles easy for you, we've put together a guide of everything that sets winning tricycles apart from the pack and shows off our top 15 favorite best tricycles for adults.
If you're looking to buy an adult tricycles for the first time, the number of options can seem overwhelming.
But ultimately, choosing the best 3 wheel bikes for you boils down to thinking about how you plan to use it and, accordingly, what features are most important to you.
Our Top 5 best adult tricycles
Schwinn Meridian Adult Tricycle
Schwinn offers this adult tricycle as a single speed tricycle with 26-inch wheels on the front and rear. As long as you do not plan to ride over hills, the single speed is perfect for both exercise and riding around town and requires very little maintenance.
The frame is aluminum with a large step-through drop in front of the seat to make it easy to get on and off the trike.
The aluminum frame is speedy yet durable and comes in a variety of colors to help you brand the tricycle with your personal style.
The 26-inch wheels are not only on the large end for adult tricycle, which provides stability even when taking high turns at speed, but also feature thick tires to help cushion your ride from any bumps in the road.
The chain is covered with an aluminum housing, which makes maintenance difficult when required but also helps, along with the fenders included over each wheel, to keep you clean and dry in wet conditions.
Another added bonus is the included rear basket, which is large enough to carry multiple grocery bags and folds down when you are not using it.
The seat is reclined to give a laid-back position when riding, which somewhat detracts from the speed offered by the large wheel base and aluminum frame.
In addition, although the seat is plush, the actual shape can be somewhat uncomfortable to ride for extended distances.
Mantis Tri Rad adult Folding Tricycle
When storage space is a concern, a folding tricycle can be a great way to reduce the footprint of an adult trikes without having to revert to a bicycle.
This folding tricycle from mantis tri rad is designed so that the front half of the tricycle – the handlebar stem and front wheel – can be folded backwards towards the seat post in a matter of seconds using an easy to handle quick-release lever.
However, note that the rear wheels remain extended away from the tricycle's center, so it still does not fold up small enough to fit in most vehicles.
The tricycle itself is constructed of steel and also uses a steel front fork, which adds significant weight but is better at dampening vibration than an aluminum fork.
The drivetrain uses a single speed gear system, which reduces complexity and maintenance at little cost to flat riding.
Interestingly, the tricycle includes only a front caliper brake – although this is not unheard of among leisure bicycles, it does make for more jarring stops and requires practice to get control of the braking mechanism.
The seat post is somewhat relaxed, although it sits more forward than on other tricycles to give a nice balance between aggressive riding and comfort.
In addition, the seat is plush and wide to easily accommodate larger riders. One caution with this tricycle is that Mantis tends to have poor quality control on its manufacturing, and many of their units are shipped with severe assembly mistakes that can be costly to fix at a local bike shop.

Schwinn Meridian 24 Adult Tricycle
The Schwinn 24 is the little brother of the Meridian 26 and comes packed with many of the same features. The slightly smaller wheel size reduces top speed and stability by a little bit, but arguably offers the same great riding at a significantly reduced price.
In addition, the 24-inch wheels lead to a frame design that tends to be a better fit for women and shorter men than the 26-inch wheel frame. Like the 26-inch wheels, the 24-inch versions use a metal alloy rim that prioritizes speed over vibration dampening.
Although the spoke count remains unchanged between the 24 and 26 inch wheels, which means both will be plenty sturdy for carrying heavy groceries, the 24-inch tricycle also accelerates significantly faster than the 26-inch version because of its overall smaller size and lower weight.

Like on the 26 schwinn adult tricycle, It's designed with a sturdy and durable aluminum frame with a step-through opening in front of the seat to make getting on and off the tricycle easy.
The seat is significantly reclined and the handlebars are elongated and raised to allow you to reach up towards them while leaning backwards.
For adjust-ability, the handlebars can be adjusted through a 3-inch height range.

This adult tricycle comes with wrap-around fenders on each wheel as well as the same foldable metal rear basket found on the schwinn adult 26 that is perfect for carrying groceries and other items.
Raleigh Bikes 3-Speed Adult trike
A good alternative of Raleigh Bikes Tristar is Sixthreezero Hybrid adult trike with Rear Basket. (link)

Raleigh built a performance tricycle in their Tristar, but it comes with a hefty price tag – this tricycle costs nearly twice as much as the Meridian tricycles from Schwinn.
The frame and front fork are constructed fully of steel which, although heavy, is excellent at dampening vibrations through the frame.
A significant benefit to the frame, though, is that Raleigh offers a limited lifetime warranty on the frame to the original owner of the tricycle.
The design also features a step-through opening in front of the seat post to make it easy to hop on and off the tricycle.

Another nice touch to this tricycle is the internally geared 3-speed hub in the rear. This hub allows the tricycle to function seamlessly across three speeds, which opens up the possibility of ascending small hills.
Meanwhile, the internal gearing requires very little maintenance compared to a traditional rear cassette.
Shifting is easy to control from the handlebars without moving your hand from its natural position. The wheels on this tricycle differ in diameter between the front and rear.
The front wheel is 24 inches, while the rear wheels are each 20 inches. The difference allows the tricycle to be more stable when riding and especially when rounding corners at speed.
All three wheels have brakes, and the front brake is specially designed as a lockable parking brake.
Although the front wheel has a wrap-around fender, the rear wheels lack fenders – a significant inconvenience considering the price of the tricycle compared to its competitors.

Komodo Cycling 6-Speed Adult Tricycle
A good alternative of komodo tricycle is VANELL 7 Speed Three Wheel Trike with Large Size Basket for Women Men Shopping Exercise Recreation. (link)

This tricycle from Komodo Cycling may lack the style of the other tricycles in our review, but it makes up for it with 6-speed gearing for versatility when riding.
Although this tricycle is not designed for racing, having the ability to change gears makes this tricycle significantly easier to ride if you have large hills around your town.
The shifting is relatively seamless thanks to Shimano components, and because there is only one chainring on the front of the tricycle there is no need to worry about cross-chaining.
However, because of the presence of a rear derailleur, expect to spend some time maintaining the shifting system on this tricycle over time.

Another notable feature of this tricycle is that the seat features a backrest. The seat post is moderately reclined, so you may find the backrest to be a big boost to your comfort while riding if you suffer from lower back pain or struggle to sit upright in a reclined seat.
Although the seat could be wider, it does offer enough cushion to remain comfortable over moderately long rides.

The frame itself is steel and actually lacks a front fork, which gives this tricycle a squished appearance.
The lack of a front fork also means that there is a noticeable amount of vibration transferred from the front wheel to your hands, which can eventually cause pain on rough roads.

The tricycle comes with fenders on the front and rear wheels as well as a large metal basket that is perfect for carrying groceries.

In this section, we'll cover some of the basics of adult tricycles and the features that differentiate them
Advantages of Best adult tricycle
Why opt for a tricycle over a traditional bicycle?.............
There are a number of advantages to adult tricycle that make them better for several uses than their two-wheeled counterparts.
First, the third wheel on a tricycle offers a level of stability that no bicycle can match - a tricycle won't fall over when it stops moving! This means that tricycles offer a significant safety margin over bicycles, which many older people and even young adults who are uncomfortable around bicycles appreciate. It also means that balance is not a determining criteria of your ability to get out and ride, which levels the playing field for everyone.
Second, tricycles have a much higher weight limit than even the sturdiest of bicycles. This makes adult trikes perfect for people who would rather ride to the grocery store than drive - and they can easily be outfitted with accessories designed to help you carry your purchases around town.
Are tricycles really for adults?
Yes! Tricycles have a history of being used to introduce small children to riding before moving them onto a bicycle, but they've also been used for years by older adults who don't want to risk falling over on a bicycle but still want to ride.
Plus, as tricycles have become more streamlined and marketed for everyday riders, their usable range has grown more similar to that of a traditional bike.
Recumbent Trike is also good option for Adults. Here is our buyers guide to find the adult recumbent trike with reviews.
The main downsides with new adult tricycle models compared to a bicycle are that they take up more space in the garage and move a bit slower than their two-wheeled counterparts.
in that case, folding adult tricycle might help to save some space.

How to choose best adult tricycles
Purchasing an adult tricycle, just like buying a bicycle, involves making a lot of choices about the features that are important to you.
Many of these features in turn depend on how you intend to use the tricycle, whether for exercise riding, commuting, getting around town, or riding with the family.
Here, we'll cover some of the most important features to consider for different types of riding.
Adult Tricycle - Comfort
Comfort is a critical component of any bicycle or adult tricycle, but it is especially important for tricycles since these are typically for leisurely rides rather than racing.
However, comfort can be taken too far if you're still planning to use the tricycle primarily for exercise.
Leisure adult tricycle typically feature a plush seat and may have the seat set low and far back from the handlebars in a semi-reclined position.
In addition, some highly reclined trikes also have a backrest attached to the seat.
Although this reclined position is comfortable for getting around town, if you plan to take the tricycle out for long rides or to push your heart rate going uphill, a tricycle with a more aggressive and forward seat will help you transfer power to the pedals.

Adult Tricycle With Gears
6 speed adult tricycles are available in a variety of gearing configurations, with everything from fixed-gear to six-speed tricycles appearing on the roads.
Choosing the gearing that is right for you requires thinking about your intended use.
Having more speeds is great for workouts and going uphill, but also requires a lot more maintenance compared to single speed or fixed-gear bikes. The latter, however, struggle going uphill or downhill.
Adult Tricycle - Wheels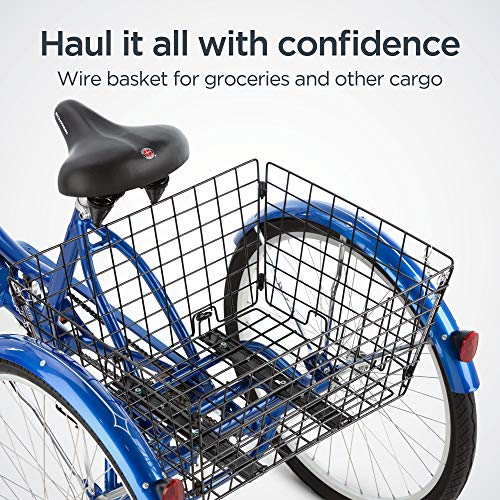 Unlike bicycles, which mostly use a single wheel size, tricycles vary widely in the diameter of the wheels they can handle.
Although wheel size alone doesn't relate to speed or effort, in combination with a set of gears it can determine how many times you need to pedal to move a certain distance.
For a given gear set, a smaller wheel will require more turns of the pedals to go the same distance compared to a larger wheel, but the pedals will also require less effort with each revolution.

In addition, not all tricycle wheels are made equally.
Some wheels come with thick inner walls to cushion your ride from bumps in the road, while others come with thinner wheel walls that tend to ride faster but don't dampen vibration as well.
Also keep an eye on the number of spokes in the wheels – having more spokes typically indicates that the wheels can handle more weight between the rider and baggage, but the spokes also add more weight capacity to the tricycle overall.

Adult Tricycle with Accessories
Accessories can be almost important to a tricycles usability as the tricycle itself.
If you plan to use your tricycle for commuting or for taking on shopping trips around town, look for tricycles that come with a storage basket or baggage rack built in.
Plus, front and rear fenders can save you from getting soaked if you live in an area that sees a lot of rain.
On the other hand, if you plan to ride primarily for exercise, these accessories can get in the way more than they help.
Adult Tricycle - Frame material
Most adult tricycles are constructed from either aluminum or steel, and there are some important differences between the two.
Steel frame tricycles are typically heavier, which translates to slower on the road, but can handle a greater load of rider and baggage and tend to be more durable in the event of crashes.
Aluminum frames are often lighter for faster rides and still provide excellent durability, but also tend to be more expensive.

Adult Tricycle - Maintenance
Thankfully, maintaining a tricycle doesn't require any special parts.
Most tricycles use the same components as bicycles, which means that it's easy to find anything you need at your local bike shop.
How difficult maintaining your particular tricycle will be comes down largely to whether you have multiple gears and shifting cables and caliper or disk brakes.
Now that you know what features to look for in an adult tricycle and have read our reviews of our five favorite tricycles, we can announce the clear winner of our round-up: the Schwinn Meridian 24.
Although similar to the Meridian 26, this model was significantly less expensive and the smaller size provided for better acceleration and offered a more comfortable fit for most women and many men under six feet tall.
The aluminum frame makes this tricycle lighter than some of its competitors, while the single-speed gearing obviates the need for time-consuming maintenance of shifting mechanisms.
However, the lack of shifting does present a problem if you live in a hilly area. Other features that set this tricycle apart were included wrap-around fenders on all wheels, a foldable metal carrying basket, and adjustable handlebars.
Altogether, these features make it easy to use this tricycle for a mix of riding for exercise and riding around town.