Detailed Guide to Choose the Best Electric Trike for Adult and Seniors
Electric tricycles make it extremely easy to get around by combining the stability of an adult tricycle with the speed and ease of a motor-assisted drive-train.
Quick Answer : Best Electric Tricycles
Electric tricycles are dramatically increasing in popularity thanks to the advantages they offer over traditional bicycles and tricycles and even electric-assisted bicycles.
In this article, we'll explain everything you need to know about how to choose the best electric tricycles for adults and highlight five of the Top electric trikes on the market right now.
We hope you will love the products recommended here, FYI we may get a small share of the sale if you buy through our links and it will not affect product price in any way
Electric Tricycle - reviews and recommendations
Addmotor Motan - Best All Road Electric Tricycle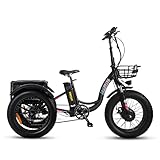 This high-end electric trike from Addmotor is designed to match the capabilities of electric-assisted mountain bikes, but with an added wheel for stability.

The most immediately noticeable feature of the trike is the set of oversized wheels, which are four inches wide for extremely stable handling and the ability to bound over potholes and trails without flatting or slipping. All three wheels feature a high spoke count to improve their durability, and the front wheel is equipped with a disc brake to improve stopping power.

The trike is further prepared for rough road and off-road travel thanks to a full suspension system on the front fork and spring below the seat, both of which serve to reduce vibrations. The frame itself is made from durable 6061 aluminum alloy to keep weight to a minimum while maximizing durability. The trike includes two hard plastic cargo boxes, one in front of the handlebars and the other on the rear of the frame, although neither is particularly large.

The trike features a 750-watt motor and a large, removable 48-volt battery that together provide it with a top speed of 23 miles per hour and a range of up to 55 miles in pedal assist mode. You can monitor the battery life, and your speed with a bright five-inch LED display built into the handlebars, and the twist-throttle is easy to control even when bumping down trails.

Emojo Fat Tire - Urban Electric Tricycle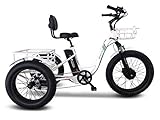 This stylish and capable electric trike for adults is ideal for urban commutes or moving groceries and other supplies around town.

The motor and battery on this trike are somewhat small, limiting the tricycle to a maximum speed of 15 miles per hour and an average range of only about 15 miles. That can be problematic for riders looking to commute from the suburbs into the city, but shouldn't be a problem for interurban riders or trips to the store.

To make up for the low range, RMB put a lot of thought into the pedal assist mechanism on this trike. The handlebars are outfitted with a twist-throttle mechanism that makes it easy to add or remove motor power with each pedal stroke. Also, the trike features only a single gear in a medium power range, and the ability to use the motor to get the tricycle moving makes this gearing choice comfortable for the majority of riders while keeping maintenance to a minimum.

The tricycle features hybrid wheels that are highly durable on potholed urban roads, although the small 20-inch size of the front wheel means that the trike can be somewhat swallowed by larger potholes. The front wheel does feature a disc brake to help with stopping the rather heavy frame of the trike.
Another nice design feature is that the frame uses a step-through design, which makes it easy to get on and off the trike at stops. The trike also offers a massive wire frame cargo rack that is very difficult to fill up.

E Wheels Power Trike - Folding Electric Tricycle
The E-Wheels electric trike is a great choice for anyone who wants to ride to the grocery store or tour around town. This trike is built for comfort first and foremost. It features a low step-through frame that makes it easy to get on and off the tricycle. The seat offers an oversized platform with a back attachment, so it feels more like sitting in a comfortable chair than on a tricycle.

We also liked that this trike comes ready for commuting and shopping. It features an absolutely enormous wire frame basket on the rear, plus another large basket in front of the handlebars. The total storage capacity is very large. In addition, the tricycle comes with an LED light on the handlebars, fenders over each of the wheels, and an electric horn to signal to other cyclists and traffic.

The downside to this bike is that it's really only suited for flat, paved roads. The wheels and tires are relatively narrow, so they have a hard time powering through grass along dirt trails. In addition, the steel frame is extremely heavy, so the 500-watt motor and battery can only do so much. This tricycle is limited to a top speed of 15 mph and a maximum distance of 20 miles per charge.
Rubicon 24 inch - Budget Electric Tricycle
The Rubicon electric tricycle is a premium trike with a lot to offer. To start, this bike is powered by a 500-watt motor and a 48-volt battery. Together, they give this bike the ability to cruise at speeds of up to 20 mph and a range of up to 35 miles on a single charge. In pedal assist mode, you can travel nearly 50 miles before running out of juice. Recharging is surprisingly quick too – it takes just under 6 hours from empty.

This bike is excellent if you plan to ride on bumpy roads or trails. It features a 24-inch fat tire in the front and two similarly fat tires in the rear. It's even suitable for riding on sand, which is a feat that few tricycles can pull off successfully. A disc brake on the front wheel and a front suspension fork increase your safety and comfort while riding along at high speeds.

This tricycle is also perfect for trips to the store. It has an oversized cargo basket mounted on the rear and another smaller basket mounted in front of the handlebars. Together, they provide an impressive amount of carrying capacity.

The whole tricycle is made with aluminum alloy instead of steel. While that makes it slightly less durable, it also keeps the weight to a scant 70 pounds. If you use pedal assist mode frequently, you'll be happy about how light this trike is.
Bintelli Trio - Electric Trike for Seniors

The Bintelli Trio is a capable electric tricycle suited to a wide range of commuters and urban tourists. The tricycle is made from an aluminum frame and features a step-through tube that makes it easy to mount and dismount. The seat is large and comfortable, but there's no backrest like on some other tricycles that fully put comfort first.

The bike comes outfitted with a number of features we're excited about. There are disc brakes on both rear wheels, which gives this bike excellent stopping power. That's good because the 500-watt motor is capable of propelling this tricycle at speeds of up to 20 mph. The trike also comes outfitted with accessories including fenders on all wheels, front and rear LED lights, and a water bottle cage.

One thing we didn't love is that Bintelli added wire tops to the front and rear baskets. While this could be useful if you're bouncing down a trail, it mostly serves to limit how much stuff you can store in the baskets. The wire tops aren't easily removable.

The range on this tricycle also isn't something to write home about. Depending on how much you use full-electric mode, you can expect to ride a maximum of 30 miles before the battery runs out. Thankfully, recharging takes less than six hours.
Fat Tire Recumbent Tricycle - Electric Trike for Seniors

This unique electric recumbent tricycle from Fat Tire is perfect for seniors who prefer the recumbent design to the standard tricycle because it puts less pressure on their knee joints when pedaling.

The trike is set up for speed – in addition to the standard 750-watt motor, there is an optional 1,200-watt model that offers speeds well above 20 miles per hour on smooth roads. The battery is quite large at 48 volts, but because of the large motor and heavy design of this trike, it is still limited to a range of fewer than 30 miles on a single charge when the pedal assist is activated.

The tricycle has massive, studded four-inch wide wheels that are perfect for blowing past potholes or taking the trike off-road. Both front wheels are equipped with disc brakes, giving this trike impressive stopping power. The seat is also extremely comfortable, albeit without any holes it can be quite warm in the summer months. Mirrors on both handlebars improve safety on this bike, especially since it may be hard for drivers to see it as it is so low to the ground.

Perhaps the biggest downside to this trike is that it is relatively short on cargo space. It lacks the cargo box found on most electric tricycles and instead has just a small rack on the rear of the frame for hanging pannier bags.
What is an Electric Tricycle?
---
Tricycles are ordinarily quite heavy, which can make pedaling them quickly using just your leg power or climbing hills difficult.

Electric tricycles modify the traditional tricycle design by adding an electric motor to the drive-train. That means that with each stroke of the pedals, the motor kicks in to give an added burst of power to your pedal stroke. You can also choose to ride the tricycle without pedaling at all, allowing the motor to do the work much like an electric scooter.

Electric tricycles are increasingly popular because they make it easy to get from point A to point B quickly even if your trike is loaded down with groceries or gear and regardless of whether there are small hills along the way.

Plus, the feeling of the electric motor on a tricycle is quite natural. In contrast to electric bicycles, which may have the motor attached to either the front wheel, the rear wheel, or the drivetrain, most electric tricycles have the motor attached to the drivetrain only.
This means that you won't feel as if you are being pulled or pushed forward by the motor, but rather just moving at a faster speed than you would under leg power alone.

What to Consider when Choosing an Electric Tricycle
---
You may be familiar with the features that are important to look at when choosing a standard adult tricycle, but several additional considerations go into finding the best electric tricycle.
Here, we'll explain some of the important electric-specific features that go into choosing the right electric trike for you.
Battery
One of the most important things to consider when choosing an electric tricycle is the battery. The batteries on most electric trikes are attached directly behind the seat, which allows them to be quite large, but battery life can still be a limiting factor in your ride. While some electric trikes offer ranges of up to 45 miles on a single charge in pedal-assist mode, others are limited to less than 20 miles per charge.

It is important to note that how you ride your trike will dramatically affect how long your battery will last. Using your trike as a scooter in fully electric mode will suck up much more battery power than using your electric motor to assist your pedaling.

Motor and Speed
The size of motors on electric tricycles can vary widely and, in conjunction with the weight of the tricycle, is the main determinant of each tricycle's top speed.

Most electric tricycles incorporate either 600-watt or 750-watt brushless motors, which are more quiet and efficient than older brushed motors and offer top speeds of 10-20 miles per hour. However, some tricycles come with more powerful motors up to 1200 watts that are capable of speeds in the range of 20-30 mph.

Throttle
Most electric tricycles do not have preset electric assistance levels like electric bicycles often do but rather use either a thumb-driven throttle or a twist-throttle built into the handlebar. Some riders find that the twist throttle is easier to control, especially when moving fast on bumpy roads.
Display
High-end electric tricycles may feature an LCD to provide information about your speed, battery usage, and remaining battery life. While this can be a helpful feature for monitoring and metering your battery use, especially during longer rides, it is not strictly necessary, and displays are not found on most electric tricycles.
Cargo Space
When evaluating electric tricycles, it's important to think about how you plan to use your tricycle – and whether you'll need a significant amount of cargo space.

For many riders, the advantage of switching to an electric adult tricycle is that it is easier to pedal quickly while carrying loads of groceries or other items around town. In that case, having one or more large cargo baskets to carry all of those items can make a big difference in whether your tricycle will be useful from day to day.

An electric tricycle is an excellent option for commuting, getting around town, or simply riding thanks to the ability to modulate an electric motor in conjunction with standard pedaling.

While the best electric trike for you depends on your needs, we feel the overall best adult electric tricycle is the Addmotor Motan Electric Tricycle. This motorized trike features a large 750-watt motor capable of speeds up to 23 miles per hour and offers an impressive range of up to 55 miles on a single battery charge.
The four-inch-wide tires allow this trike to comfortably travel on any roads or trails you would take a mountain bike on while ensuring that you'll have excellent handling the entire time.
The trike is equipped with a full front suspension and a spring-loaded seat so you won't suffer from extreme vibrations when heading off-road. We also appreciated the dual cargo boxes – although neither is particularly large, this gives you options for carrying your gear or groceries around town.
Overall, we felt that these features warranted the significant price of this trike and made it the best electric tricycle for adults on the market today.
Read our foldable adult tricycle guide.