Saris CycleOps M2 Overview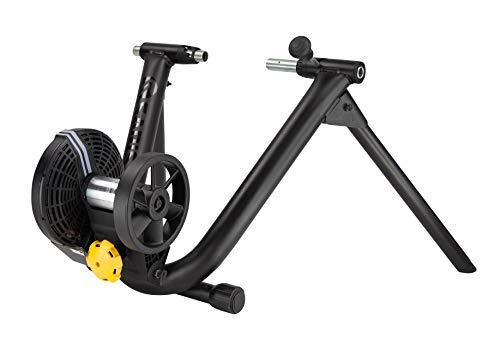 The CycleOps M2 from Saris is a budget-friendly smart trainer for cyclists who want to take their indoor riding to the next level. The fluid trainer is packed with features including built-in speed, cadence, and power sensors.
It also features Bluetooth and ANT+ connections to interface with Zwift, Rouvy, or another cycling app.

The biggest thing that separates this trainer from its more expensive counterparts is the lack of a built-in cassette. If you can live without that, the M2 is an incredible deal for a next-generation smart trainer.

So, is this the best trainer for your indoor cycling needs?
In our CycleOps M2 review, we'll cover everything you need to know to make a decision.

Why Use the CycleOps M2?
The CycleOps M2 trainer is perfect for indoor cycling. Whether the weather outside is bad or you just want to get off the road for a day, the M2 can deliver a high-quality workout.

Notably, the CycleOps M2 is a smart trainer, which opens up a lot of possibilities. This trainer can connect automatically to cycling apps like Zwift and Rouvy, allowing you to race against friends or train on a virtual mountain climb. It also includes speed, cadence and power sensors, so you can collect critical training data about your ride.

What features should you be looking for in a smart trainer?
Let's highlight the most important things:
Drive style

Noise

Compatibility with your bike

Maximum grade and power

Compatibility with cycling apps

Features
The bulk of our Saris CycleOps M2 review will focus on the features that define this indoor trainer. Before we get too far, though, it's worth noting that the M2 replaces the CycleOps Magnus, so you might want to check out this trainer if you were looking for a CycleOps Magnus review.
Drive Style, Resistance Unit, and Capabilities
The M2 is a turbo trainer with a fluid resistance unit. The fluid resistance is relatively quiet compared to a cheap magnetic trainer, but it's noticeably louder than a direct drive trainer.

Cycling at around 20 miles per hour, you can expect to produce 69 dB of noise - not quiet, but not excessively loud, either. Keep in mind that you can reduce the noise production by switching to a dedicated trainer tire. This will also save your rear tire from being worn away by the trainer cylinder.

Saris rates the CycleOps M2 for up to 1,500 watts of power output and simulated grades of up to 15%. While you could easily find a 15% hill climb in Zwift, very few cyclists will be able to produce or exceed 1,500 watts of power. So, you don't have to worry about the trainer overheating.
Connectivity and Cycling Apps
The M2 smart trainer comes with a number of features to help you get in a high-quality workout. To start, the trainer includes built-in speed, cadence, and power sensors. Saris claims the power meter is accurate to within 5%. This is a much wider range than most power meters you could add directly to your bike, but it's pretty good for a non-direct drive trainer.
The trainer connects to any ANT+ or Bluetooth-enabled device, like your computer, smartphone, or smartwatch, to record data. Importantly, you can use the CycleOps M2 trainer with cycling apps like Zwift and Rouvy. These apps can control your trainer through ANT+ or Bluetooth, so that the resistance changes automatically as you're going up or down a hill.

Another plus to the CycleOps M2 is that it comes with a free one-month subscription to Rouvy. This is a great chance to find out if using a cycling app can improve your training.

Bike Compatibility
The M2 trainer is compatible with a wide range of bikes, including road bikes, mountain bikes, and commuter bikes. It will fit wheels ranging from 26 to 29 inches, including 700c and 650b wheels. Your rear tire can be up to two inches wide, which might mean that some mountain bikes need a dedicated trainer tire.
One thing to keep an eye on is the clearance of your rear dropouts. The indoor trainer will work with 120 mm, 130 mm, and 135 mm dropout spacings, and Saris provides a quick release skewer that you can use with the trainer. If you have a thru-axle wheel with disc brakes, you will need an adapter from Saris. This is sold separately, but doesn't cost much.

The bike trainer itself offers self-leveling feet, which is a nice touch that makes it easier to set up. You can also easily adjust the pressure on the rear wheel using a simple clutch knob.

Disadvantages of the CycleOps M2
Of course, no Saris M2 review would be complete without looking at the things we didn't love about this trainer.
Thankfully, the list is relatively short:
Noise:

The Saris M2 isn't overly loud, but it does make a fair amount of noise for a trainer in this price range. If the noise is a problem, try switching to a dedicated trainer tire. You could also consider upgrading to a direct drive bike trainer.

No Riser Block: Saris doesn't provide a riser block for your front wheel. This isn't an expensive add-on, but it would be nice to have it arrive in the box with your trainer.

What Users are Saying about the CycleOps M2
We're not the only ones offering a Saris M2 smart trainer review.
Let's take a look at what riders have to say about this trainer:
Alternative Bike Trainers
If the Saris CycleOps M2 is out of your price range, don't worry. There are dozens of other high quality trainers or rollers on the market.

If you have a fair budget for a trainer but don't need the smart features that the M2 provides, we recommend the Saris CycleOps Fluid 2 trainer. This trainer is similar to the M2 in construction and offers a quiet fluid resistant unit. We especially liked that it's easy to set up and adjust, and like the M2 fits a very wide range of bikes.

For riders on a tighter budget, we've identified some of the best budget bike trainers. The Sportneer Fluid Trainer costs less than $200 and it's easy to use with any bike. It's a little bit louder than either the Saris Fluid 2 or the M2, but the noise difference isn't enough to cause a problem for most riders.

Conclusion
Our Saris CycleOps M2 review found that this is one of the best affordable smart trainers on the market today. It offers many of the same features as trainers that cost over $1,000, including ANT+ and Bluetooth connectivity along with power and speed sensing.

The main thing that separates this trainer from its pricier peers is that it uses a turbo fluid resistance unit rather than a direct drive. If you can live with a little bit more noise, though, we think the M2 trainer represents an incredible deal.