Best Bike Roller Reviews
Bike rollers are a valuable training tool when you can't ride outside. Whether the weather is bad or you just need some time off the road, a bike roller enables you to ride inside while still achieving a high quality workout and a smooth road feel. While bike rollers can take some time to get used to, they offer several advantages over stationary trainers.

Quick Answer : Best Bike Rollers
In this guide, we'll review five of the best cycling rollers on the market today and explain how to choose the best set of rollers for your indoor workout.
We hope you will love the products recommended here,FYI we may get a small share of the sale if you buy through our links and it will not affect product price in any way
Best Bike Roller Reviews
---
Feedback Sports Omnium Portable Trainer - Best for Beginners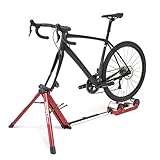 This unusual bike trainer from Feedback Sports is a cross between a stationary trainer and a roller system. The front fork is mounted to a stationary tripod, which means you don't have to worry about balancing the front wheel like you do on standard rollers. That makes this trainer significantly easier for beginners. Plus, the front mount works with whether your wheels have thru axles or quick release skewers.

The rear wheel sits on a set of internal progressive resistance rollers with simulate outdoor riding in the same way as standard rollers. The rollers are 4.25 inches in diameter and made with aluminum alloy drums, which makes for a smooth ride. The rollers are durable, so you can use this trainer everyday or for warm ups for races.

Since the front of your bike is stationary, there's no back and forth in the rear so the rollers are relatively narrow. The whole system folds up into itself and slides into an included tote bag, making it highly portable.
Elite Arion Mag Parabolic Rollers - Best Magnetic Rollers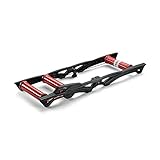 The Elite Arion digital smart rollers offer three magnetic resistance levels, which allows you to transition from warmup to intervals depending on your training goals. The only catch is that you have to get off the trainer to adjust the amount of resistance, although most riders won't be overly bothered by this. The resistance is controlled by a simple switch towards the center of the rear roller.

This trainer features parabolic shaped drums, which offer excellent ride control and a smooth experience. The rollers are extremely quiet and feel exactly like riding on freshly paved road. The drums themselves are made of nylon instead of metal, which allows them to grip your tires better while training. The rear roller is adjustable to fit most road bikes and mountain bikes.
Elite Arion Folding Rollers - Best Value Rollers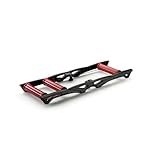 This set of rollers is a non-magnetic version of the Elite Arion Mag. It offers the same smooth experience and parabolic nylon drums, but without the adjustable resistance options. Many riders won't miss the resistance lever, making this a less expensive option for anyone who wants to get training right away.

This trainer is extremely lightweight thanks to the plastic frame and roller construction. It also folds in half for easy storage and transport, although it doesn't come with a tote bag like some other bike trainers.

One nice thing about this roller trainer is that it is compatible with some power and speed sensors like the Elite Misuro Blue+. While it's not quite the same as having a true smart trainer with Ant and Bluetooth Smart, you can pair this trainer with cycling apps like Zwift.
Tacx Antares Rollers - Best Portable Rollers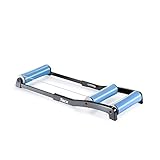 The Tacx Antares is a budget-friendly set of rollers that requires some coordination to ride on. This trainer uses conical rollers, which aren't especially easy to balance on if you're new to rollers. However, they do keep your wheels in the center of the Tacx rollers to provide additional resistance and help you build up your stabilizer muscles.

One thing we especially liked about the the Tacx Antares is that the front roller and rear roller spin at the same speed. This means that you're free to stop pedaling and sit up to rest for a minute in between intervals.

The rollers provide a quiet ride experience, and Tacx made a few other adjustments to make this trainer easier to use. The drums are made of sticky, durable plastic that grips your wheels, and the frame legs have end caps so you can adjust for uneven floors. The heavy duty steel frame is retractable so that you can easily stow away the trainer after use.
Rock Bros Rollers - Best Bike Rollers on a Budget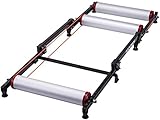 If you're looking for the best rollers on a budget, consider this trainer from Rock Bros. It costs around $120 and offers parabolic high quality parabolic rollers with internal progressive resistance. The resistance requires tools to adjust, unfortunately, since you need to tighten or loosen two nuts in order to change your ride experience. The rollers are also only three inches in diameter, so these rollers are best if you're looking for an easier workout.

The drums are made from high-strength aluminum and have sealed bearings that help cut down on noise while you're riding. Keep an eye on the rubber band that connects the front and rear roller, as this can wear down after a few months of use. However, it's a nice touch as it enables you to sit up and spin without pedaling.

Bike Rollers vs. Stationary Trainers
Many cyclists looking to train indoors for the first time have to choose between bike rollers and stationary trainers. Both can benefit your indoor cycling workouts, but they offer very different riding experiences.

Bike rollers typically offer a more road-like experience since your wheels are rolling just like they would on pavement. There's nothing holding your bike in place, and the frame can swing back and forth just like it would when training outside. The downside to this is that using rollers can be difficult at first. Many beginners need to practice in a doorway, where you can hold onto the walls for balance while you get the wheels up to speed.

Stationary trainers, on the other hand, fix your wheels in place. This makes them incredibly easy to ride because you can sit on the trainer without pedaling and you won't fall off. In fact, stationary trainers offer easier riding than cycling outside on the road. However, you won't feel as if you're riding on the road when using a stationary bike stand. You'll still get in a good workout, but you won't be using your stabilizer muscles much.

Another big difference between bike rollers and stationary trainers is cost. Bike rollers tend to be cheaper, although there are certainly more expensive models out there. The best rollers are typically under $500, whereas $500 is only enough to buy you a middle-of-the-road stationary trainer.

If you want to train with cycling apps, though, a stationary trainer is probably a better choice than rollers. You can add a power meter or speed sensor to some smart rollers, like the Elite Arion digital smart b trainer, but it's not always a seamless integration. Dedicated smart stationary trainers provide a better experience with apps such as Zwift and Trainer Road.
How to Choose the Best Bike Rollers
There are several things to consider when choosing a set of bike rollers.
Roller Style
The first thing to look at when selecting rollers is the shape of the drums. Flat rollers, which are perfectly cylindrical, are notoriously difficult to ride because there's nothing keeping your wheels in the center of the roller. Conical rollers are only slightly easier to use because they are tapered to push your wheel into the center of the drums.

Most riders prefer parabolic rollers, which are shaped both to keep your bike centered on the stand and to help you maintain balance while riding.
Some parabolic trainers also have a pulley system so that the front and rear rollers spin at the same rate. This allows you to stop pedaling without getting off the bike, so that you can rest in between intervals.

Progressive vs. Magnetic Resistance
Another thing to consider is what type of resistance system your rollers use. Progressive resistance rollers typically have a nut or screw that you can tighten or loosen to adjust the difficulty of your workout. Magnetic rollers have preset resistance levels that you can switch between while riding.

It's worth noting that all rollers will adjust resistance based on your bike's gears, too. So, you can increase or decrease the difficulty simply by shifting up or down. The larger the diameter of the rollers, the more difficult the base resistance level will be.
Portability
One of the best things about using rollers is that they're highly portable. Many rollers are able to fold up or retract for storage. If you plan to travel with your rollers for training, look for models that include a carrying case or have a built-in handle. It's also worth looking at the retracted size and weight of different models.
Conclusion
Rollers can be an invaluable training tool to help you workout indoors. Whether its poor weather, travel, or something else keeping you off the roads, rollers are easy to travel with and to set up anywhere. Plus, they offer a better road-like experience than stationary trainers and often cost hundreds of dollars less.

Ready to start training? Get one of the best bike rollers in 2021 today!