Best Budget Indoor Bike Trainer That Gives You Most Value
Unless you live somewhere that's warm and sunny all year (we're jealous!), the weather can be a major barrier to riding outside. In many areas, winter weather means snow and rain – which can force you off the roads for months at a time.

Quick Answer : Best Bike Trainer
Thankfully, bad weather doesn't mean you can't train. With the best indoor bike trainer, you can get in a bike workout indoors on your own schedule.
In this guide, we'll highlight the six best budget bike trainers on the market today and explain how to choose the right one for you.
"We hope you will love the products recommended Here, FYI we may get a small share of the sale if you buy through our links and it will not affect product price in any way"
6 Best Budget Bike Trainer
Sportneer Bike Trainer
Best Quiet Bike Trainer

This simple magnetic bike trainer offers a quiet ride, so you can listen to music or watch TV during your workout without cranking up the volume. The magnetic resistance trainer is built with a noise-reducing flywheel, which doesn't hum like most other trainers. The magnetic flywheel comes with a resistance cable, which you can dial between any of six settings to choose your intensity. The trainer comes with everything you need to start training, including a wheel skewer and a front wheel riser.
Yaheetech Fluid Bike Trainer
Best Budget Fluid Trainer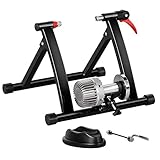 This fluid indoor bike trainer from Yaheetech works with your bike's cassette to provide resistance, so you can have as many as 11 different resistance levels. Although it can be a bit loud when you're spinning in your smallest cog, the turbo trainer is generally very quiet and spins smoothly.
The fluid-filled flywheel provides a more road-like feel than a typical magnetic flywheel, and you don't have to worry about it overheating when you ride hard. The trainer comes with a riser block and rear wheel skewer, so you can start training immediately.
BalanceFrom Bike Trainer
Best Manual Resistance Trainer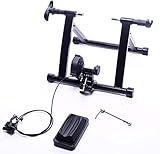 This inexpensive indoor bike trainer from BalanceFrom uses a magnetic flywheel that's relatively quiet and has a good road feel. The best thing about this trainer is that it has eight different resistance levels, which you can control with a cable that attaches to your handlebars.
Changing resistance levels is fast and smooth, and the range in intensity is wide enough for easy riding or hill interval training. Getting setup with the BalanceFrom trainer is easy thanks to the included skewer and the simple quick-release mechanism.
Sportneer Fluid Bicycle Trainer
Overall Best Budget Bike Trainer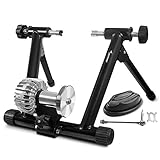 This bike trainer from Sportneer is the most expensive model on our list, but it's also the highest-quality trainer available under $200. It's comparable with the Kinetic Road Machine, which costs more than twice as much. Unlike most trainers, it's compatible with 29-inch mountain bikes as well as road bikes, and it works even if you have disc brakes.
The fluid-filled resistance unit offers superior road feel and is incredibly quiet even when you're working out at a high intensity. It also derives its resistance from your bike's drivetrain, so you don't have to worry about cables or preset resistance levels. The trainer is surprisingly compact and lightweight, which helps if you want to travel with it.
RAD Cycle Products Max Racer
Best Portable cycling Trainer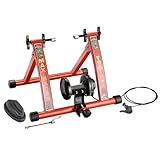 The Max Race from RAD Cycle Products is a small and lightweight bike trainer that's easy to move in and out of storage after each ride. The magnetic trainer uses a flywheel with seven progressive resistance levels, which you can control from your handlebars using the included cable and tension dial.
The flywheel is machined to mimic road feel through your pedal stroke, so this trainer is especially good if you are training for riding outdoors on the roads when the weather is nicer.
The Max Racer is specifically designed for bikes with a quick-release through-axle, so it won't work with all mountain bikes and many disc brake bikes.
Unisky Bike Trainer
Best Bike Trainer for a Tight Budget


This bike trainer from Unisky is one of the best indoor bike trainers if you don't have much to spend. It offers many of the same features as more expensive models.
It works with any road bike or mountain bike with wheels up to 700c and features a magnetic flywheel with resistance that adjusts according to your bike's gearing.
Locking your bike into the trainer can be a bit more difficult than with other indoor trainers since this stand uses a dual locking mechanism rather than a quick-release lever. The stand itself is made from high-carbon steel with rubber feet, so it's highly durable – if a little heavy.
How to Choose a Budget Bike Trainer

---
Picking out the best bike trainer for your indoor cycling needs can make a big difference in the quality of your workout. So, let's take a closer look at what you can expect from a budget trainer and what factors you should consider when selecting a model.
High-end vs. Budget Bike Trainers: What's the Difference?

The price range for indoor bike trainers can range from less than $100 to more than $1,000. Such a huge price range begs the question: are you really missing out on anything by opting for a budget bike trainer?

One of the key features that distinguishes affordable from expensive bike trainers is how much noise they make. Generally, as you move up the scale of bike trainer pricing, trainers tend to become much quieter – especially when you're working out at high intensity.

However, you can dramatically reduce your trainer's humming noise without paying hundreds of dollars more. If you're riding on a mountain or commuter bike, try switching your tires for thinner road tires. You can even just switch the rear tire, since all the noise comes from the trainer flywheel. The narrower and smoother your tires, the quieter your trainer ride will be.

Another thing you'll find if you're willing to spend more are direct drive trainers. A direct drive trainer doesn't place your rear wheel against a resistance unit. Instead, direct drive trainers have a cassette built-in that you connect your chain to. This type of trainer is a great upgrade for experienced cyclists who want a trainer experienced that mimics real world riding.

The other big difference between budget and high-end indoor bike trainers is that many pricey turbo trainers feature modern 'smart' features. For example, a smart trainer may be equipped with sensors to measure your power output and speed cadence.

Some smart trainers can even connect to training apps like Zwift over Ant and Bluetooth or Bluetooth smart. These indoor trainers will automatically change your resistance according to the workout, so you never have to worry about shifting gears. It makes for powerful indoor training sessions.

You can find smart trainers available from brand names like Kinetic, Wahoo, Kickr, and Saris, but they're not cheap. In fact, you won't find a smart trainer for less than $200. This category is dominated by non smart trainers.

You can still connect to Zwift, TrainerRoad, or another training app, though, by adding a power meter or speed sensor to your bike. You will still use Bluetooth and Ant to connect this power data to your training apps.

However, although you might want more data about your ride, none of these high-tech features are strictly necessary. You can get in just as good a indoor cycling workout on a cheap trainer as you can get on a much more expensive model.
Read about Best bike Rollers

What to Look for When Choosing a Bike Trainer
There are dozens of budget trainer models out there, so how do you choose the one that's right for you?
Be sure to check these key factors when picking out a new bike trainer:
Noise Level

Noise is one of the most common complaints that cyclists have about budget trainers. Some types of indoor, low-end trainers can be extremely loud – loud enough to bother your neighbors if you live in an apartment building.

Be sure to check how much noise a specific trainer puts out at maximum effort. A noise level less than 70-80 dB is typically acceptable. Fluid resistance trainers are typically the most quiet, followed by magnetic trainers, and wind resistance and fan trainers.

Resistance Levels
The number of resistance levels that you trainer offers is another important thing to consider when selecting a model. Most magnetic trainers have a preset number of resistance levels, which you can switch between using a tension cable that attaches to your handlebars. Look for at least six resistance levels to get a good workout in – more is better, since that means more intermediate intensities to spin at.

Most fluid trainers use your bike's gearing for resistance. So, the number of gears you have is equal to the number of speeds on your bike. This can be great for road bikes, but might be less ideal for commuter bikes that only have a few speeds available.
Size and Compatibility

Most bike trainers are designed to fit wheels from 26 to 28 inches in diameter, including 700c road wheels. That covers most bikes, including the vast majority of commuter bikes, touring bikes, and 26-inch and 27.5-inch mountain bike wheel sizes.
If you want to use a 29-inch mountain bike on a trainer, you'll need to find a model that can accept that wheel size.
Another thing to note is that most trainers require a simple quick release skewer to mount your bike on the
stand
. If you have disc brakes or a thru-axle fork, you might need to use a different bike with your trainer.
Durability
Most bike trainers are made with a steel frame, so you almost never have to worry about the frame breaking down on your over time.
However,
the flywheel construction and mounting mechanism can be more prone to failure.
Be sure to take a close look at what materials these are made out of. Also check reviews to see whether other cyclists have had problems with a specific trainer over several years of use.
Portability and Storage
Unless you have the luxury of having a dedicated space for your trainer, you're going to need to take it out and put it away at the beginning and end of every ride. So, how portable your trainer is and how easy it is to set up matter a lot.

Ideally, look for a trainer that can be put away simply by folding down the legs. This greatly reduces the size of the frame for storage. You shouldn't have to disassemble the trainer any further or take off the flywheel to put it away.

We think the Sportneer Fluid Bike Trainer is the overall best budget trainer for most cyclists. It fits almost any bike, including 29-inch mountain bikes, and the fluid flywheel offers a road feel that simply can't be beat for the price.
If you're on a tighter budget, the Yaheetech trainer is a more affordable fluid trainer that provides a similar road feel and produces relatively little noise.
With a quality bike trainer, you can get a great bike workout inside anytime the weather isn't cooperating with your training schedule.
Whether you're a serious cyclist training during the off-season or a recreationalist who just wants to stay in shape, a budget bike trainer can help you meet your goals.