CycleOps Fluid 2 Overview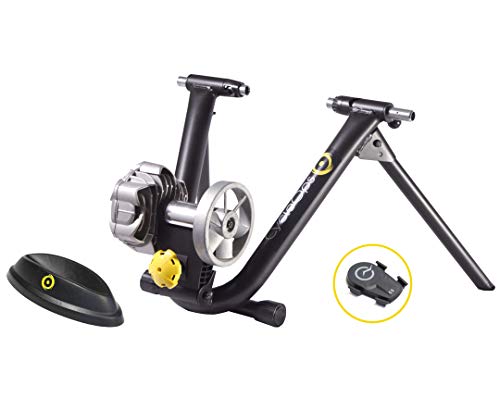 The CycleOps Fluid 2 from Saris is a high-quality bike trainer designed for road cyclists who want to gain fitness and speed indoors when the weather outside is poor. It can also be used more widely for spin workouts or for training indoors on a mountain bike or commuter bike.

Compared to some of its budget competitors, the CycleOps trainer is quieter and offers a more road-like feel. In addition, it works with your bike's gearing instead of using an external tension cable to modify the resistance.

In our CycleOps Fluid 2 review, we'll highlight the reasons why this trainer is a favorite among cyclists and help you decide whether it's right for you.

Why Use the CycleOps Fluid 2?
Cyclists frequently turn to bike trainers like the CycleOps Fluid 2 because the weather doesn't cooperate with your training schedule. When it's raining and windy outside, you can hop on your bike and get a quality workout in the comfort of your garage or living room.

This turbo trainer can also be useful if you simply need a break from riding on the road, which requires navigating traffic and riding over hills. Or, for commuters or mountain bikers who want to build strength, the CycleOps Fluid 2 trainer offers an opportunity for interval training. So, what do you need to consider when choosing a trainer?
Here are the top factors:
Compatibility with your bike

Noisiness

Resistance levels

Durability and portability

Features
Fluid Resistance Unit
To start, this indoor bike trainer uses a fluid resistance unit. The rear cylinder and flywheel are filled with a silicone-based material which becomes more viscous as it heats up. So the faster you spin, the more the flywheel resistance mechanism kicks into gear. The flywheel is self cooling, though, so it won't overheat.

Fluid resistance trainers are generally preferred by serious cyclists over magnetic resistance trainers for several reasons. First, they tend to be quieter, especially when you are spinning at high intensities and power.

Second, fluid resistance trainers have a road-like feel. If your goal is to train for getting outside, this smooth road-like feel makes your workout more transferrable from the trainer to the road.

Third, this trainer uses your bike's own drivetrain to control the resistance level during your ride. This design means that when you shift into a smaller cog or a larger front ring, the resistance you feel from the trainer increases. This is in contrast to other trainers that require a tension cable to adjust the resistance. You get to use your bike's shifters, which is more comfortable and doesn't require any extra hardware.

In addition, this means that the number of resistance levels you get with the CycleOps Fluid 2 is equal to the number of gears on your bike. So, most cyclists will have 20 or more resistance levels to choose from, compared to 10 or fewer with other bike trainers. That's a huge range of resistance.

Importantly, this style of trainer is much more stable compared to using a resistance roller trainer. Resistance roller trainers are difficult to get on and maintain balance on, especially for new cyclists.
Clutch Knob
When you attach your bike to the trainer, one key adjustment you need to make is how tightly the trainer cylinder is pressed against your rear tire. Too tight and you can ruin your tire. Too loose and your tire can slip when you pedal hard.

The CycleOps Fluid 2 makes it as easy as possible to get the rear wheel pressure just right. The trainer has a simple clutch knob, which you can tighten or loosen by hand. It may take a few sessions to figure out how many turns this clutch knob needs. But after that, it's extremely fast and easy to dial in the perfect wheel pressure every time.
Reduced Noise
The CycleOps Fluid 2 trainer produces between 64 and 68 dB of noise when riding at 20 mph. That's in the middle of the pack among fluid resistance trainers, but it's up to 100 times less noisy than most magnetic trainers. If you're wondering whether the CycleOps Fluid 2 is worth the money, keep in mind that a significant piece of what you're paying for is reduced noise at high cycling intensity. (You can also change to specially made trainer tires, available on Amazon, to reduce the noise further.
Durability and Portability
The rear cylinder and flywheel on the CycleOps Fluid 2 are made of 16-gauge steel that is virtually indestructible. The trainer's frame is made from steel too, with non-slip caps on the feet that help the trainer remained balanced when you're mounting and dismounting your bike. The only potential weak points are where plastic attaches to the steel, such as on the clutch knob and on the knobs for tightening the skewer mounts.

All that steel construction makes the CycleOps Fluid 2 somewhat heavy. In fact, it weighs over 18 pounds, so it can be a hassle to carry around your home. The plus side is that the legs of the frame fold down. This allows it to stow away relatively flat between rides.
Compatibility
This model is compatible with almost any bike that uses a standard quick-release skewer on your wheel. The trainer frame can handle 29-inch mountain bikes, which isn't the case for many competing trainers. Of course, it can also accept 700c road bikes and mountain and commuter bikes with wheel sizes as small as 26 inches in size. The trainer will work with any rear dropout spacing.

If your bike has a thru-axle, as is common on mountain bikes with disc brakes, Saris makes an adapter that allows you to use this trainer. This is another advantage to opting for the CycleOps Fluid 2, as most trainers won't work with thru-axle wheel designs.

Disadvantages of the CycleOps Fluid 2
Overall, there's not much to dislike about the CycleOps Fluid 2.
The biggest complaints we have about this product are:
No Wheel Riser: The CycleOps Fluid 2 doesn't come with a riser for your bike's front wheel, which is essential.

Without it, the front wheel will be lower than the rear. This adds to the final price of the trainer setup.

Expensive: The CycleOps Fluid 2 is notably more expensive than many budget trainers. If you don't train inside often, you may benefit from a cheaper trainer.

No leveling feet: You cannot use this trainer on uneven surfaces.

No smart features: This fluid trainer doesn't include an average speed sensor or power measurement.

What Users are Saying about the CycleOps Fluid 2
Cyclists have generally given the CycleOps Fluid 2 a very positive rating. Here's what some people are saying in customer reviews on the Saris website:
Alternative Bike Trainers
If the CycleOps Fluid 2 trainer doesn't quite offer the features you need or is out of your price range, don't worry. We know that there are plenty of great alternative bike trainer products that can help you get an indoor workout. In fact, we've recommended six of the best budget bike trainers before. Our favorite design alternative related to the CycleOps Fluid 2 is the Sportneer Fluid Bike Trainer. It's priced at under $200 and accepts 29-inch mountain bikes as well as 700c road bikes. It's not quite as quiet as the CycleOps Fluid 2 or M2, but it's close. Still, given the price difference, many riders may not really mind the noise.

If you're on a very tight budget, consider a magnetic resistance trainer. The BalanceFrom bike trainer offers eight resistance levels, which you can control with a tension dial that attaches to your handlebars. This trainer is very affordable and even comes with a rear wheel skewer and front wheel riser block so you can get started training right away. However, as a magnetic resistance model, note that it is quite a bit louder than the CycleOps fluid trainer.
Read Stationary bike stand reviews here.

Conclusion
When the weather outside isn't suitable for riding, the CycleOps Fluid 2 bike trainer from Saris can really help. Our trainer review found this indoor trainer offers a quiet ride and a smooth road-like ride feel thanks to the carefully made fluid resistance unit. Plus, it's compatible with almost any bike, mountain or road, regardless of whether your rear wheel uses a quick-release axle or thru-axle. Ready to try the CycleOps Fluid 2 for yourself?