Best Front Bike Rack For Touring
There is, unsurprisingly, a lot of confusion on the topic of front bike racks. With an array of options in the market, settling for the right product can be quite intimidating. You can spend hours scouring through the products, but that also isn't a guarantee that you'll land the right product.
Quick Answer: Best Front Bike Racks
Luckily, I did all the 'dirty' work for you. I have made a complete breakdown of everything you need to know about the best front racks for bikes – best products, buying guide and FAQs.

At the forefront of my best product is Origin8 Classique Cargo HD Front Rack. This is a highly functional, easy to install low rider rack made of heavy-duty material. It can carry up to 55 pounds of weight and can be used with lots of bikes.

But this is 2021 and there are hundreds of other great products too. Check out my list.
We hope you will love the products recommended here, FYI we may get a small share of the sale if you buy through our links and it will not affect product price in any way

Best Front Bike Rack for Bike | Reviews and Recommendations
The products in my list can be divided into three categories: light load, medium load and heavy load. You should be able to make a purchasing decision depending on the amount of weight you wish to carry.
Origin8 Classique Cargo HD Front Rack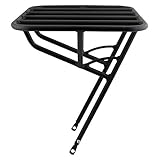 Maximum Weight: 55 Pounds

Material: Aluminum

Origin8 is a brand that boasts of its highly innovative and quality bike accessories. The Origin8 Classique Cargo HD Front Rack doesn't live any short of this reputation. It is made using heavy-duty aluminum and can carry up to 55lbs. of weight.

The heavy-duty material also means that the rack itself is heavy. It weighs just under one kg, slightly heavier than other products in its price range. But the rack's weight is the last thing you should be worried brought in a premium material such as aluminum.

The rack has a good adjustable fit being compatible with any bike of wheel 26, 27 and 29 inches. Its one-size-fits-all doesn't require you to own multiple racks.

This rack doesn't come with an assembly manual and you may spend longer installing it. Check out my guide on how to install a basket to assist you with the quest.
Thule Pack 'N Pedal Tour Rack
Maximum Weight: 22 Pounds

Material: Nylon, Steel, Aluminum

You cannot talk about bikes without the mention of Thule. The brand is the benchmark of all companies, setting standards and examples to follow. One of their commendable and well sought-after products is the Thule Pack 'N Pedal Tour Rack.

This rack is silent, vibration-free, has a flat deck and adjustable side rails and can be used with any frame material. It provides you as the rider maximum heel clearance so that you can pedal comfortably.

Thule included a fantastic feature not found in many racks. The rack comes with rubberized grips that prevent it from sliding when fully loaded.

I felt a little bit disappointed with the rack's load capacity of only 22 lbs. If you compare it to other racks that can hold up to 50 pounds, this felt merely lightweight. With this, the rack is

Perfect for carrying around small items during your town trips.
Sunlite Gold Tec Front Rack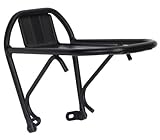 Maximum Weight: 40 pounds

Material: Aluminum

Sunlite Gold Tec Front Rack is the most affordable front rack on my list – the main reason for its rise in popularity. If you're tight on budget and still want a good front rack for your bike without compromising on the quality, this is your go-to rack.

While this rack isn't among the premium options on the list, it's a great choice if you're looking to commute and carry around a few items during errands. The rack is relatively strong and can a weight of up to 40lbs.

The manufacturers used T6 aluminum in the rack's construction. This is a high-end aluminum that can withstand the hardest of beatings.
Is there any catch with the rack? You will need fork bosses to mount this rack. If your bike lacks them, then you're better off looking for another rack; unless you will improvise. Also, the rack doesn't support carrying pannier bags. But its cheap price tag makes us forget all the flaws of the rack.

Bell Tote Series Bicycle Baskets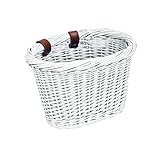 Maximum Weight: 20 pounds

Material: Solid metal, Wooden slats

Not much is there to talk about with the Bell Tote Series Bicycle Basket, aside from the fact that it's a basket that comes together with its fitting tools. Yes, that's right. You buy the basket together with its rack.

Talk about killing two birds with one stone. It's slightly different from the rest of the products on

my list. The basket is made big and will carry your backpack, groceries, or extra clothes. It is made of solid metal construction with real wooden slats. It is adjustable and should comfortably fit most 26 inch, 700C bikes.
State Bicycle Co. City Bike Basket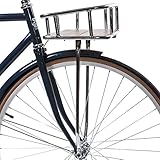 Maximum Weight: 10 pounds

Material: Steel and Plywood

State Bicycle Company is the new kid on the block, quickly rising up the ranks. With only a decade of existence, the brand is massively gaining popularity surpassing some of the pioneer brands. One of its most popular racks is the State Bicycle Co. City Bike Basket.

Just like the Bell Tote Series Bicycle Baskets, this is also a basket that comes with its fitting tools. It can be used with city bikes and premium models among other bike designs. Fitting it isn't difficult (its manual will guide you) but you can always seek assistance from your bicycle mechanic to ensure proper fit.

The basket comes with a one year warranty against any defects.
Best Front Rack for Bike: Different Types and How to Choose the Best One
How did I come up with our top best list? We tested hundreds of products, checking out for specific features in each of them. These are features that should also guide you when making your purchase. They are the features that separate exceptional products from ordinary ones.

Lowrider Front Racks

Lowrider front racks are common in touring bikes. This is because they keep the pannier weight very low, allowing for the bike to remain stable even at high speeds. These racks use a hooking system to ensure that the weight is low at all times.
Porteur Front Racks
Porteur front racks are for stabilizing heavy loads above the front wheel. They date back to the mid 20th Century in France where 'porteurs' distributed lots of newspapers from their bike fronts.

Currently, the open rack design allows the porteur racks to carry boxes and unusually-shaped objects.

You can mount baskets, bags, containers and side panniers on these racks. They are rarely used as touring bikes.
Suspension Front Racks
These racks connect to the front suspension fork. They are of two types: those that mount the rack above the suspension and those mounting it below.
Basket Front Racks
This is basically a porteur rack with a basket around it. Its design is meant to eliminate the need to strap down items. Creating a basket front rack is a DIY activity that you can make using a porteur rack and a wire basket.

Randonneur Front Racks
These are compact racks used to support small randonneur bags, hence their name. Their upper struts connect to the fork crown hole while the low struts connect to the brake mounts.
Material
What material is used to manufacture the rack you're about to settle for? The rack's material is important in two ways. One, it determines the maximum load capacity of the rack. Secondly, it also determines the rack's lifespan.

There are two main materials used to manufacture front racks: stainless steel and aluminum. Even so, once in a while, you'll come across racks made of titanium and carbon.

Both stainless steel and aluminum are excellent options although I would recommend going for steel. Steel is stronger, heavier, durable and can be repaired when damaged.

The opposite is true for aluminum racks. They are lighter, less durable and prone to breakage. However, there are some high-end, heavy aluminum of premium quality, although be prepared to spend more on these.

Titanium is a great alternative although it is expensive. It's light and can carry a lot of weight.
Checkout the best ebike rack

Loading Capacity
When choosing a bike rack, part of the consideration should be the amount of weight you're planning to carry and how to distribute the weight.

A rear rack holds heavier items up to 90 pounds. Front bike racks carry between 25 and 50 pounds. Ensure that you distribute the weight equally right to left, front to back. Test and fine-tune the weight distribution before setting out on your ride.

I have included the maximum holding capacity of each product in my list to assist you in your purchasing decision.
Accessories
Front racks come with additional features to boost their performance. Some accessories to look out for in front racks include:
Belts or elastics to strap down the luggage.

Front lights for dynamo hubs.

Stands to hook to the rack for better stability.

They prevent the front wheel from turning on themselves. The steering wheel stabilizer may also be used for similar purposes
Read about bike rack for prius here.

How to Put a Basket on a Bike
Installing your basket on your bike is a simple DIY process that shouldn't take you more than two minutes. In this case, we will use the wald basket which is the most common type of basket used.

Most wald baskets feature brackets used to fit them on the bike. Fit the bracket on the bike and ensure that the cables are at the back of the bracket. Make sure that the cables are not on the way.

Attach your basket with the lock end facing the bracket. For the bottom, hook it to the bottom of the bracket's center. You are good to go.

To remove the basket, hold the handle up and remove the lock end from the bracket.
Read our guide on best tailgate bike pad

Frequently Asked Questions
Can you put a basket on a mountain bike?
Yes, you can mount a basket on your mountain bike. However, you must be keen when installing it. If the bike's handlebars are straight, then you need to install it in such a manner that the basket doesn't interfere with the bike's cables. Front racks are perfect for holding large baskets.
How much weight can a bike basket hold?
Different baskets have different maximum holding capacities. The material used in constructing the basket and its racks plays a big role in this. Most front racks have a weight limit ranging from 25 to 50 pounds.
Conclusion
Front bike racks are excellent for any bike. But before purchasing one, you need to consider the type of items you'll carry on them. Always keep in mind that low riders are for panniers and bike touring. For errands with groceries and a few items, platform racks will work the trick.

Which is the top best overall product on my list? Well, making a decision on that would be pretty difficult as each product stands unique from the other. Even so, I fell in love with the Origin8 Classique Cargo HD Front Rack. It's everything you would want in a front rack.

Thule Pack 'N Pedal Tour Rack is also an excellent product and would lead the list if not for its low holding capacity. Sunlite Gold Tec Front Rack takes the award for the most affordable product. Sunlite Gold Tec Front Rack scoops the award for the cheapest bike rack.

I hope you now know what front bike rack you're going for. Let me know your best product in the comment section below!