Best Bike Rack For e Bikes
I checked out five of the top heavy duty racks on the market and found the Thule T2 Pro XT to be the best overall bike rack for electric bikes. I have carted a variety of bikes on several vehicles all over Colorado, New Mexico and Utah. I have zoomed bikes around on interstate highways, jostled them along dirt roads and lifted them over mountain passes.
Quick Answer: Best Electric Bike Racks
Bike racks need to be sturdy, safe and dependable, but also convenient and adjustable. And the bulky motor and additional weight of an e-bike require an even larger and stronger model.

The Thule T2 Pro XT definitely meets all these requirements. The easy-to-use hitch rack offers a good balance of value and quality.

The venerable Swedish company has crafted a versatile heavy-duty rack that installs quickly, adjusts easily and can fit virtually any electric bike, right out of the box.

I found plenty to like in some other racks, too. A lightweight Swagman hitch rack was our best budget model. At the other end of the scale is the, dare I say, beautiful Kuat NV 2, a sleek top-of-the-line model that is my favorite luxury bike rack for e-bikes.

In between, a KAC Overdrive bike rack provides the best safety features, despite some other flaws, and the Saris Freedom is our favorite family rack for electric bikes.

Keep reading to learn more about the best racks, and learn how to choose the top electric bike rack for your vehicle.
We hope you will love the products recommended here, FYI we may get a small share of the sale if you buy through our links and it will not affect product price in any way
Thule T2 Pro XT Hitch Rack
Best Overall Bike Rack for E-Bikes
While it is certainly not the cheapest rack on our list, we appreciate all the features Thule packed into the T2 Pro XT for a reasonable price. It is the best overall rack for electric bikes.

Straight of the box, mount the burly, sturdy 2-bike rack to almost any vehicle with a hitch using a tool-free attachment knob and locking hitch pin. Then attach virtually any two bikes using a pair of ratcheting arms that attach the front and rear wheels and never touch the frame.

Even a 60-pound electric bike will fit, and bulky electric assists don't get in the way because the rack mount doesn't touch the frame of your e-bike. Also, the rack allows plenty of space between the e-bikes. For a sport rider, even an electric fat tire bike works, with wheel wells that accommodate up to 5-inch tires.

The bike rack is also easy to either pivot out of the way or completely remove as needed for convenience or cargo access. But keep in mind that the rack weighs 52 pounds.

Thule also sells an add-on rack for carrying up to four bikes.

My only complaint about the Thule rack is the strength of the provided bike lock. While a thin cable lock may deter many would-be bike snatchers, a determined thief could fairly easily cut through the lock and cruise away on your precious e-bike.
KUAT NV 2.0 BIKE RACK
Best luxury bike rack
I never thought I would call a rack beautiful, but Kuat spent a lot of time redesigning this 2-bike hitch rack into a sleek, stylish and, of course, functional work of art.

Of course, the NV 2.0 better be a really good bike rack for $, and everything is made with quality. Realizing it might be a little pricy for some tastes, we gave it top marks for luxury, but we are a little disappointed by some features.

So what do we love about this hitch rack? The integrated repair stand is pretty sweet. And the foot-assisted pivot system lets you drop the rack down without letting go of the e-bike in your hands.

Like the Thule, this bike rack avoids frame damage by attaching with retractable tire hooks. Also like the Thule, an optional extension is sold separately for adding two more bikes (but note that the weight capacity is lower for the extension — probably not sturdy enough for four e-bikes).

There is also an optional accessory that allows for carrying fat tires up to 5 inches wide. The accessory only costs $, but it's still a little disappointing that a $ rack can't accommodate a serious fat tire e-bike without the add-on.

We also like the optional pivot hitch, which allows the rack to swing away from the vehicle. Kuat sells it for an additional $. It makes the rack more versatile, allowing cargo access for vans or other larger vehicles.

On the other hand, the Kuat rack may not work very conveniently for vans and other square-backed vehicles. The rack does not provide enough clearance from the back of the van.
KAC Overdrive Sports K2 2" Hitch Mounted Rack
Top rack for safety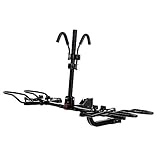 The KAC Overdrive Sports rack is far less expensive than Kuat racks, but if safety and security are more important than aesthetics, this may be your best option.

Like the other racks, it is easy to install and can carry two bikes, with a capacity for up to 60 pounds per bike. And a fat tire electric bike also works, with a capacity for up to 5-inch tires.

It also employs a patented anti-wobble system and includes a backup safety strap to attach both bikes. It also has an additional reflector for better visibility.

Unlike many other bike racks, this model also easily reduces to a one-bike carrier if needed.

On the other hand, it has a less versatile hitch mount than other models. This only works with a 2-inch hitch.

Also, although the main parts are made of heavy-duty steel, I have read complaints about some plastic components breaking on this rack. Also, several users complained about poor customer service through KAC.
Saris Freedom Bike Rack
Best versatile family rack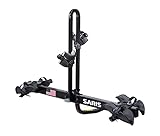 Sometimes you don't need a pretty, fancy rack to haul your electric bike down some four-wheeling tracks. You just want to take all the family bikes to the park.

That's when the Saris Freedom comes in handy. The rack sits lower to the ground than many other models, making it easy to load and unload bikes.

On the other hand, the same low profile could also reduce the clearance on seriously rutted roads.

Virtually any bike will fit on this rack. Admittedly, the bike rack is pretty light. It is rated and warrantied to carry up to 60-pound bikes, but I'm not sure I would trust the rack to carry a fleet of e-bikes on a particularly bumpy dirt road.

But if you are carrying a couple of kids' bikes, a road bike and one e-bike, this Saris hitch rack should fit the bill. It's one of the only racks with a four-bike option right out of the box. Rather than adding a secondary extension for the third and fourth bike, the extra space is seamlessly and safely part of the main rack.

This bike rack is also nice because it allows for versatile mounting — on a variety of hitches or on a spare tire mount.
Swagman XC2 Hitch Mount Rack
Best budget option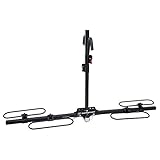 Finally, if you need a basic bike rack for a light electric bike, the Swagman XC2 might be your best bet. At only $, this could be a secure way to transport a bike without breaking the bank.

It's a perfectly functional rack that can transport light e-bikes with ease.

Be warned that it is only rated for 35 lbs per bike, so heavier electric bikes won't work on this rack. Fat tires also don't work, although Swagman sells separate fat tire wheel trays, as well as compatible cable locks.

On the other hand, lower capacity also translates to a lighter rack. This makes it easier to mount, dismount and move around. Some people will struggle to carry 50 pounds when they are putting on some of the other hitch racks.

It was also not as easy to install as some of these other racks. And the instructions are not as clear or user-friendly as we would like.
What To look For In Bike Racks For Electric Bikes
There are a few considerations in choosing a rack for your electric bikes:
Style
Car racks come in a variety of styles. Roof racks are less popular but are still available. But we can't really picture trying to hoist a 60-pound ebike onto the top of a car or truck. And all that weight might damage the car anyway.

Instead, use a part of the car that is designed for heavy weights: the hitch. We focused on hitch racks here because they are more practical for e-bikes. They are designed to better handle the weight load, and it's easier for loading and unloading e-bikes from hitch racks.
Read about RV Bike rack

Also, look at the attachment style. The best bet for an e-bike uses arms that slide over the front wheel and rear wheel. That way, you can avoid frame contact. Also, the battery and electric assist won't get in the way of the carrier. It would be even better to remove the battery to reduce the weight and reduce risk of damage, but that's not always possible.
Features
Some electric racks also offer extra features and accessories. Consider an electric bike ramp for wheeling your ride onto the bike carrier.
Know about Jeep bike rack

Compatibility
Keep in mind that not every roof rack works with every vehicle. Check your hitch size and vehicle dimensions before investing in a rack. The Thule and some of the other top models listed above are designed to work with a variety of hitch sizes, but check for compatibility before you buy.
Installation
My favorite racks, and several of the pricier models I reviewed, have a tool-free mount that also locks to the vehicle for easy and secure attachment. Just as you want to lock an e-bike to the rack, you also want to lock the rack to the vehicle.
Here is our guide on choosing best tailgate pad

Weight capacity
Not every rack can handle a heavy electric bike. Most of the racks I reviewed are sturdy and bulky enough to accommodate 60 lbs per bike, which should cover most large, heavy electric bikes.
The Top Bike Rack
Given all these factors, the Thule T2 Pro XT is the best bike rack for e-bikes. It provides every feature you need and plenty of versatility without any add-on costs and items, for a reasonable price.