Best Tailgate Bike Pads | Safe & Secure Ways To Carry an Mountain Bike in Trucks.
Over the past years, mountain bike riding has grown in popularity both as a sport and a recreational activity.

Quick Answer: What is the Best Tailgate Pad For Bikes?
Traditionally, bikers would simply lay their bikes in their trunk cars. But when bikes became more expensive, better bike transportation methods were invented. Bike racks have ruled the industry ever since.
But these are primarily for SUVs and driving cars.
If you own a pickup truck, the best, easiest and cheapest way to transport your bike would be the tailgate pads.
These are dense, foam-filled pads that fold over the tailgate. Their function is to protect the bike and tailgate from scratches, dents, and damages that occur while traveling on bumpy roads.

The best tailgate bike pad is the Demon Tailgate Pad. This 7-bike tailgate pad is attractive, cheap, and functional. It is designed using heavy-duty vinyl to withstand all weather conditions and comes with sturdy straps to hold bikes in place.
Even after constant use, it will show minimal signs of wear and tear.


Here are other incredible tailgate pad options to consider.
Top 8 Mountain Bike Tailgate Pad
Demon Tailgate Pad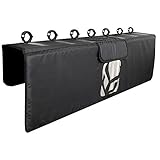 Features and Specs:
7 bikes holding capacity.
¾ inch padding.

Available in small & medium sizes for different trucks.
Heavy-duty vinyl exterior layer.
You've bought yourself the best mountain bike money can get you. What else are you missing?
An incredible tailgate pad to maintain the wellbeing of your bike. I'm talking about the best tailgate pad you'll come across in the market – Demon Tailgate Pad.

Demon Tailgate Pad boasts of being one of the cheapest tailgates you'll come across. But its affordable price tag doesn't compromise on its quality and performance in any way. This is also one of the simplest and most effective tailgate pads you'll come across.

The manufacturer's description says that this product is for mountain bikes only but I see no harm in carrying road bikes and other accessories with it.
It is made using a heavy vinyl layer to withstand the harshest of conditions. Moreover, it is water and dust-resistant. Weather shouldn't hinder you from your fun.

The pad has straps with several anchor points to hold the bike frames properly in place. The straps face an inward direction and may pose a little difficulty when unlocking your bike. But this shouldn't be a big issue.

Its installation process is relatively simple given that it has web cinch straps to hold the bikes in place. You simply need to open your tailgate halfway and adjust the straps underneath.

The product's best feature is that it can hold seven bikes simultaneously. Call on your biking pals and have the experience of your life without having to worry about your bike's safety.

Overall, the Demon pad is the cheapest and most budget-friendly option on my list. Its service is great, considering the price. You can expect it to serve you for a couple of years before showing any signs of wear and tear. It's a thumbs-up from me.
Yakima Gate-Keeper Tailgate Pad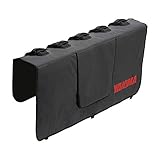 Features and Specs:
Simple and elegant design.
5 bikes holding capacity.

Thick nylon construction material.

Second on my list is yet another incredible tailgate pad you'll come across, the Yakima Gatekeeper Tailgate Pad.

This 5-bike pad is in a simple yet elegant design. It is in an all-black design with the signature Yakima logo at the bottom. But more importantly, the tailgate pad is incredibly functional, durable, well made and easy to use.

What I like most about the bike pad are its super thick padded nylon straps and molded downtubes to help secure your bikes firmly.
While the straps are thick and wide, they are easy to handle and don't droop away. Their openings are big and offer sufficient space for the tailgate handle.

Its fabric will hold up to rain, sun and numerous trips for as long as you could ride. Moreover, the microfleece liner on its backside provides the pad with extra protection when in use.

A huge downside with this product that turns away many prospective buyers is its exaggerated price. But as we say at Rydoze: quality over price.
As you'll read in my buying guide section, the pricier the bike pad, the better it is in terms of quality.

To make up for the price, Yakima added more features to their pad. There are Velcro straps and cushioned cradles in place to hold the bike in place.
There's also a large flap that works well with backup cameras.
Fox Racing Tailgate Cover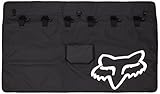 Features and Specs:
6 bikes holding capacity.
Comes in black and camo color designs.

Available in small and large sizes.

The Fox Racing Tailgate Cover is one of the most gentle, versatile tailgate pads I came across. And I say this having tested hundreds of products. If you're looking for something compact and easily portable, then this is your best choice.

Not much out of the ordinary is there to say about this bike tailgate pad. There are a few notable features of the pad. It is made using a durable and plush padding material. Its design allows it to be folded into a small package that fits in the bike conveniently.

Also, the pad comes with plenty of cushioning for both the pickup truck and bike.
You, therefore, need not worry about scratches and dents. There are also frame anchor straps and webbed straps for attaching the pad to the pickup truck.

Overall, the Fox Racing Tailgate is one 'non-out-of-the-ordinary' pad suited for long trips.
Evoc Tailgate Pad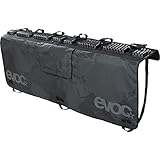 Features and Specs:
6 bikes holding capacity.
Constructed using EVA and Tarpaulin.

Removable and moveable straps.
Limited manufacturer warranty.
If you're in search of a product that performs as well as it looks, then look no further than Evoc Tailgate Pad. It comes in two color options – black with olive accents and olive with black accents, with the former being my favorite.
Both of these contain the Evoc Logo to easily tell them off from counterfeit products.

Similar to the color, the evoc tailgate pad is available in two sizes, small and large. The size to go for depends on your truck size.
The large model is quite large and spacious. Its size requires utmost caution when opening the tailgate.

This pad has six partitioned slots each with its own Velcro strap and downtubes. Each slot is separated by a foam pad made of vinyl for long durability.

Evoc Tailgate Pad is made using Ethylene-vinyl acetate (EVA) and tarpaulin. Tarpaulin is durable and dirt and water-resistant. It maintains the outlook and colorful texture of the pad for a long period.

On the other hand, EVA is rubber-like in nature and is useful for its softness and flexibility. It provides the pad's interior with the needed flexibility and elasticity to keep the bikes away from each other and the truck's body.

There are a few downsides and areas of improvement that I noticed with this tailgate pad. Its metal buckles aren't very strong and could easily fall off.
Attaching e-bikes to the pad is a bit difficult. And the traditional vinyl look isn't very appealing. A microfiber liner would also be better than its woven one.
Thule Gate Mate Tailgate Pad

Key Features:
7 bikes holding capacity
Heavy-duty vinyl material

Available in two different sizes
Nylon straps, Velcro loops
Handle hood for easy access to the tailgate

The sleek and elegant look of Thule Gate Mate Tailgate Pad is definitely a beckon to anyone interested in checking it out. For those of us who dislike big logos and texts on our bike pads that make them look like billboards, this one here is for you.

Thule made this tailgate pad strong and durable. Its vinyl material ensures lots of padded protection for your bike and tailgate. Even through rough terrain, no harm will come to your bike. Awesome, right!

The pad features knock blocks strategically engineered to prevent the bikes from sliding. There are also strap anchors to hold every bike securely throughout the entire drive. The pad's interior is made of soft material to protect the truck's paint job from scratches.

Finally, you can access your tailgate through the handle hood without having to remove the pad. For its price tag, purchasing the Thule Gate Mate Tailgate Pad is more than a bargain.

MNJ Motor Tailgate Protection Pad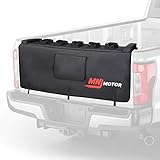 6 bikes holding capacity
6 strapped concave slots for holding bikes
Comes in 2 different sizes
PVC outer layer

As a rider, you'll always carry along your lubes and tools to your biking expeditions. Personally, I never leave behind my pump and screwdriver. But carrying such items in the trunk is normally tricky. They could easily get lost.
MNJ Motor Tailgate Protection Pad addresses tried to address this problem with its design. The tailgate pad features pockets for storing all your equipment.
Moreover, each pocket has a zipper-lock to ensure that the items don't fall out during the trip.
But safety with this tailgate pad doesn't end there. It comes with concave slots for holding the bikes properly. The manufacturers also added inner soft materials and fixing straps for keeping the bikes safe during trips. The inner material is both dust and water-resistant.
Installing the tailgate pad is pretty simple. Adjust the pad on the truck's tailgate and secure the bikes using its straps. The entire process should only take you roughly four minutes.
Be careful with this pad's straps. Although they are in place to hold the bikes in place, they may easily cause the paint job to have scratches. This is one problem cited by bikers who purchased this pad.
Even so, MNJ Motor Tailgate Protection Pad still remains one of the best tailgate pads you'll come across in the streets.
Raceface T2 Tailgate Pad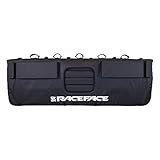 Key Features:
6 bikes holding capacity
600D Cordura outer pad
Available in three different sizes
Inner micro rushed lining

Race face t2 tailgate is among the most popular brands in the cycling industry. Their reputation for quality products is beyond describable.
After major changes to the designs of their tailgate pad, the Race Face T2 Tailgate Pad was invented.
Like its predecessor, this tailgate pad has a six-bike holding capacity.
But unlike the Race Face I, this one features Velcro straps and foam bumpers on their interior.
These help to protect your fork stanchion and downtube. They also prevent the bikes from bumping into each other especially on rough and bumpy roads.
The pad has four bottom traps with six more adjustment straps between the frame fasteners on the top edge. All these straps are in place to ensure your bikes are in place no matter what.
The outer pad is designed using 600D Cordura. While it won't absorb water on a regular basis, it will work perfectly for heavy rain.
Nonetheless,
the material is strong and relatively sturdy. It is wear-resistant and won't get damaged easily.
The pad's interior is of a soft micro rushed lining for added protection of your bikes.
All the features of the original Race Face Tailgate Pad were improved with even better ones being added to this one – the definition of a real upgrade.
MICTUNING Tailgate Pad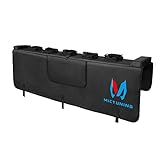 Key Features:
PVC outer material
Pockets for storing tools
Easy installation process
Best Tailgate Pad

My best tailgate pad review won't be complete without the mention of MICTUNING Tailgate Pad.
Drive through the bumpiest of roads together with your friends and family without the fear of damaging your bikes thanks to this tailgate pad.
The soft flannelette material of this pad protects your bikes from scratches and dents while simultaneously securing the tailgate of its paint.
Similarly, its outer PVC material makes the bike pad stronger and durable. It won't rip or damage easily.
PVC is waterproof and water-resistant. Even during rainy times, you can still travel with your bikes with the assurance that they are safe.
As for storage, the pad has two pockets for storing medium-sized tools and other items safely.
Bikers who purchased this pad found setting it up to be easy. They had no difficulties handling the pad as well as mounting and dismounting bikes from it.
Moreover, the straps held bikes safely in position and they didn't have to worry about scratches in their bikes.
The only minor complaint was that the bike pad may block your backup camera. Join thousands of bikers today in enjoying the full benefits coming with the MICTUNING Tailgate Pad.
---
How to Use a Tailgate Bike Pads
Using a tailgate pad is no quantum physics. Before buying a tailgate pad, always make sure that it is of the right size. Measure the width of the pad and compare it with that of your truck's tailgate. Tailgate pads come in two sizes: medium and large sizes.

The medium size can hold 5 bikes while large sizes up to 7 bikes. If your pickup truck has a shell, you'll need to open it to place and allow enough space for the bikes.

Most tailgate pads have a rear camera. If you wish to use it, open the flap and expose it. It is found at the same place as the tailgate's handle.

How to Lock a Tailgate Bike Pads

The tailgate pad is attached to the tailgate using straps and buckles found in its interior. Simply align your pad by the tailgate and secure the straps to the buckles. Ensure they are firm before placing your bikes.

To remove the pad, first, remove the bikes then carefully unbuckle each strap. If the pad is foldable, then you can store them in your trunk.

How to Choose the Best Tailgate Pads
Here are factors you should consider before buying your tailgate pad.
Straps and Padding
It's a no-brainer that the two important features of a tailgate pad are its straps and padding. These are what will hold your bikes as well as protect them from scratches and damages. As such, manufacturers should be keen on these two.

Strong and secure straps are important in keeping your bikes and preventing bombardment with each other. A tailgate pad whose bikes knock each other while on transit is of no importance to you.

Ensure that the straps are of high quality and fasten firmly onto the truck's tailgate. The straps work hand in hand with the anchors and frames on the tailgate pad. So, ensure that all these are of high quality and don't come off easily.

On the other hand, the padding should be designed using heavy materials and soft linings. Some tailgate pads feature extra padding at the back and on the sides to prevent your bikes from bumping into each other or falling over.

Pads made using nylon and polyester are the best since they are heavy-duty and extremely durable and still lightweight. They last longer and are designed for all-weather use.
Read about RV bike rack here.

Size
What size is your tailgate? This is an important question to keep in mind as it is essential in finding the right fit. Loose bike pads won't allow you to carry your bikes smoothly. Tailgate pads are available in two sizes; small or standard and large.

The standard or small size pads are perfect for mid-sized trucks such as the GMC Canyons, Nissan Frontier, Ford Ranger and Toyota Tacoma. The larger pads suit full-sized pickup trucks like the Ford F-250, Toyota Tundra and the Dodge Ram.

A perfect-sized tailgate pad doesn't move up and down and is thus perfect for protecting your bike from damages.

How do ensure the right fit? Measure the width of the truck's tailgate and compare it with that of the pad. Also, check for recommendations from the manufacturer about particular vehicle models.
Durability
How frequently do you travel with your bikes? The durability of your tailgate pad is another important factor to consider. You'll need to keep in mind that you will be traveling in all sorts of weather. Therefore, your tailgate pad should be one to withstand rain and dirt altogether.

If you are a regular user, you'll need something heavyweight. For occasional use, simple and lightweight models will do just fine. But this shouldn't compromise with the quality of their materials.

Read through the features and description of the product beforehand. Also, check out for reviews and know about the added facilities.
Another aspect to keep in mind is how easy it is to install and remove the pad from your pickup's trunk. Go for a bike pad that is easy to install and remove. This largely depends on the strapping and locking mechanisms.

Also in the same context, ensure that the pad features a foldable cover. This allows easy access to the tailgate handle and rear camera.

It would also be nice if the pad is foldable and can be stored in a compact design when not in use.
Safety and Protection
These two are important in your tailgate bike pad for holding the bikes in place. Make sure that the pad you're purchasing is strong enough to hold your bikes and prevent them from falling over and causing damages.

The pad should make use of the straps to hold the bikes tightly especially on bumpy and rough roads. Poor quality straps may also be a reason for low protection and damages to your bike.

The bike pad should also feature heavy padding and a soft underside. This protects the paint of your truck and bike. Extra padding on the sides and back will ensure extra protection for your bikes.
Price
Like any other item, the price of a tailgate pad is an important factor to consider. The good thing is that tailgate pads are cheaper than traditional bike racks. But even so, there are quite expensive models out there like the Yakima Gatekeeper Tailgate Pad.

A tailgate pad's price is normally directly proportional to its features and quality. A higher-priced pad means that it is of higher quality and comes with more features. The opposite is also true.

Settle for something within your budget. Ensure that it meets your needs and will protect both your bike and trunk. It should also be durable to last you a couple of years. For the best tailgate pad, expect to spend a few hundred dollars.
Maintenance
Tailgate pads are exposed to rough weather and friction.It's only expected that they start to lose efficiency with time. But if their fabric is strong and the anchors are stitched properly, they may enjoy a few more years.

An ideal bike pad should last for a decade. Using fabric regularly deteriorates its lifespan. While taking good care of your pad extends its lifespan, a wiser action would to settle for a pad made using high-quality material. A strong material such as nylon fabric is excellent.
FAQs
What Is The Best Tailgate Pad?
Without any doubt, Demon Tailgate Pad is the best tailgate pad you'll come across. It is attractive, cheap and highly functional. The tailgate bike pad is designed using vinyl to withstand all weather conditions and comes with sturdy straps to hold bikes. Even after constant use, it will show minimal signs of wear and tear.
Are Tailgate Pads Worth It?
Yes, tailgate pads are a must-have for professional bikers, cycling enthusiasts and individuals moving to different locations. They act as a barrier for bikes and other items especially when going downhill and through bumpy roads.

Tailgate pads are safe and easy to use. Unlike throwing your bikes into the truck's bed, these prevent your bikes from bumping into each other. You don't need to worry about your bikes' delicate frames.

Moreover, tailgate pads are cheaper than traditional bike racks.
Do Tailgate Pads Work For Road Bikes?
Tailgate pads are not only compatible with mountain bikes but also road bikes. In addition, they can also be used to transport ladders, surfboards, cargo, sporting goods and other items that can fix on them. They will hold your bike, protecting it together with your trunk against damage through rough terrain.
Conclusion
All tailgates may seem similar, but they differ in quality and service. A good tailgate pad is made using quality materials to last is long and withstand harsh conditions. Its interior should be soft to protect the tailgate from dents and scratches.

My list contains some of the best products you'll come by in the market. And whenever in doubt with a product, always confirm with my buying guide whether it possesses all the features of a quality tailgate pad.