What is the Best Bike Rack For Subaru Outback?
I recently reviewed the best bike racks for the Toyota Prius and now it's time for the Subaru Outback. You'll agree with me that the Subaru Outback is one of the most comfortable SUVs you'll come across.

My Top Five Best Bike Racks For Subaru Outback.

Sometimes, you may want to extend the fun to bike hiking with your friends. In such a case, a bike rack will be inevitable. But not all bike racks are suitable and compatible with this SUV. You will need a rack that will hold your bikes firmly even in the roughest of rides. With so many options out there, choosing the right rack can be daunting.
That's why made a list of the best products you can find.

My best bike rack for Subaru Outback has to be the Thule T2 Classic Hitch Mount Bike Carrier. Water is wet, the sky is blue and Thule makes the best bike racks. This highly functional 2-bike rack comes fully assembled. It is easy to use, foldable for easy storage and anti-sway to assist you to put items in your trunk without removing it. What's even better is that it comes with a lifetime warranty.

We hope you will love the products recommended here,FYI we may get a small share of the sale if you buy through our links and it will not affect product price in any way
Thule T2 Classic Hitch Mount Bike Carrier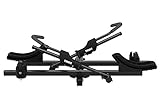 Thule has been in existence since 1942. If this isn't reason enough for you to trust the brand, then I don't know what is.

There are two main reasons why you should buy the Thule T2 Pro Rack (and why it also qualifies to my list). One, it is foldable and two, it has anti-sway properties.

What does anti-sway mean? If you've already installed the rack but need to pick or put something in your trunk, you can do so without taking your rack off. Not once or twice have I found myself in such a situation, and most of the racks prove to be useless. Not with the Thule T2 Pro classic rack.

There are two reasons why this rack's foldability will be of use for you. You don't need to take it off your car when not in use. And secondly, other cars are less likely to hit your rack.

Thule T2 Pro rack is downright solid, and you can hardly regret its purchase. It's made using heavy-duty materials, ready for the craziest of drives. It's able to carry two bikes of 60 pounds each.

Even with its slightly exaggerated price tag, this rack is worth the investment.
Allen Sports Deluxe 2 - Bike Trunk Mount Rack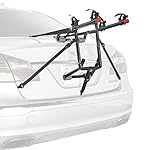 For over 50 years, Allen Sports has been committed to providing outdoor enthusiasts with quality, service and satisfaction. The brand enjoys top-rated reviews for the impeccable performance and quality of its products. One such example is the Allen Sports Deluxe 2-Bike Trunk Mount Rack.

This is the most affordable bike rack on my list. Its low price doesn't compromise on its performance. In fact, the rack comes with a lifetime warranty (a trademark with all of Allen Sports' products).

But that's not the only reason to love this rack. It also has a quick setup. It comes pre-assembled and ready to use once out of the box. While most racks normally have a complex setup process, this one requires no tool at all.

I was also impressed with the durability and safety of this rack. You see, most trunk-mounted racks present a problem with their contact pads. With the bikes resting against the car's back, they could easily get damaged if you're not cautious.

This isn't the case with the Deluxe Rack. It comes with wide pads that distribute the load of the bikes evenly. It also features two strong straps that tightly hold the bikes on lengthy road trips.

Finally, this 2-bike rack has a weight limit of 70 pounds for each bike which should be fine to hold your bikes. Who said you can't get a quality bike rack at an affordable price? Definitely not with this rack!
Hollywood Racks Traveler Hitch Mounted Bike Rack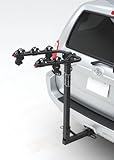 The Hollywood Traveler makes carpooling an easy task as it can carry up to 4 bikes. If you're with family or friends and are planning for a fun weekend out, this is the perfect rack.

Many riders tend to keep off hitch racks due to their huge price tags. The cost of purchasing this one is similar to that of an affordable trunk-mounted rack. So, don't shy away from checking it out.

The rack is an excellent choice for those searching for the stability and convenience of a hitch mounted bike rack without spending too much.

The rack is easy to set up. This is made so by its free-armed frame which is simple to attach. Its maximum holding capacity is 35 pounds for each bike.

A major downside with this rack is that it's not compatible with all types of bikes. You may require a top-tube adapter to fit some bike frames. Also, some users raised the issue of its holding straps not being very durable. Their limited elasticity may force you to replace them with time.

Overall, the Hollywood Traveler Rack is a great alternative for family occasions. The best part about it is that it can carry female-friendly, kids and mountain bikes.
Swagman XTC2 Hitch Mount Bike Rack
The Swagman XTC is a 2-bike hitch mounted bike rack worthy of your time. It is made strong and durable using stainless steel to pass the test of time. The rack can hold up to 70 pounds for each bike.

A close look at this rack and you'll notice how the manufacturers brought out each detail carefully. It's clear that a lot of time was spent designing it. But aside from that, the rack is easy to use, has a quick installation process and is fairly priced – three properties everyone wants in their bike racks.

Swagman XTC features tie-down cradles that help protect and secure your bikes as you transport them. The rack is designed to carry bikes of wheel sizes 20 to 29 inches. But there's no need to worry if your bike has fat tires. You can always get yourself an additional tray to transport your bikes comfortably.

One unique feature of this rack is that its frame grips are coated to prevent scratching of the bikes. When not in use, you can fold the rack vertically and store it compactly.

While this bike may not be the best rack for the Subaru Outback, it's still one hard rack to ignore.
Subaru Forester Hitch Bike Carrier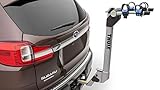 Closing my list is yet another impeccable Thule bike; the Thule OEM Hitch Bike Carrier. This rack made its debut in 2019 but easily surpasses most racks designed before its existence. It is not only compatible with the Subaru Outback but also Forester.

The first thing to notice with this rack is how lightweight it is. It comes nearly half as heavy as most racks. This is to ease its handling, installation and removal processes. The rack is also anti-sway to prevent collision between bikes and the vehicle.

This rack will easily block your license plate. So, before using it, it's advisable to check with the laws of your state. Even so, Thule OEM remains one of the best bike racks for Subaru outback you'll come across.
How to Choose a Bike Rack for Subaru Outback
How did I come up with the list of the best bike rack for Subaru Outback?
My team and I set out to test tens of products, a process that took one and a half weeks. In our quest, there were specific features that we were looking out for in the bike racks – features that determined the performances of the racks.
These are the same features that should guide you when making your purchase. Bike racks that lack such features are not worthy your time.
Type of Rack
With anything you buy, you may expect to find different styles and types of the product. The same goes for bike racks.
There are three common types of bike racks you are likely to come across. Why is it important to consider the rack type?
Different rack types come with their pros and cons.
For instance,
a person who has difficulties lifting their bikes above the Subaru Outback will avoid roof-mounted racks. Instead, they will opt for the truck and hitch-mounted racks.
Let's have an in-depth look at the different styles.
Roof Mount Bike Racks
Roof bike racks are common and favorites for many people. They are lighter than hitch racks, easy to install and don't require you to take the front wheels off.

A huge downside of this type of rack is that you will have to lift your bike onto the roof of your Subaru Outback. If this is a struggle for you, then you should consider the other types.
Trunk-Mounted Bike Racks
If you are not planning on using your bike rack that frequently, then the trunk-mounted bike racks are your go-to option. They are the best beginner-friendly bike racks you'll come across. They come pre-assembled, are quick and easy to install and you can remove them from your car easily.

Moreover, the racks fold up nicely to be stored after use. The only downside with the racks is that they will block your license plate. Also, the cheaper options are made using poor materials.

Hitch-Mount Bike Racks
Hitch bike racks are one of the most common and best types of racks for the Subaru Outback. And the reason is simple: they safely store your rack while leaving you with your trunk space. Also, they are foldable for easy storage when not in use.

Hitch racks are normally heavy and you will require an additional set of hands to install them. They are heavy duty and can, therefore, fit large bikes. But with this comes a few limitations.

Firstly, the racks will hurt your gas mileage. So, be ready to spend more on the gas. Secondly, they are more likely to block your license plate. Depending on your state, you may get pulled over a couple of times.

Even so, hitch bike racks still remain a solid choice and will not disappoint. Their heavy-duty material means that your bike is safe.
Check out the best bike rack for prius

Will You Be Carrying Multiple Bikes?
Are you going out on a solo drive or carpooling with your buddies? If you're alone, then a rack that fits only one bike is enough. Going on a mountain drive quest with family or friends means you'll need a bigger rack for the job.

To be on the safe side, I would recommend going for a rack that holds more bikes. You never know when your friends come calling. Read about best front bike rack.
Some Are Better for Heavy Lifting
How heavy are your bikes? Most bike racks will fit one to four bikes. This means that the rack should endure the weight of the bikes.

A standard simple rack comes with a holding capacity of 60 pounds; which should be fine. If you own a beach cruiser, fat or electric bike, you'll have to settle for something stronger.
Price
Price is one important factor that determines the purchasing power of any product; not just bike racks. Of course, you'll need to settle for a reasonably priced rack; one that fits comfortably into your budget. But this isn't to mean that you should settle for cheap products.

I always have one policy that I'll never tire to repeat: quality over quantity. And if the quality means paying a higher price for it, then what's the harm? Cheap racks come with fewer features and less quality.

Try as much as possible to keep off cheap racks. They will disappoint you.
Tire Size
Don't forget about the size of your tires! This shouldn't be a big issue with the slim road bikes. I'm talking about the bikes that come with chink set of rubber tires. You will require a rack that will fit such tires. The wheel mounts should be big enough to hold the thick tires.

Alternatively, you could also decide to settle for the truck mount racks which hang by the bike frame and not tires.
Anti-Rust
The weather is constantly changing, and you never know when the rain will catch up with you. It, thereby, becomes important to invest in anti-rust bike racks. These racks have oxygen and water-formulated designs for safe covering.

Besides, anti-rust racks will save you both cash and energy for repair.
Is the Rack Female-friendly?
This is one important yet under-rated and under-looked feature. Most bike carriers and racks don't feature female-friendly handlebars.

Female-friendly racks have a secure fitting and enough space for long drives. Check out the description box and see whether the rack you're about to buy is female-friendly.
Best Bike for Subaru outback FAQs
How do I know the type of rack to use for my car?
The type of rack to settle for is normally dependent on the type of car you have and your level of expertise. In our case, the best bike rack types for Subaru Outback are the trunk-mounted and hitch mount.

If you are a beginner, it's advisable to start off with the trunk-mounted racks. As you progress, you can look out for other types like the roof-mounted bike rack. The best type for professional bikes is the hitch-mount rack.

How many bikes can I carry with my bike rack?
Bike racks can carry up to four bikes at a go. I have indicated the number of bikes that the products on my list can carry. If you are going on a solo drive, then a rack for one bike is sufficient. If you are with friends and family, you'll probably need a bigger rack for everyone.
Do I need other tools to install my bike rack?
It all depends on the brand you are going for. Some brands have a no-tool installation process for their bike racks while others provide all the needed tools in the package. These come with a manual to guide you on how to go about the process. Luckily, most of the products on my list are easy to install and don't require any tools.
Conclusion
There you have it, a complete breakdown of the best bike rack for Subaru Outback. I hope I've stayed true to my course and answered all your questions on the topic. Not to brag, but show me a better list from this one and I'll wait.

The good thing is that there are lots of products in the market to suit consumers of different needs. But even with all the products, finding the right one can still be difficult.

My parting shot to you is this: buying a bike rack isn't a one-second affair. Take time to check that its features are what you're looking for. And when you're in doubt, always feel free to consult with my buying guide.

Hopefully, by now you have in mind which product you are going to purchase. Tell me which is your best rack for Subaru and why.