​Best ​Entry Level Road Bikes for ​Beginners
If you are a bike riding beginner, then you might need a little help picking out the best entry-level road bike to meet your needs. Whether you want to reduce your carbon footprint, get some much-needed exercise, or feel the wind in your hair, this ​buying ​guide will help you pick the best ​one.
We hope you will love the products recommended here,FYI we may get a small share of the sale if you buy through our links and it will not affect product price in any way

​​Quick Answer: 6 ​Best Value Road Bikes
What Are the Best Road Bikes?
---
A road bike has been specially designed to sail across the pavement. They do not ride well on rough or uneven terrain. The ​design does not allow it the luxury of carrying heavy loads. Ideally, It take you from point A to point B rapidly, which makes them ideal for commuting.
In this review, we are going to focus on light bikes that are designed for pavement.
Depending on where you live, it​ might, to as road racing or endurance bikes. They are used for traditional riding on smooth roadways and can attain high speeds.
In order to float across the pavement​​​​, they are traditionally very lightweight and boast higher speeds.
The Appearance of the Road Bikes
A true road bike does not have fender or rack mounts but is sleek for speed. ​Aerodynamics and aesthetics allow it to cut through the wind with ease to create a brisk ride.
Nowadays, most road bikes have disc brakes due to the higher clearance they afford which has become an added perk. With high tire clearance, the bicycle has more excellent traction and improved riding performance. Another trend noted in it​ is wider tires maintained at lower pressure.
Picking the Best Road Bike for a Beginner
Everyone must start somewhere, so here are a few tips on how to choose one of the best road bicycles. As a beginner, the myriad of entry-level bikes might confuse that you find online or at local bike shops. The choices seem endless.
Here are a few things to focus on when picking the best entry-level road bike:
Disc Brakes on Road Bikes
Four years ago, disc brakes became the norm on road bikes. Even race-oriented bikes have launched disc brakes as the must-have plus they have become commonplace on endurance road bikes.
If you're weighing the best road bikes for beginners, then you'll want to lean towards bikes with disc brakes. Sadly, most ​of it in this price range have caliper brakes.
With disc brakes you'll enjoy the following:
Consider the Tire Clearance on the Bike
Years ago, rim brakes were the norm, but they had limited clearance, and you were restricted to 28mm wide or less. With disc brakes, a bonus is that the pinch point has been removed which affords a tire clearance of at least 32mm or more. It's not uncommon for some modern road bikes to have a clearance of 35mm.
Wider Tires on the Road Bike or Not?
Early road bikes had very narrow tires and many popular bikes, such as mountain and fat-tire, do too. However, wide tires have started to emerge on ​it because of their many benefits. You'll have much better traction, which is something I can appreciate.
I come from Portland, Oregon, where it rains a lot. The pavement can become slippery, so broader tires on my road bike provide me with far better traction and a more excellent feeling of security. I know that I'm not going to spin out and lose it. Also, the city's roadways frequently have lots of pumice (they use the pumice during icy weather to provide traction for autos and motorbikes).
When I'm riding, I don't want to have to avoid the pumice gravel or potholes. With wider tires, I can ride across such minor obstacles without ever breaking stride.
In my opinion, I adore wide tires and would highly recommend them on any road bike, especially if you're a beginner.
The Aerodynamics of Modern Road Bikes
Even if you are shopping for the best budget road bike, you'll probably be surprised to learn that they also have aerodynamics like the more expensive models.
Please remember, the best bike builders consider everything when designing a road bike. This includes the position of the rider. Of all the things involved in an aerodynamic bike, the rider causes the most significant drag and resistance because of their bulky and unyielding form.
However, designers still try to focus on how to improve the aerodynamics, because a little bit always helps.
Testing Road Bikes for Aerodynamics
Please remember that thousands of hours of intensive computer modeling and fine-tuning go into any bike's creation even that of the best cheap road bike. Not all ​design takes place on a computer screen.
Designers also use wind tunnels to measure aerodynamics and further tune it. A well-designed bike will have very low weight, plus great high stiffness, and take into consideration the rider's comfort.
Materials Used to Create the Perfect Bike for Roadways
When shopping for the best beginner road bike, you'll want to take into consideration the material that goes into its construction. Carbon fiber or aluminum alloy are the two most common.
However, some people can become confused by the term 'alloy' because it is also used to refer to steels and titanium. Other ​frame materials that you might encounter include steel, magnesium, titanium, bamboo, and hardwood.
​Remember, the design of the bike dictates how it rides and not the material.
High-end solutions are usually made from carbon fiber composite, which is not only light but very strong. Carbon fiber can also be formed by designers nicely.
Finding the Right Fit
When picking a road bike, you must choose the proper fit because riding long distances or commuting could become a reality the more you ride.
Here is a breakdown of things to consider:
The Drivetrain on the Road Bike
The best value road bike will probably have a crank with two chain-rings (known as the 2x) with 11 rear cogs (11-speeds).
However, you might encounter other drive-train configurations as you shop for the best affordable road bike. Cheaper ​ones often do not have rear cogs on their drivetrains. You'll see 2x10, 2x9, and 2x8 as you go down in price.
Remember, with fewer speeds shifting becomes difficult.
Types of Drivetrains Found on Road Bikes
Higher priced road bikes will boast 12 speeds. SRAM's come out ahead in popularity. Shimano leads as the most common drivetrain​. Force eTap AXS 12 speed is on many mid-range priced bikes. Popularized by SRAM isn't as popular on road bikes but is used on cyclocross and gravel bikes.
It stands out because it does not use a front shifter or derailleur. The large jumps between gears create the same total range as that found in a 2x system. The system is remarkably simple with chain security and heightened aerodynamics.
Top Six ​Starter Road Bikes

---
When shopping for the best road bike for the money, I encourage you to consider these six top choices.
I have been ​biking for years. Both mountain ​and a trusty road bike currently hang in my garage. Anyone who enjoys pedaling must have a road bike, but they do not need to spend an excessive amount of money.
After reading this review, I'm confident that you will be able to pick the best beginner road bike for needs.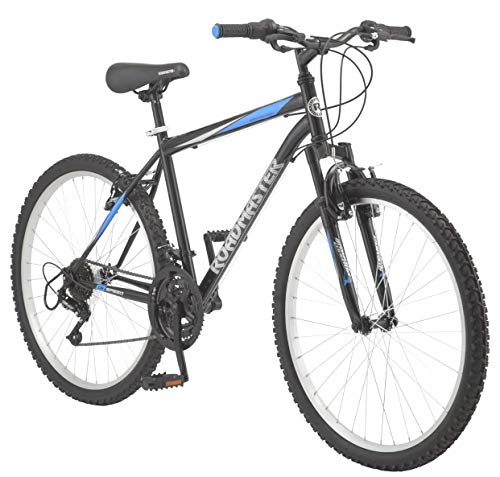 Built-in America, the Roadmaster is owned by Pacific Cycle. They are widely sold throughout the USA both online and at many retailers. As an entry-level bike, the Roadmaster offers versatility; ride it on pavement or off-road.
​​Specs
A 26" inch bike, it fits most adult men. Which has a very smooth suspension fork that absorbs the bumps with ease, so you don't feel them. The tires on the bike have an adequate thread for optimum road-gripping abilities. With 18 speeds, it features a wide-ranging three-piece crank. The linear-pull brakes help stop quickly, which is a nice perk if you do much city-riding because auto drivers often don't look where they are going. In such instances, you must stop immediately.
​​Tech
​The smooth SRAM drive twister's standout. The steel frame might be a bit on the heavy side, but it can stand up well to abuse so you can enjoy the ride that you have been dreaming about. The steel handlebars are easy to grip. I appreciate the padded seat which absorbs the bumps, so I don't feel them. The designers took some time with ​​​it because even the streamlined build makes this bike stand out.
​Cost
​Truthfully, if you are looking for a road bike that won't break the bank, then please consider the Roadmaster 26" Men's Granite Peak. It is one of the best and most affordable road bikes on the market currently. You can't do much better in the price range.
Pros and Cons of the Roadmaster 26" Granite Peak Bike
Overall rating : ​4 Out Of 5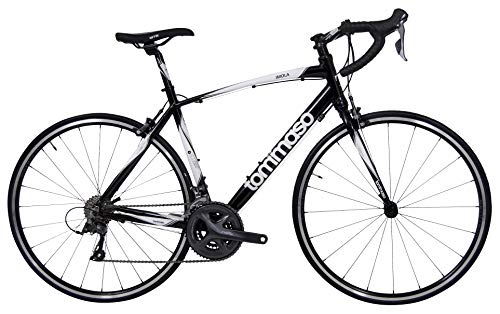 If you start researching budget road bikes, you'll start to see the Tommaso Imola Endurance Road Bike listed a lot as a leader. You are probably wondering if it lives up to all the hype. The quick answer is 'yes.' The Tommaso Imola is a great ride for the money and worth your consideration. ​It looks good and features an Italian designer's name.
​​Specs
The Tommaso has some very nice specs that set it apart in this review from its competition. With Shimano Claris components at gears of 3×8, you'll be able to tackle even the steepest hills. The Shimano Claris groupset derailleurs stand out because many budget rides lack derailleurs. Take good care of the derailleurs, and you'll enjoy continued smooth shifting. I suggest that when ​it arrives, you take it to a bike shop to get real professional adjustments.
​​Tech
​The bike comes with its own brand of tires: Tommaso Corsa TC-20. The aerodynamic shape typically occurs only on higher-end solutions. The front-wheel has 20 spokes and the back one 24 spokes. The Kendra 700x25c has a nice width (something that I look for in a road bike). The wider tires make riding easier for beginners by affording greater stability. The tires also absorb the bumps you might encounter even on pavement. The mid-range Shimano Claris brake calipers are a huge disappointment I would have rather had disc brakes, but I guess a great bike cannot be perfect. However, the brakes are one area where they skimped.
​Cost
​Overall, this is an affordable road bike that fits the bill for most budgets.
​Pros and Cons of the Tommaso Imola Endurance Aluminum
Overall rating : ​4.5 Out Of 5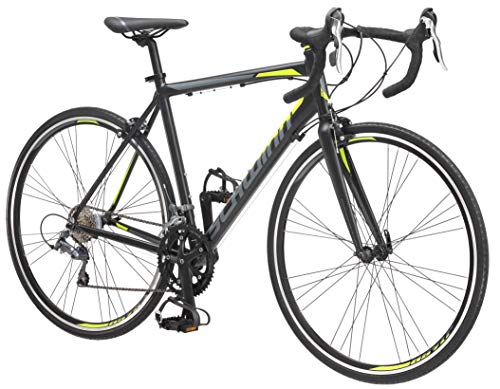 ​Just about everyone in the world who rides bikes has heard of the Schwinn. The company has created a name for itself by providing affordable rides. The Schwinn Phocus 1400 and 1600 Drop Bar Road Bicycles are for women and men. Without a doubt, this is an entry-level bike. You can ride it, but you can't do much else if you want to advance your skills. However, the affordable price makes it worth consideration. The differences between the 1400 and 1600 boil down to size. Are you short or tall?
​​Specs
​A standard 6061 aluminum frame. Carbon fiber front fork (standard for higher-priced bikes but rare in this price range). The fork helps absorb the bumps of the road to create a smooth ride. The 16 speed Shimano Claris shifts nicely. The three-piece crank lets you shift when needed — this cruises on flat ground at about 20 mph which feels fast.
​​Tech
​The doubled walled wheels stand up to abuse. If you want a wider tire, then you can easily place a 28c on the wheel which is something I recommend for any newbies.

​Cost
​The low cost makes it appealing to the beginners. Without a doubt, the bike will meet your needs, and you can always upgrade later.
​Pros and Cons of the Schwinn Phocus 1400 and 1600 Drop Bar Road Bicycles
Overall rating : ​4 Out Of 5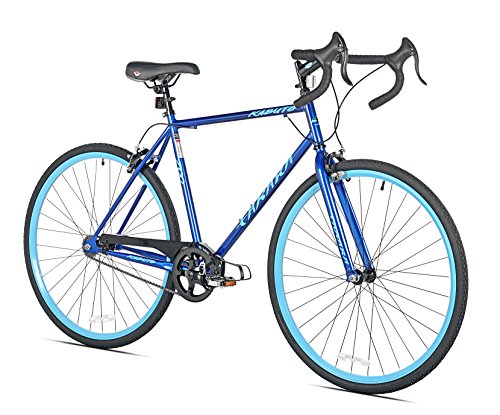 ​This bike is interesting. The Takara brand released this ​as their flagship to herald in a full line of single speed bikes. That might remind you of the ones you used to ride as a kid. If you rode your kid bike up any hills, then your legs were getting an extreme workout. Well, the Takara Kabuto Single Speed Bike isn't easy to pedal on hills. If you live in a flat area, then the bike performs acceptably, but I wouldn't recommend this ​for anyone living in a location like San Francisco. Even the slightest hill becomes a monumental task, but if you don't mind a hard work out, then this ride might fit the bill.

​​Specs
​Features a very tough handcrafted steel frame for longevity. A flip flop hub enables the bike to run as a fixed gear, or it can go into a free-wheel single speed. At least you don't have to worry about gears.
​​Tech
​Has 32-hole alloy wheels. It comes with Kendra 700x32 tires which grip the road nicely. The bike has a standover height of 32 inches to fit taller individuals. Tig welded tough steel frame for durability. Has alloy side pull brakes to stop.

​Cost
​It might be considered a little on the high end of the list for cost considering it boasts only a single speed.
​Pros and Cons of the Takara Kabuto
Overall rating : ​3 Out Of 5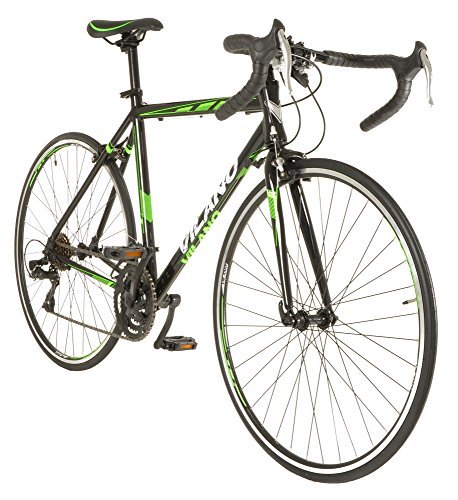 ​The Eurobike XC550 isn't a bad ​choice for the money. The steel frame affords durability and longevity. ​The ergonomic seat provides nice support and comfort to the rider, which makes long-distance riding a breeze. The seat also features lower back support and helps maintain a good sitting posture. The adjustable seat lets you pick the height for your body's unique needs.

​​Specs
​The Eurobike has a Shimano A050-21 21 speed gear so you can ride across a variety of terrain with ease. The bike's front and rear derailleur are different. The Shimano TZ30, which is in the front, helps to pull during an upward ride. The Shimano TZ50 has been positioned on the rear. Riders up to 300 pounds can ride on this without any problems. ​It comes with a one-year manufacturer warranty, and the frame boasts a lifetime warranty.
​​Tech
​The Shimano TZ50 has been positioned on the rear. Riders up to 300 pounds can ride on this without any problems. The bike comes with a one-year manufacturer warranty and the frame boasts a lifetime warranty.
​Cost
​The Eurobike is affordable, and you get a lot for the price range.
​Pros and Cons of the Eurobike Bike XC550
Overall rating : ​4 Out Of 5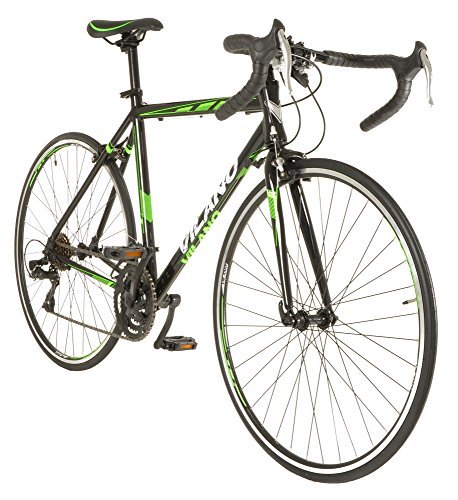 ​I like to think of this bike as a 'back-to-the-basics' in a lot of ways. It has 21 speeds which are nice but very few other updates. This gets the job done if you are looking for a commuter or just to hit the wide-open road.

​​Specs
​Features a Shimano A050 thumb rear indexed 7-speed. The front friction is 3-speed shifters. With the 21-speed drivetrain hills and other roads, obstacles are not a problem.
​​Tech
​The aluminum 6061 frame boasts a commuter saddle for comfort. The 700c double-walled alloy wheels complete the bike's simple package.
​Cost
​An affordable, basic ​solution
​Pros and Cons of the Vilano R2 Commuter Aluminum Road Bike
Overall rating : ​3.5 Out Of 5
​In my opinion, the Tommaso Imola Endurance Road Bike stands out above the crowd as one of the best entry level road bikes. It comes with the components of a much more costly bike. You can also upgrade by adding wider tires. The lightweight frame and flashy paint job will turn heads.