Best Cycling Saddles: A Buyer's Guide
Long bike rides should be challenging, but not because you're uncomfortable sitting in the saddle. Having the wrong saddle is one of the most common problems that riders face when taking on longer and longer rides, and the consequences can be painful or even cause injury.
Quick Answer: What Are The Best Road Bike Saddles?

Thankfully, it's easy to upgrade your seat to get the best road bike saddle for long rides.
We'll highlight five reasonably priced options that can transform the way your body feels on your bike, including the Fizik Aliante – our Editor's Pick.

In addition to helping you find the right saddle for your needs, we'll take you through everything you need to know about choosing the best road bike seat to get the most comfortable and efficient seat for your big rides.
We hope you will love the products recommended Here, FYI we may get a small share of the sale if you buy through our links and it will not affect product price in any way
SGODDE
This men's and women's saddle from SGODDE stands out for its gel padding. The artificial fatty gel is highly elastic, offering just the right amount of compression to prevent pressure from building up on your sit bones.
The elasticity also helps with shock absorption, although some riders might find that it takes away from their pedaling efficiency by allowing them to bounce around a little bit.

The specialized power saddle offers a moderately long nose as well as a hollow section in the middle.
We liked this because of the ventilation it provides, although it's a bit too narrow to offer much in the way of relief for your body.

The reflective striping on the nose and rear of the saddle were also nice touches. It's minor, but it helps to be seen when your long rides start early in the morning or take you late into the evening.
Just beware that this saddle is a little bit on the heavy side, at around 500 grams.
Fizik Aliante Gamma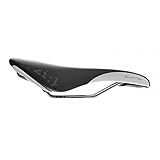 The Fizik Aliante isn't cheap, but wow, is this a terrific saddle. To start, it's incredibly lightweight – this carbon saddle adds just 250 grams to your saddle, which is hard to beat.

It's immediately apparent at first glance that this saddle is built differently from the others we reviewed. There's no hollow section in the center or really any apparent contours or padding at all. In fact, the padding is minimal, with just a tiny amount of high-density foam over the top of the seat.
This saddle achieves comfort instead of fitting to the contours of your body, avoiding the spots where pressure typically builds up and causes pain during long road rides.

The saddle doesn't offer much in the way of ventilation, which is one of its bigger pitfalls. But, the lack of padding is actually an advantage here. Even if you're sweating, there is far less material to rub against and cause chafing than with other saddles.
The seat is also pretty narrow compared to other options, which helps to keep your thighs out away from it.

It's also worth noting that the nose of this saddle is long. It's designed for climbing and descending as much as for flat roads.
In fact, the stiffness of this saddle makes it perfect for hill climbs, while it can be a little less than ideal for long flat sections of road.
Selle Royal Men's Respiro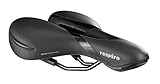 This saddle from Selle is one of the best men's road bike seats we've seen. It's a bit of a step up in price, but the ventilation makes the cost well worth it.

The secret is that this saddle isn't only constructed with a hollow section in the middle (on this seat, it's covered in mesh).
There is also a ventilation channel, which extends to the back of the seat so that air can enter through the hollow and flow out behind you. That makes a big difference.
Even better, Selle built the Respiro saddle with a cooling gel cover that prevents it from taking on heat in the sun.

As for the padding, this saddle is pretty good. Your sit bones are on top of the tridimensional gel, which is firm but comfortable over many miles.
Importantly, it's not so elastic as to bounce you around on the seat as you're pedaling.

Notably, the seat is wider than some of the other options we reviewed. Depending on your preference and the width of your hips, this could make the seat more or less comfortable for you.
However, Selle offers the Respiro in a few different options, so you can choose what fit is best for you.
The company offers the saddle in athletic, moderate, and relaxed versions, as well as in a women's version of the Respiro that has a wide seat and shorter nose.
TONBUX Bike Saddle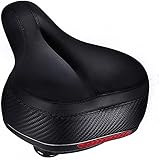 This extremely comfortable saddle from TONBUX is packed with features to keep your soft tissues feeling good as you ride.
To start, the saddle is relatively wide and features an incut pressure relief channel to relieve pressure on soft tissue as you lean forward.
It also has a long nose, making it suitable for more aggressive riding positions.

The amount of padding on this saddle is also a major draw. It's nearly 5 inches tall, much of that thanks to the padding underneath your sit bone.
We also like that the saddle features a dual shock-absorbing ball that sits just above the seat post. This helps keeps the bumps and rolls of the road from hurting your bottom during long rides.

If you're not thrilled with this saddle, TONBUX offers a no questions asked refund policy. So, there's no risk in giving it a try to see if you like it.
Bluewind Bike Seat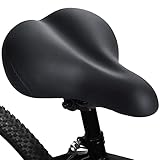 If you're on a tight budget, consider this simple road saddle from Bluewind. It's built with high-density memory foam and a dual shock-absorbing ball, which together prevent vibrations from leaving your soft tissue hurting after a long ride.
The comfortable saddle also has an ergonomic design with a short nose that prevents the saddle from rubbing against your legs as you pedal.

The saddle's width and short nose can limit your riding position, however. It's hard to sit forward on this saddle without cutting off blood flow around your pelvis.
If you're an aggressive rider, you could end up with saddle discomfort on longer rides.
That said, there's no reason not to give this saddle a try if you prefer an upright position.
YLG Oversized Comfort Bike Seat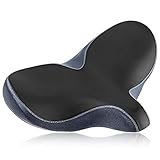 This oversized saddle from YLG is the best seat if you're putting together a comfort-first ride. The length of the saddle is actually shorter than its width, which isn't something you're like to find in traditional bicycle seats.
The nose is almost nonexistent, while the ultra-wide seat caters to any sit bone width.
In fact, most riders will find enough space to move around and get comfortable.

The saddle itself features foam and gel on the inside, which together provides plenty of cushioning and prevent vibrations from hurting your soft tissue.
There's also a dual spring rubber ball suspension to help dampen road shock.

As you might expect, this saddle is really only designed for riding in an upright position.
There are no cut outs or other adaptations to help with blood flow when leaning forward on your bike. So, we primarily recommend this bike seat for touring, urban, or cruiser road bikes.
Wittkop Bike Seat
This comfortable saddle from Wittkop is a great choice for any road biker looking to upgrade their current seat.
It's designed with 5 individually conceptualized pressure zones, which provide support where you need it and cushioning where your soft tissue comes in contact with the seat.
We also like that the bike seat features an enhanced airflow system that helps prevent sweating and chafing.

This road cycling seat is more tailored towards aggressive road bikers than some of the other models in our road bike saddles review.
It has a relatively long nose that you can sit out on without cutting off blood flow to your legs. There's also a pressure relief channel to prevent pain when getting down into a more aerodynamic position.

The saddle comes with steel rails instead of carbon rails, which helps to keep the price down. It's wide enough to accommodate most sit bones, although it's noticeably less wide than some of the other models we looked at.
Overall, this is a good power saddle for road bikers looking to move into the next level of comfort and endurance.
Pioneeryao Professional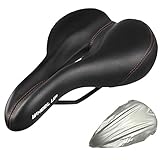 The Pioneeryao bike seat is an extremely comfortable and durable road bike saddle. It's made of artificial leather, which lasts for years of riding. In comparison to genuine leather, it also holds up to wet weather and sweat a lot better and won't leave you with the feeling of being stuck to the saddle after a few hours of riding.

The saddle uses high-density foam padding to provide comfort. It's not elastic in the same way as a gel, so it can take some getting used to if you haven't used a saddle this firm before.
But, once you become accustomed to it, the foam feels very comfortable and won't leave you sore.

The shape of this saddle is interesting. It offers a pretty wide base and short nose, so it's better for sitting consistently in the same position on moderate roads rather than for climbing and descending.
In reality, most long rides involve miles and miles of moderately graded roads, so this design is kind of perfect. There's also a mild divot in the center of the saddle, which, combined with the hollow center allows it to ventilate surprisingly well.
How to Choose the Best Road Bike Saddles for Long Rides
All five of the saddles we reviewed are great options for road riders. But the best bike saddles come in all shapes and sizes. In order to understand which saddle is the best choice for your bicycle, riding style, and body, it's important to understand what features to look for when choosing a saddle.
Let's start out with the basics of saddle construction:
The cover material is the fabric that covers your saddle. It's exposed not only to abrasion from your body but also to wear and tear from weather and any crashes. So, any saddle cover needs to be durable, abrasion-resistant, and waterproof.

Thankfully, most modern saddles have these features. Many of the models we looked at are finished with a nylon fabric, which is inexpensive and long-lasting, while the Pioneeryao uses artificial leather. You can still find genuine leather saddles, but they tend to be expensive and take a lot of care.
Padding is extremely important - after all, it's a big part of what determines whether your saddle will be comfortable. Padding is also one of the biggest differences you'll find among the best road bike saddles.

The two main types of padding used in bike saddles are high-density foam and gel. High-density foam is pretty rigid and won't feel all that soft, but it also won't take away any of your pedaling efficiency. The gel is more elastic, helping reduce vibrations from the road and cushion your site bones. But, that elasticity can put some bounce in your body that reduces pedaling efficiency.

Also, keep in mind that more padding isn't necessarily always a good thing. The more padding there is, the more likely you are to bounce around in your saddle and to generate heat, which leads to chafing. Many saddles for men and women have very little padding at all and instead rely on the shape of the seat to create comfort.

Saddle padding, and particularly foam padding, has a limited lifespan. It will slowly compress from use so that you probably won't get the same comfort from your seat after 10,000 miles as when you first got it. If you're considering increasing your padding from what your current saddle offers, remember that even buying a new model of the same saddle would add to the amount of cushioning you feel.
Cutouts are essential for relieving pressure. They were originally added to saddles to relieve pressure on men's genitalia. Today, cutouts are very common on the best road bike saddles, including on women's specific saddles. However, you'll still find models like the Fizik that forego this feature in favor of contouring to your body. Whether you need a cutout ultimately depends on your past experiences with saddle pain.

Also, cutouts and channels can be important for ventilation. Many saddles without cutouts for pressure relief put the hole to work as part of an airflow channel, which helps reduce heat buildup so you can avoid chafing down the line.
Saddle weight is important if you're racing or looking to increase your bike's speed, but it's not a huge deal for recreational riders. The main place that saddles add or save weight is not so much in the padding, but rather in the rails. Many saddles stick with inexpensive, but heavy, steel rails. You'll find lightweight carbon fiber or titanium rails on more expensive saddle models. If you're really dedicated to saving weight, look for hollow titanium rails.
Fitting Your Saddle
In addition to considering these features, it's essential to think about how your saddle fits your body. No matter how premium your seat is, if it doesn't fit your body, it will never feel comfortable.

You can start by getting the proper fit by looking at saddle width. Saddles come in all different widths, and the width should match your sit bones. You can and should measure the width of your sit bones before you decide on a saddle.
Besides, it's worth looking at the nose of your saddle.
What's it shaped like?
Is it long or short?
Aggressive riders who spend a lot of time on hills will want a saddle with a full-length nose that they can creep out onto for climbing and descending.
Alternatively, riders who have suffered from pressure when they lean forward may find that a nose with a wider, almost triangular base will be more comfortable.

Finally, consider a bike fit. You can go in for a fit before you've decided on a saddle, and the shop will be able to measure your sit bone width and help you pick out a saddle based on your riding style and where you've experienced discomfort in the past.
If you've already chosen a saddle, going in for a fit can help you make sure that your seat is at the right height and is set back at the proper distance from your pedals and handlebars.

This is especially important if you get a new saddle and find that you're still experiencing discomfort.
Sometimes, the problem isn't the saddle itself, but the way the saddle is set up concerning the rest of the bike.
In reality, you may not even need to move your seat – the problem may be that you need a longer stem on your handlebars or something else about your bike setup.
Conclusion
It was tough to pick the single best bike seat for road cycling, but we ultimately decided on the Fizik Aliante seat. Although this saddle is somewhat expensive, it is one of the best saddles on the market.
The Aliante does an incredible job of working with your body's natural shape to improve comfort instead of simply adding gel and cushioning.
Plus, shaving a little weight off your bike with this seat can help those long miles fly by.

If the Fizik seat isn't quite right for you, we'd also recommend taking a look at the Selle Royal or Pioneeryao models. The Pioneeryao seat is extremely comfortable thanks to its wide, cushioned construction.
Meanwhile, the Selle saddle can help keep your underside cool, so you don't experience chafing in the later miles of your ride.

Finding the right saddle for your long rides can be tough. But, you shouldn't settle for suffering through a pain in the rear as you pile on the miles.
Our reviews of the five best road bike saddles for long rides are a great place to start with options for upgrading your seat.
Plus, thanks to our buying guide, you now know exactly what to look for in the best road bike saddles.