Best Budget Mountain Bike Forks Review
Buying parts for a mountain bike can be expensive, and one of the essential parts that provide suspension and stability when riding on rough terrain is the suspension fork. It's possible to outfit your bike with one on a budget without sacrificing quality.
Quick Answer: Best Budget Mountain Bike Suspension Fork
The best budget suspension fork is one that can help keep you from being thrown and keep your wheels moving in a straight line on uneven ground.
This list outlines the top 6 options starting with the best option: the RockShox Recon Silver TK suspension fork.
It delivers a budget price point with excellent features like a turnkey lock-out, damping adjustment options on the crown, supported by a company that has been making these forks since 1989.
6 Best Budget Mountain Bike Suspension Forks
Rockshox Recon Silver TK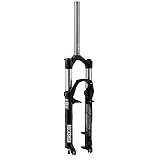 Features and Specs:
Weight: 1940 grams
26" Wheel size

Travel: 100mm
Spring: Air
Maximum Rotor Size: 200mm

RockShox is known as one of the premier brands for mountain biking; they provide the best mountain bike forks for the money for quality, durability, and features, making this the best overall budget suspension fork.

A budget choice shouldn't mean it lacks features, and this mtb suspension fork isn't lacking customizability. It may not be light enough for some cross-country racers.
Still, for the newcomers or weekend trail riders that need dependability over everything else, it makes up for its weight shortcomings by offering a new take on a classic.

This new iteration of the Recon TK has shorter legs and crown damping adjustments while still providing the needed control at less heft.
The Recon Silver TK suspension fork also has a lighter chassis than previous iterations above the shorter legs, and that's thanks in part to an aluminum and magnesium build and the design of an air spring over the more traditional coil.

Weighing in at 1940 grams, it's one of the heavier suspension forks on this list, but sometimes sturdy build and plush performance are worth the extra grams. It also comes fitted with a quick-release axle, making set-up and disassembly fast and painless.

One of the best features of this budget mountain bike fork is the turnkey lock-out which helps rebound blows you may take while the fork is locked out. If you hit a rock, the fork takes some of the hit and let's you get on by correcting and moving on with your life.

If this fork is still too heavy, consider another fork by RockShox like the Reba RL for 26" wheels which weigh in at a little over 1600 grams and still offer the quality RockShox is known for, just with a slightly higher price tag.

Should your biking need a fork with a higher degree of travel and you're willing to spend a bit more, consider the Sektor RL by Rockshox, which has a 150mm travel, allowing you to move from cross-country to Enduro biking.

BOLANY MTB Bicycle Suspension Fork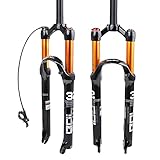 Features and Specs:
Weight: 1659 grams
26 / 27.5 / 29" Wheel size

Travel: 100mm
Spring: Air
Maximum Rotor Size: 220mm

This ultralight budget suspension fork offers the whole package for the cross-country racer, including the ability to choose what works for them.
Bolany offers a fork that provides flexibility to purchase either straight or tapered, includes manual and remote lock out with a lightweight air spring suspension system.

This suspension fork had increased sensitivity from set-up, making it easy to assemble and adjust for the first use. It uses strong and durable materials, including the traveling tube, which helped prevent dust from getting into the fork and jamming the spring.
Although it's important to get everything in good working order, it's always nice to see a part that helps.

The fork may not be durable enough for downhill free-riding, and this may be a fork due to its cost-effectiveness and engineering that will best serve you for cross-country and perhaps trail rides.
Choose a heavier and sturdier chassis for downhill with additional features the MTB doesn't have, like rebound adjustments.
Manitou Markhor Fork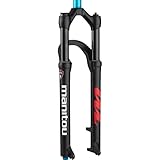 Features and Specs:
Weight: 1875 grams
29" Wheel size

Travel: 120mm
Spring: Coil

Maximum Rotor Size: 160mm - 180mm

The best budget mtb fork for the money is one that gives you all the options you need and cuts down on the features you don't.
If you're new to the sport and want the coil feeling instead of the air spring, this is the fork that you may enjoy.

The adjustable travel makes this a great cross-country and trail fork, allowing you to travel over rocks, mounds of dirt, and uneven terrain while maintaining a good sense of control.
Although most budget forks stick around the 100mm travel, this fork extends to 120mm.

Another necessary factor for uneven ground-like trails is the compression damping which allows you to control how firm the chassis is, including locking it out completely.
While most forks provide this, being able to quickly change on the fly when you're learning what works best for you is a convenient feature.

Even if you've been riding for a while on air springs and want to change to the coil, the Manitou Markhor fork can allow you to experience the difference between the two without spending a fortune in case it doesn't work for you.
BUCKLOS MTB Air Suspension Fork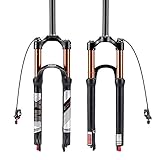 Features and Specs:
Weight: 1885 grams (largest wheel size)
26/27.5/29" Wheel size

Travel: 120mm

Spring: Air
Maximum Rotor Size: 160mm-180mm

Regardless of what size wheel bike you ride, Bucklos has a fork that will work for you. Like the other brands mentioned in this list, they offer a cost-effective alternative without sacrificing quality in their product.
Their suspension fork is light manufactured in aluminum and magnesium alloys and employing air rather than coil springs.

This fork's slow or quick customizability and adjustability might appeal to the developing intermediate rider.
There are other suspension forks on the market that offer this ability to be fine-tuned, but they aren't at this price point.

One of the best budget mountain bike forks, it features a plush feel making it great for bumpy terrain and potholes without being as heavy as other forks for a 29" wheel.
The fork has a great balance between feel, comfort, and price that makes it a superior choice for those wanting to do a bit more without spending more of their budget.

As a fun addition, thanks to the tube coating removing the Bucklos sticker on their products is easy and doesn't leave traces of it behind.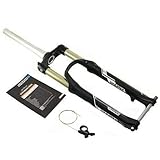 Key Features:
Weight: 2106 grams
29" Wheel size

Travel: 100mm

Spring: Air
Maximum Rotor Size: 185mm

The heaviest suspension fork on the list, the SR Suntour Raidon fork, is the choice for those that worry about the durability of best budget mountain bike forks.
Designed for cross-country, this fork has additional protection against chips, cracks, and other injuries it might encounter while riding thanks to a coating in hard anodized gold.

It benefits from an easy installation with a quick-release axle and the ability to easily adjust the sensitivity of the stanchions.

For features, it includes a remote speed-lock with rebound adjust in the left cartridge, which helps keep your wheels on the ground and in a straight line, not deflecting off every rock, hole, and root that might come into your path.

This isn't a racing fork for many people and weighs more than most racers would prefer to put on their bikes for competition. However, it's a great budget option for equipping your bike for weekend riding or exploring new terrains.

The abundance of options on this fork for lock-out, rebound, and quick release can also help you learn what works for you when it comes to your ideal suspension, so when you choose a fork later on that is more expensive, additional options won't tempt you.
BUCKLOS LUTU Air MTB Suspension Fork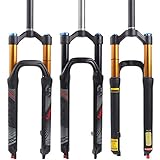 Weight: 1675 grams
26/ 27.5/29" Wheel size

Travel: 120mm

Spring: Air
Maximum Rotor Size: 160mm-180mm

While the Suntour had plenty of options and was a bit too heavy, the Bucklos Lutu offers higher travel at a much lower weight.
This suspension fork gives a plush feeling with adjustable compression damping and crown/manual lock-out, so your path remains your choice regardless of what may be already on the ground.
It's additional 20mm of travel gives more wiggle room in the suspension without sacrificing control.
It's paired with a lighter, more comfortable air spring that manages to be still sensitive enough to absorb any small, sudden bumps you may encounter on the trail.
Capable of being attached to a 26, 27.5, or 29" wheel, this fork appeals to all riders with the usual durable aluminum and magnesium chassis, which also helps to cut down on weight.
The big downside for this fork is the lack of remote lock-out, although it does have manual lock-out, and for an additional cost, purchasing a remote lock-out is possible from other manufacturers.
However, be aware that installing a remote lock-out can be expensive, and you will need to buy the correct part that works with the Bucklos Lutu chassis.
Overall, this is one of the best mountain bike forks for trails, and it will give you a suspension that fits your comfort.
---
How to Choose the Best Suspension Fork
To buy the correct suspension fork for your bike, first, it is essential to understand a few of the defining factors that go into a suspension fork and how they work to change the mountain bike's suspension.
Travel
This is the amount of suspension movement the fork has. Choose forks whose travel stays within the travel allowance that the frame currently has to avoid damage and injury.

While most suspension forks come with preset travel, some offer an adjustable travel option selected between two numbers, for example, 80mm - 120mm.
Most of the time, the rider should use the largest number and then decrease the travel to a smaller number for steep climbs.

Generally, cross-country and trail biking require less travel in suspension forks because they focus on level ground without few to no significant obstacles other than small rocks, potholes, and slightly uneven ground.

Enduro biking or racing requires a higher travel between 150mm - 180mm with more obstacles on the path and hills getting steeper on the ascent and descent.
Few budget suspension forks offer increased travel as it's assumed a more expensive frame will be used and therefore a higher travel allowance.

Lastly, downhill biking or downhill free-riding requires the highest travel for a fork of 180mm and up. Going downhill is hard on the suspension for a bike, and riders should utilize a suspension system that can help to combat that.
Control
Control is how much you can tune the suspension system of the fork, which includes two main options:
Lock-outs
Damping adjustment
Both features will help you change a fork to make it work for your preferred activity, terrain, and your weight.
It's what defines the best budget mountain bike fork because while they may not have expensive controls, they allow the rider to customize their suspension fork to match the bike they already have.

Tuning and dampening are an integral part of the suspension; it's what allows the fork to smoothly and seamlessly return to the starting position after compression.

Lock-outs are great features for budget forks as damping can be less precise than more expensive forks, which can cause the suspension to bob during steeper climbs.
Available as crown/manual or remote lock-out, the lock-out feature stops the movement altogether rather than lessening it as damping does.

More expensive suspension forks that offer highly tunable damping controls shouldn't require lock-outs because you should be able to hone it down to a very fine amount.
Strength vs. Weight
Commonly called strength, it's the fork's stiffness (tight or plush) and how it stands up against the movement of you and the bike acting against the ground.
The weight (light or heavy) refers to how much the fork weighs and how it can impact how you ride or place in a race.

Light and tight forks are best for:
Hill climbers
Cross-country riders
Heavy and plush forks are best for:
Extreme riders, which are sometimes called "envelope pushers" and endurance riding.
Racers will aim to have the lightest possible fork with as many features and adjustment options as possible to tailor their bike.
Conclusion
Whether you're new to mountain bikes or looking to explore the many options, this sport has, choosing the right suspension forks for your needs will keep you happy and enjoying the trails for years to come.
Make sure to pick the one that works for you, and always keep learning.