Best Single Speed Crankset Reviews
Similar to a car, every bike part matters. If one component lacks, then the joy of the whole riding experience is no more. One such component is the single speed crankset.

Quick Answer: Top Cranksets
When I'm not busy riding or writing, I spend a good amount of my time checking out bikes' components. The single speed crankset caught my eye, that's why I decided to write about it. If you set up your crankset properly, you can easily leap to 20mph in a few pedal strokes.

The best single speed crankset is the State Bicycle Co. Single Speed Bike Crankset. This is a good-looking, very affordable yet highly functional crank. It is constructed using aluminum alloy,

making it strong and lightweight. It works perfectly on rough and bumpy terrains. For the value of your money, this is the option to go for.

Settle for the best single speed crankset money can buy. And if you're in doubt, sit back and peruse through my recommended list.
What is a Single Speed Crankset?
A crankset is an essential component of the bike's drivetrain. It is the part responsible for converting motion from your leg to a rotational motion. It helps to drive the chain or belt, which moves the rear wheels.

When buying the single speed crankset, go for the modern models. These are lightweight to ensure they don't add weight to your bike. They also have bottom brackets for maximum performance.

It's important to know that you can upgrade your single speed crankset to an integrated single speed crankset. To do this, however, there are certain features that your bike needs to have. Cross-check with my buying guide.
Reviews and Recommendations
Here are the top bigwig single speed crankset products that money can get you.
State Bicycle Co. Single Speed Bike Crankset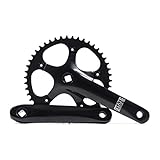 Key Features:
Good budget option.
734g weight, a crank arm length of 170mm.

Compatible with 1/8 inch chains.
Extremely durable.
For its budget, I was highly amazed at the quality of the State Bicycle Co. Single Speed Bike Crankset. State Bicycle Co. has cracked the cheat code of producing inexpensive yet highly functional bike gears.

This bike is designed sturdy to overcome the test of time. If you're in search of value for your money, then this is the option to go for. Aluminum alloy is used in its construction.

You'll certainly love this crankset right from its appearance. Coming out of the box, the crankset is gorgeous and comes in three color options. But its look is just the beginning. The crank's performance is equally smooth.

It features a 46 tooth chainring which enables it to run smoothly even on rough and bumpy terrains. This is complemented by its super lightweight of 734g. Its arm length of 170mm is long enough to align perfectly with the bike.

This crankset uses 5 bolts, each measuring 130mm. It works with 1/8 inch chains. Even though this crank tops my list, it still has its drawbacks. First, this crank scratches very easily. You'll notice paint chips in its parts after constant use. Secondly, it doesn't have a bottom bracket, and so you'll have to get a square taper.

Even so, the State Bicycle Co. Single Speed Bike Crankset is still one of the best single speed bike cranks you'll come across. Its ride is snag-free when you oil and grease it. Installing it is as easy as disassembling it.
Origin8 Pro Pulsion Single Speed Crankset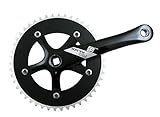 Key Features:
Excellent for vintage design bikes.
Tough and lightweight.

Forged aluminum alloy construction.

Available in three different crank arm lengths: 160, 170 & 175mm Origin8 Pro Pulsion Single Speed Crankset is one of the best-selling cranksets in the market, and for good reasons. It has a classy look that is vintage-inspired and also has plenty of color options to choose from. Also, it's lightweight, reasonably priced, and very strong.

What more is there to ask from a crankset? Everyone would be pleased with a nice-looking crank that fits perfectly on any fixie crankset. There's more to this one.

This set features a 46 tooth chainring that works perfectly in all conditions. Its forged aluminum alloy makes it super strong and very light.

This entry-level crankset will fit any bike with a square tapered bottom bracket. It is available in three different crank arm lengths; 160mm, 170mm, and 175mm.

Its holes are meant for the 9/16 inch pedals. However, avoid using steel pedals with this crank if you don't want it to cut through the alloy threading.
CDHPOWER Single Speed Crankset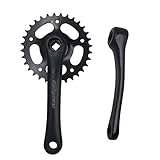 Key Features:
Light and durable.
Forged aluminum alloy crankarms.

Carbon steel chainring.
1.257 pounds weight.

If your plan is to switch to a 36T crankset, then the CDHPOWER Single Speed Crankset is the perfect option to go for. The crank is designed simple but strong and durable. Its aluminum alloy arms play a huge role in its lightweight. The crankset weighs merely 1.257 pounds.

Its length is 200mm and is compatible with9/16-inch pedals. You can also opt for the 32T model if you like. This one comes with two pedal cranks and a carbon steel chainring.

A huge downside with this crankset is that riding uphill on mountain terrains with the chainring is fairly difficult. You'll need a crankset with advanced gearing to surmount a high and steep hill. This means incurring more expenses.

But as for flat and smooth surfaces, the CDHPOWER Single Speed Crankset is a beast; one of the best in the market. As proof of its durability, this crankset comes with a 12-month warranty.

SHIMANO FC-M640 Zee 10 Speed Crankset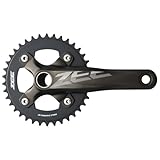 Key Features:
175mm crank arm length.
73mm bottom bracket.

Elegant design.
Perfect fit.

Don't let the price fool you. Shimano FC-M640 Zee 10 speed crankset is a serious contender for the best crankset in the market. While it packs lots of features, there a few that caught our eye.

For starters, the crankset comes in an elegant design. One look at it and you'll notice how much work was put into its design. Secondly, is lightweight and super easy to install. If you hate those complex cranks that go hand in hand with manuals, this would be a good choice.

Oh, and not to forget its super affordable price!

Coming into detailed specs, this crankset has arms measuring 175mm, a 73mm bottom bracket, and 104mm speed rings compatible with 10-speed drivetrains.

The crankset fits in different bikes perfectly and will work without any hitches. Only a few users complained that there were signs of wear and tear in the crank arms after a while of use.
SRAM S300 Courier Crankset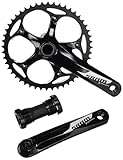 Key Features:
Sturdy and durable.
2.7 pounds weight, 170mm arm length.

Plastic and aluminum construction.

SRAM S300 Courier Crankset is one remarkably good-looking product. But its performance and quality are even more impressive. Coming at a reasonable price, I don't see why you shouldn't own this crankset.

This crankset comes with its threads already greased. But unlike some products, the grease isn't excess. It also includes washers in its crank arms to avoid dirtying your arms as you install the pedals. It is designed sturdy and so wear and tear is a foreign concept with the crank.

This product is a top-runner when it comes to quality. Most of its parts are made using plastic, aside from its exterior cups which are of aluminum. Its spindles are also designed using high-quality materials. It's also worth noting that the pedal threads and bottom bracket don't have any rough edges.

The crankset weighs 2.7 pounds and measures 170mm. Finally, it features a very clean laser etching that remains on the arms even after using the crank for a long time.

A minor downside with the SRAM S300 Courier Crankset is that removing its chainring is difficult. Ask for additional hands or visit a mechanic for the quest.
---
The Benefits of Using a Single-speed Crankset Using a single speed crankset helps you to dodge lots of mechanical problems with your bicycle. But this isn't the only benefit associated with the crankset. There are lots of other benefits with the single speed crankset as outlined:
They are lightweight and highly affordable.
They have few moving parts and so eliminate frequent mechanical problems.

They eliminate the need for derailleurs and shifters. This makes riding a fun experience. You can now focus on riding your bike without having to worry about these components.

So, in short, single speed cranksets require very low maintenance and are incredibly good for commuting.

Sadly, there is a downside with the single speed crankset – only one; maintaining momentum is difficult. Therefore, you should be a pro in spinning and tackling corners, even in hills. The good thing is that you'll never be in the wrong gear.

Features to Look Out For in the Best Single Speed Crankset
How do you know that you have picked the right crankset? By checking out its important features. They are discussed below.
Types of Single Speed Cranksets
There are three types of cranksets:
Square Taper
This is the most functional and technical crankset type in terms of design. It's also the most common. Almost all fixies you'll meet have a square taper crankset and a cartridge bottom.

A reason why this crankset is so popular is that it is easy to install and maintain.

As for looks, integrated cranks take the day. Square tapers aren't so elegant. But looks are subjective. Moreover, what matters most is the performance.
Integrated
If you're all into beauty, then the integrated cranks are what you should go for. These cranks are cooler, durable, and very lightweight.

If there's one reason why you should choose them, apart from the looks of course, then it should be their lightweight.

The external bearings on the cranks make them more durable. They have small sealed bearings that produce creaking noises when they wear out.
Track
Track cranksets are designed specifically for track bikes. This is because not cranks work with all bike types.
Arm Length
Different cranks have different arm lengths. This is important for two reasons; speed and knee pain. Long crank arms enable you to switch between gears faster and move at higher speeds. However, you'll need to watch your pedal stroke on fixie gears.

Short crank arms deal with the pedal strike problem. You'll go fast with reduced risks of developing a pedal stroke. Its downside is that you'll reduce your power when compared to longer crank arms.

Short crank arms are recommended for riders with knee problems. Knee problems are normally a result of using the wrong bike size but at times an unsuitable arm length.

Tooth Count
A crankset's tooth count is the number of little teeth chained into its hooks. Different cranks have different tooth counts. Why is this important? The number of teeth in your crankset determines how easy or difficult it is to pedal uphill and on straight roads.

Cranks with low tooth counts are ideal for steep inclines and hilly terrains. The opposite is also true – cranks with higher tooth count are better for high speeds and perform better on flat areas.

The most common and recommended ratio is 44 to 42 teeth on the front chainring and 16 to 17 teeth on the rear cog. A suitable gear ratio would, thus, be 44:16.

A higher gear ratio enables the bike to travel faster and at a longer distance but will require excess pushing power. On the other hand, a lower gear ratio is comfortable to pedal but travels slower and at a short distance.
Brand
I'm not a huge fan of brands, and I'm normally an open-minded guy; giving brands the benefit of doubt with their products. But in cranksets, brands matter. You can easily be burned down by a company you've never heard of before.

With thousands of companies manufacturing bike parts, only a few really put in the effort for quality. Most of the others are cheap, inconsistent, and unfinished crap. When you buy such products, you'll likely end up disappointed.
Best Single Speed Crankset FAQs
How do I know what type of crankset to buy?
Unless you have a specific model in mind, there are certain things to consider when making your crankset purchase. Check out for:
The number of chainrings in your bike.

The tooth count on the chainrings.

The length of the crank arm.

The length of the bottom bracket.

The number of cogs at the rear end of your bike.

How do I remove a single set crankset?
As with most DIY mechanical processes, the first step in disassembling a crankset is to loosen and unscrew all available bolts. Don't forget the one that runs through the crank puller. Once you're done with all the screws, you should be able to remove the crankset comfortably without any difficulty. The trick lies with the bolts.

What is the best bracket type?
This would easily be the square taper. These are tried, tested, and proven. They are the most popular thanks to their simplicity and reliability. Moreover, if you need a replacement, they are easily available.
Conclusion
What's a bike without the best single speed crankset? This is difficult to say because this component only makes the ride more enjoyable while also maintaining the condition of your bike. There is a total breakdown of the best single speed crankset; from the top products to buying guides and FAQs.

My products have been tested and proven, and they are easily the best you'll find. One piece of advice when buying your single speed crankset is this; buy the entire set and not individually. The entire crankset is designed to work together. For instance, the arm-lengths need to be the same. Mismatched parts may not fit which will lead to deterioration in the performance.

Also, it would be wise to compare the prices before making your purchase. However, cranksets are affordable and you won't break the bank purchasing them.

Which product in my list caught your eye?