What Is A Best Mountain Bike Shock Pump?
To fully enjoy your mountain biking sessions, you must maintain the optimal level of air pressure in the suspension forks and shock absorbers. You'll a shock pump need for this.
Quick Answer : Best Bike Shock Pumps
It will shield you from the discomfort of riding on rough and bumpy topography.

Considering the plethora of options available, it can be hectic to pick the best one. What I am sure of is that an excellent shock pump must demonstrate affordability, accuracy, reliability, and durability.


The best shock pump is the Pro bike tool shock pump. It lives up to its reputation and more. With top-notch craftsmanship, this Pro bike pump fits all the desired prerequisites. Unless you seek a shock pump with a PSI higher than 300, this is it for you.

Here are the six best mountain bike shock pumps leading the way for the rest.
Top 6 Best Mountain Bike Shock Pumps
Rockshox High-Pressure Fork Shock Pump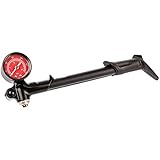 Features and Specs:
High pressure and low volume
Durable

Available in analog and digital model

Rockshox is synonymous with great biking products, and this shock pump is perfect if you are interested in standard features. The pump is a slight upgrade from the previous model shock pumps. Its inflation ability is outstanding and is easy and direct in use.
A highlight of this apparatus is the ability to pump high pressure at significantly low volume. This will allow for the exact calibration of the bike's air fork and rear suspension.
Positioning the bleeder valve close to the readout gauge is a clever move. It will help to adjust shock pressure in the process of pumping air smoothly.
Admittedly, the pump's design is common to others in the market. This shouldn't put you off as it is impressively priced with minimal functional compromise. The gauge can be slightly inaccurate but is reliable most of the time.
With the Rockshox 300PSI Max brand, you get to choose between analog and digital design. Either of the two will impress you with its credible workmanship.
GIYO High-Pressure Shock Pump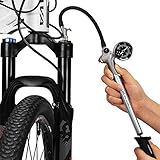 Features and Specs:
Aluminum and rubber material
Foldable hose

No air-lose nozzle
Small and portable

Compact in structure and made from quality Aluminum alloy material makes the pump light in weight. The shock pump will guarantee you prolonged usage, whether on a mountain or road bike.
It features a special no-air nozzle so that there's no air loss upon detaching the shock pump from the bike. As long as it's properly operated, the lever lock on the pump's head quickly closes to make this possible.
For comfortable use, the shock is fitted with a non-slip rubber handle that grants a firm grip hence effortless handling. An exemplary air pressure adjustment valve permits precise regulation of pressure up to 20 BAR/300PSI. The pressure gauge is also clear and easy to read as you pump.
Please note that the Shock pump is only used for inflating mountain bikes' air fork and rear suspension. Do not use it to inflate bike tires.
The Giyo 300 Psi max is cheaper than most of the shock pumps on the list, but it will undoubtedly serve you well.
A Tip: Due to counterfeits in the market, please confirm that the Giyo 300 Psi max you purchase has a rubber handle and not a plastic one.
Beto Precision Mountain Bike Fork Shock Pump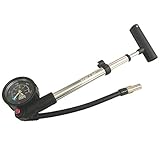 Features and Specs:
For 300psi/20bar suspension shocks
Bleeder button 1.5"

Gauge enclosed in rubber housing Foldable
Schrader valve heads

Swivel hose for easy pumping

On top of its attractive design, the Beto shock pump offers overall brilliant performance. Built-in a compact structure, this pump is light thus easy to carry in your backpack.
It is outfitted with a bleeder button for adjusting the pressure to your preference, while the swivel hose reduces the effort used while pumping.
It can be used with all types of shocks that have Schrader valve heads (car-type). The shock pump has also been praised for minimal leakage when detaching from the valve.
This is more impressive because there's not a unique feature to enable it, just a clean finish in its creation.
This shock pump may be small in size but unquestionably big on performance. Additionally, it is consciously priced hence a favorite for many buyers.
Giyo GS – 05 HP High-Pressure Digital Shock Pump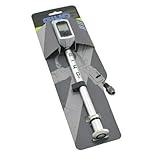 Features and Specs:
High pressure of 600 psi max
6063 aluminum barrel

11.5 inches /29cm long

Die casting aluminum gauge housing
Micro-adjust 2-3 psi air bleeder
Foldable stainless braided hose

Digital shock pumps win when it comes to sharp pressure accuracy compared to the analog kind. The Giyo 600Psi max ranks highly on the list of recommended digital pumps.
While it may be a bit pricier than the pumps explored on this list, its dope functionality is worth every penny.
The battery-operated LCD display is easy to read, which translates to better accuracy. Given the relatively long size of this shock pump, the 6063 aluminum material used makes the pump less bulky.

The idea behind a foldable stainless steel hose was to ensure that it is easy to handle and durable. The braided design simply propagates a firm grip when pumping air pressure.
To negate an accuracy drift and damage of the LCD display, please ensure that the shock pump is kept in a dry place and the battery fully charged before use.

FOX High-Pressure Shock Pump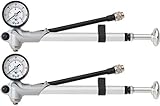 Key Features:
Bleeder valve
300 psi

Adjustable hose

Compatible with all air spring Mountain bike suspension

This reasonably priced shock pump is quiet in design, user-friendly, and pressure level readings are accurate. An endearing factor is that this shock pump can work with all-mountain bike forks.
Therefore, we would confidently suggest this as a go-to for unsure first-time buyers.
A bleed valve is fitted to help you fine-tune pressure in case of overfilling air. The 360-degree rotatable hose makes for effortless handling of your hose from any side you wish.
This classic shock pump hardly changes in features, so you will always be sure that a new pump won't limit usage.
One let down thou is that it has a single-stage valve instead of 2 stage valve. This means you have to be particularly careful as you risk losing some air pressure when disconnecting the pump.
In contrast, the two-stage kind automatically does that for you.
All in all, this pump will remain highly effective and offers longevity.
Pro Bike tool Shock Pump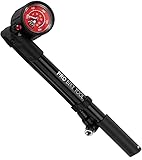 2 stage anti-leak valve head
Precision calibrated pump

Clear and easy to read 1.5 inches industrial gauge with psi and bar readout

Psi and bar readout

One way to heighten a wonderful experience with your mountain bike is to set up the suspension. The Pro bike shock pump is sure to help you with the process.
For starters, the Pro Bike pump is able to deliver up to 300psi/20BAR thanks to the 1.5inch gauge that is clear and easily readable.
Coupled with PSI and BAR readout, the gauge has near-perfect readings.To prevent leakage, it is outfitted with a 2-stage anti-leak valve head. This special feature grants a secure connection when pumping.
In case you need to exhale excess air pressure, there's a fine bleeder button to help you do so with insanely sharp precision.
The precisely calibrated pump is very simple in structure, thus a breeze to use. A 6-inch swivel hose designed with a pivot mount design makes it possible to pump from any angle of choice.
---
How to Choose the Best Mountain Bike Shock Pumps
To choose the best shock pump to suit your needs, you ought to observe and analyze the following factors;
Material
If you are an avid mountain biker, you probably always carry your shock pump when biking. Therefore, it is essential that it is not bulky.
Also, considering that the tool is repeatedly used, you want to be sure that it is durable. A pump made of Aluminum alloy ensures a combination of strength, durability, and lightweight for a shock pump all at once.
Gauge Accuracy
Here's a cardinal rule, the smaller the gauge, the less accurate it is, and the opposite is also true. A small gauge has readability issues for an apparent reason, size. Secondly, internal systems lack precision because they are likely simplistically cramped.
The digital kind is more accurate and precise but requires a battery to operate. It also will cost more and is heavier. On the other hand, the analog is direct in use but falls short in measurement reading. However, it is slightly cheaper and is lighter in weight.
Here's the thing, you often need to cough a little more money for a pump gauge that is accurate and precise, whether digital or analog.
Flexibility
A hosepipe is the pathway for air pressure into the bike shocks. It is wise to choose a hose pipe that is long and easily rotatable and as this will allow you to pump from any angle. It should be made of quality material that won't easily tear or burst under pressure. It comes with the shock pump on purchase but can be bought separately if you need to change yours.
Read about Best budget dropper post

Bleeder valve
This tiny feature is somewhat necessary as it will help you fine-tune excess air pressure levels without struggle. It is located right next to the gauge meter for easier pressure adjustment. Most pumps come with built-in one-stage bleeder valves; others come with a more 2-stage valve. The latter costs more, but it does a better job granting zero loss of air pressure.
Handle
As per the expert's recommendation, the T-shaped handle is the most comfortable to use.
Furthermore, a handle made of rubber increases your grip and, thus, a better hold to do the job. While at it, test to see if the T-shaped handle properly fits your hand size. A long handle does a better job at pumping than a short one.
Conclusion
The above evaluation of the shock pumps will certainly give you an idea of what's best for your mountain bike.
As earlier noted, the Pro bike tool shock pump is my favorite for its reasonable price yet excellent features that are easy to use.
A close contender is the Rockshox High-pressure shock pump because it is available in both digital and analog models.
Both models are hailed for durability and remaining highly consistent in functionality during the long life.
If you are sure that a digital shock pump is the way to go, choose the Giyo digital 600PSI MAX. Though it's pricier than most on the list, you get value for your money.
On top of the high-pressure and low volume, the shock pump offers sharp precision readings, is strong, yet weighs very little.
Ultimately, we advise that you pay close attention to the buyer's guide to ease the selection process.
As with anything, the care you employ with your shock pump majorly contributes to its durability and overall excellent service.