Best Budget Dropper SeatPost
The dropper seatpost has changed the world of mountain biking and helped to push the sport to the next level. Most bikers can and have managed to explore topographies that were previously deemed difficult.

Quick Answer: Best Dropper Post
We can now comfortably adjust the height of our dropper seat posts for a steady and safe ascent or descent on a trail.
While this idea is exciting, most people quickly tap out when they discover the price tags associated with owning a dropper seatpost.
Thankfully, you do not have to suffer through finding a dropper that would that balances affordability and functionality as we have done that for you.
The best budget dropper post is OneUp Component V2 dropper posts and for multiple reasons. It features infinite adjustment ability and the shortest stack height combo that grant you incredible clearance at a great cost. Made using aluminum, this dropper post is designed to last a lifetime.
So here is an analysis that skillfully evaluates the cheapest dropper posts on the market while answering any question you may have and hopefully make a wise decision on your purchase.
Top 6 Dropper Seat Post Reviews
PNW Components Cascade Dropper Post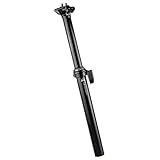 Features and Specs:
7075 heat-treated alloy
External cable routing

125mm 150mm 170 mm travel
30.9 31.6mm diameter saddle tube
First on the list is the simple and dependable PNW cascade dropper post that works exceptionally well with older model bikes.

Fitted with the Lightweight 7075 alloy material, this product guarantees you a mountain bike that is not bulky hence you can smoothly ride the steep trails and deep descents. This frame is also tidy giving your bike that desirable premium look.

An unstable mountain bike is highly inconvenient for any rider especially if they are always on long tedious trails. To prevent this and ensure consistent support, the mountain bike has a DU bushing for enhanced wobble resistance.

This piece is also externally routed and is compatible with mountain bikes compatible with internal routing systems. The external routing comes in handy to neatly hide any cables that may hang loosely when a rider is descending or ascending.
It also has infinite adjustment options which allow you to easily adjust your saddle height while you are still riding the mountain bike.

The only setback would be the cable-actuated 1x style remote is hard to install and is not adjustable thus can only do the bare minimum.

In addition to these features is the sealed air cartridge that's weatherproof, pretty impressive if you ask me as it allows the bike to remain fit and functional even during freezing weather.
The use of a coil spring and cable remote assists with this ability. This then explains the excellent reviews for this beloved budget dropper post on almost every site where you can purchase it.
DNM Mountain Bike Dropper Seat Post Remote Lockout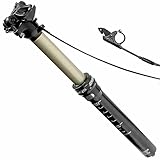 Features and Specs:
Double life usage
Improved model

Fit 30.9, 31.6x, 34.9mm in seattube diameter
330 mm travel

Although this is still fairly new in the market, it has managed to bring the heat with its great performance. You'll first notice it is lightweight due to the 7050 tubing material used in its construction.

The saddle height can be shifted preferentially by using a remote control so that the rider does not have to stop in case of discomfort.
For protection and safety from has an exclusive anti-roll spin structure that ensures you are steady while riding on steep or deep descents. This will help a rider handle the impact from the high and low jumps of your trail with ease.

The different seat tube diameters available widen the scope for probable bike models that are compatible with this dropper seat post.

As a matter of fact, it has been hailed as one of the best dropper posts out there for beginners.
It is important to that read instructions carefully for proper installation to prevent accumulation of air pressure you are riding.
Tranz-X Kitsuma Dropper Post with external routing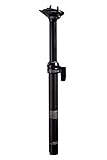 Features and Specs:
External cable routing
580-600g in weight

30.9mm or 31.6 mm seat post diameter with 125,150 0r 170 mm of dropper travel

27.2mm seat post diameter with 90mm or 110mm dropper travel

The low-maintenance Tranz- X is made with the strong but light 7075 aluminum alloy that ensures durability in spite of the riding conditions that the bike will be exposed to.

Furnished with the Kitsuma external cable routing, this dropper post can be used with any cable-operated drop lever in the market today which is good for both old and new model bikes in the market.

You can purchase the Kitsuma external on its own or with an additional lever that is sold individually.

In the latter case, it is advisable to choose the TranzX Kitsuma 1x, Kitsuma 2X, or Hot Lap drop bar, all of which are compatible.

Built with a hard and stanchion, a sealed hydraulic cartridge and a coil spring made with 7075 aluminum alloy, your bike can gracefully handle brutal terrain and assist with stability during high jumps.
Finally, the conscious price standards set for this post will have you wanting to upgrade your bike.
OneUp Component V2 dropper posts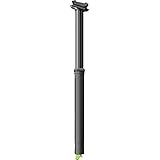 Features and Specs:
Aluminum alloy
30.9 mm.31.6 mm seattube diameter

Offset of zero
Travel drop of 120mm 150mm 180mm 210mm
The V2 dropper post is cable actuated to enable easy installation and features an infinite adjustable drop that is crucial for effortless alteration of your saddle height. A factor that only compares to cool and pricey droppers such as the RockShox reverb.

Notably, the Oneup V2 has a low stack height in comparison to the other dropper posts in the market today, but this doesn't equate to poor performance.
If anything, coupled with its uniquely short total length, this feature enables you to painlessly size up your dropper for good clearance once your back wheel gets busy on the rough steep descents.

In addition, the V2 is equipped with an exclusive travel lowering shim system with two 10 millimeter shims that will assist to lower your post to the measurements that suit you by up to 20 millimeters without messing with the post-stack height.
This allows easy personalization of dropper length to suit the different existing physical forms.

The Oneup v2 is also non-hydraulic make helps to prevent slow speeds and sticking of the dropper when a rider covering high altitudes with freezing temperatures as does with many hydraulic assisted dropper posts.

You will surely realize true value as self-servicing is also made easy with the reliable sealed cartridge internals that anyone can easily operate.
PNW Components Ridge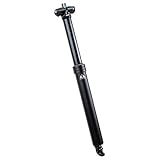 Key Features:
Travel drop of 125 mm, a total length of 405mm
Internal routing

Alloy front derailleur compatible Lever
30.9 31.6 mm diameter
Hydraulic cartridge, sealed.

You cannot go wrong with the ridge post. Tried and tested, this affordable equipment stands out among the best dropper posts available today.
Not only hailed for its cheap price but its quality and longevity. We can dare to say that you may have to use your lifetime warranty because there'll be no reason to.

Unlike most budget dropper posts, the ridge dropper post saves you the extra cost as it comes with a lever on purchase but also has a no-lever option.
Kindly note that the latter option doesn't come with cable and housing. There's no harm in having an extra lever if you already possess another.

A simply designed sealed air cartridge makes it painless to use and service at home which in turn gives the dropper posts a long life of reliable usage.

Although the PNW components Ridge is the bulkiest on this list, it must be stated that the material used was a thoughtful choice to balance a fair price and consistent performance and certainly not a compromise in quality.

It would also be worthwhile to note that if you want higher travel ability with a pnw series dropper, the pnw bachelor ranks highly in travel with a 200mm travel drop.
KS eTen Remote Dropper Seat post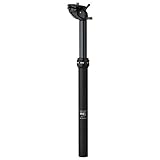 Remote actuated
27.2mm,30.9 31.6mm diameter
100mm travel drop
Saddle clamp

Are you looking for a cheap yet high-functioning dropper post? If yes, then KS eTen Remote dropper is the one for you.
With an option of a slimmer and uncommon 27.2 mm diameter, this dropper fits well with model bikes that don't fit with the usual 30.9, 31.6 mm.
It is short on travel at just 100mm, but that isn't too bad considering the cheap price at which you will purchase it. To assist with an easy and safe stop on the steep and high trails, the KS with a sealed air spring and hydraulic cartridge that makes for smooth action.
To work the external cable remote, you have a small lever that is conveniently positioned at the top of the dropper post.
If you prefer an internally routed dropper and are still hell-bent on the KS series, we can highly recommend the Ks lev Integra 272 which still has a lot of the awesome features included in the eTen post.
All these fittings absolutely make for a great budget dropper post for a rider with a limited amount of money spend.
---
How to Choose the Best Budget Dropper Post
To ensure that you get the best value for your money on a dropper post-purchase, you must generally understand the specs of your bike.
Also, know how well they'll adapt to the dropper that you choose. Here are some factors to consider when making that choice:
Cable Routing
Ensure that you know the kind of cable routing that is compatible with your bike so that you can pick the right dropper posts that suit your mountain bike.
Please bear in mind that majority of dropper post cables are internally routed. This means you have to be particularly attentive for the dropper post of a bike with externally actuated.

Remote Lever Actuation
A remote lever is essential for smooth lowering of the saddle. On most bikes, this feature is mounted on the handlebar for easy control.
For front shifter style bikes, remotes are installed on the lock-on grip collar or on top of the bar while the single-ring drive train bike design, the remote is installed under the bar, both of which are effortless to use.

In very cheap and simple dropper posts, the remote will likely be placed just under the saddle which can be difficult to use while still riding.
The best option is a post with a loam lever remote that is thumb-free and anti-slip so you can handle wet and cold weather riding conditions.
Travel Adjustment
There are two types of travel adjustments; fixed and infinite.

The infinite adjustment style, also referred to as stepless style allows you to stop your saddle anywhere you like while the fixed kind limits where the dropper seatpost can stop e.g. 20mm or 10mm down.

The stepless/infinite style is doubtlessly more popular as it is more convenient and simple to use.
Travel Length
The total, up and down travel length is crucial in your choice of a dropper post as it controls how far the posts move up and down and how well your saddle is positioned while you comfortably pedal.

The cheaper the post, the lesser the travel length and the vice versa is true. In addition to this, a longer travel is stronger and has particularly precise internal systems.

The lowest travel length begins at 100mm while the most common droppers have a trip of between 125mm to 170mm which is good enough.
However for more expensive droppers like the brand x ascend XL, RockShox Reverb axs and the X fusion manic, the travel ranges between 170mm to 210 mm.
The RockShox Reverb is notably versatile as it has every single travel drop option named from 100mm to 210mm.

I must add that while the reverb axs and brand x products are usually pricey due to their sophistication, you can cut this cost by a mammoth just by thoroughly comparing prices on different sites.

To settle for the right travel for your bike, take the measurements of the seatpost from the saddle rail to the top of seat collar and contrast to that of the dropper post from the saddle trail to below the dropper collar.
If the numbers are close or match, then go for it. If the dropper post is longer, pick something else.
Seattube Diameter
Make sure you choose a post whose diameter matches that of the bike frames seat tube otherwise it will be ill-fitting. To get this measurement, pull out the dropper seatpost and not down the number firmly written or stamped on it.
Insertion Length
Again for proper fitting, know the total length and insertion depth of your dropper post. The total or overall length simply describes the length of the dropper when fully extended while the insertion depth refers to the length of the post that fits into the bike's frame.
FAQs
Are dropper posts worth it?
The simple answer is yes.
First, most modern mountain bikes are built with it.
Secondly, because they promote a better experience as you have better support when mountain biking on very steep climbs and deep descents.
What size dropper post do I need?
Different sizes work for different bikes. A lot of factors matter but a highlight to keenly observe while making a decision on your post is its travel length.
To calculate this, take the measurements of the seatpost's collar to the saddle rail and then take off 50mm from the number you get.
What you find will be the maximum travel length for a dropper post that you can effortlessly control.
Can you put a dropper post on any bike?
There are common seatpost diameters of 30.9mm, 31.6mm and 34.9mm that can be used with almost any bike. Then there's the unusual 27.2 mm that is used with bikes that have a slimmer frame.
Why are dropper posts so expensive?
Dropper posts are likely expensive because they are specially made for a particular group of people, in this case, ardent and highly qualified mountain biking individuals who need the equipment to comfortably traverse difficult and deathly terrains.

There's also a lot of precision and intentionality in the creation of this high-end item. Take an example the RockShox Reverb axs, one of the best dropper posts electronically actuated to offer a completely effortless experience thus will expectedly be expensive.
Conclusion
Like it is with everything in life, you get back what you put in. It is safe to say that getting yourself dropper post will certainly elevate your experience while out riding in the mountain.
And the list above literally has a lot of what you'd like in the market. You will be sure of smooth action as long as you pick the best dropper posts post for your mountain bike.

Feeling rather generous and have already used one or several of the brands above?
Feel free to explore a pricier and reliable new dropper such as the reverb axs, brand x ascend dropper, the reverb stealth among others.

Take time to understand the inner workings of the post so that you can easily operate it while you are under intense action.
For the average rider, it would be wise to pick a dropper that is uncomplicated to grant you a thrilling but safe riding experience.