Best Folding Mountain Bike Review | Light, Durable & Affordable.
All too often, mountain bikers are faced with the unfortunate reality that there's not enough room for one more bike in your home.

Quick Answer: Best Foldable MTB Bike
Outroad : Best foldable mountain bike for adults.

Max4out : lightweight folding mountain bike.

Mongoose Exlipse : Mountain Bike for Kids.

Columba : Best Budget Foldable Mountain Bike.
Cyrusher : Best Folding Mountain Bike for Hilly Terrain.

TOUNTLETS : Best folding mountain bike under $300.

Max4out : Most Durable Folding Mountain Bike.

Kingttu : Best Folding Mountain Bike for Tight Storage Spaces.

Eurobike : Best 27.5" Folding Mountain Bike.

Eurobike 26" : Best Full Suspension Foldable Mountain Bike.

Thankfully, the best folding mountain bike offers much of the same performance as a traditional mountain bike, but in a package that can fold down and tuck away easily.

Folding bikes have several advantages for anyone who's tight on space for bike storage. They're easy to carry up and down narrow staircases, they can be stowed away into a small space in your closet or garage, and they're easy to throw in a small car to get to the trailhead.
In our folding mountain bike review, we'll highlight seven of the best folding mountain bikes on the market today. Plus, we'll take a look at everything you need to know about how to choose the best model for your needs.

Xspec 26" Folding Mountain Bike
Xspec's foldable bike is very inexpensive, which makes it perfect for riders on a budget. The frame is heavy steel rather than aluminum so that the bike can feel sluggish on hilly trails. But, it's built well, and the full suspension system does a great job of sucking up vibration.
Specs
This 26" full suspension MTN bike is made from steel, so it weighs in at a whopping 42 pounds. That's a lot of weight to push if you're working your way up a steep hill. But, the bike's weight is due in part also to nice features like a full suspension and 21-speed shifting. The largest cassette is 48T, so you do have the gearing to get up just about anything.
Tech
This bike is held together in the center of the frame by a single quick release folding mechanism, which is extremely sturdy while still being easy to unlatch. The bike doesn't fold down as small as we'd like to see, but it's compact enough to fit in any car. Note that the bike arrives only partially assembled, and the manual doesn't provide much insight into how to finish the job.
Cost
This bike is very inexpensive, which makes up for the heavyweight if you're tight on money. Most of the components will last for years, although the pedals are made of plastic and have been known to break off on bumpy terrain.
Overall rating : 4 / 5
The Xspec 26" isn't the world's greatest foldable mountain bike. But, for the price, it's hard to argue with what you're getting. The full suspension system is extremely powerful at dampening shock, and the steel body will last for years of riding.
Cyrusher FR100 Folding Mountain Bike
The Cyrusher FR100 folding mountain bike isn't cheap, but this bike can keep up with the pack of traditional full suspension MTN bikes on the toughest terrain. It comes with 24 interchangeable speeds, which makes it ideal for powering over hilly sections of trail. Plus, it packs up surprisingly small given how much power this bike boasts.
Specs
The FR100 is a high-quality 26" aluminum frame mountain bike. If it didn't fold down, this bike would fit right in with the pack of traditional cross-country MTN bikes. The quick release folding mechanism relies on a single clamp in the middle of the bike, which makes folding and unfolding fast and simple.
Tech
This bike is equipped with disc brakes, wide tires, and a whopping 24-speed folding mountain bike drivetrain to provide versatility on any trail. Be forewarned that while the frame is well-built and durable, the wheels are not. They're heavy, and the disc brakes are prone to wearing out. If you have the budget, it's worth upgrading the brake system and other wheel components.
Cost
Cyrusher's foldable MTN bike isn't cheap, but for a foldable aluminum frame with a full suspension system, it's quite the value. If you have some money to spend, you can upgrade the wheels on this bike to create a ride that's truly capable of taking on any terrain.
Overall rating : 4 / 5
The Cyrusher FR100 provides a solid value for those in need of a 24-speed folding mountain bike that can go the distance over difficult terrain. We especially like the 24-speed gearing system for tackling hilly trails. With a few upgrades, this bike can easily hang with cross-country competitors that cost twice as much.
Montague Urban Folding Hybrid Bike
This hybrid-style 21-speed folding mountain bike is designed for roads and dirt paths more than a trail. But, it's the perfect urban commuter for apartment-dwellers without enough space for a traditional bike. The frame folds up extremely small, and the bike is fitted with all the accessories you need to start commuting.
Specs
Montague's urban foldable MTN bike comes in three frame sizes so you can perfectly match the bike to your body. The frame is made of steel, so it's extremely durable and can handle whatever potholes you find along your route. Besides, the folding bike includes35-millimeter semi-knobbed tires, which work well on road, dirt, gravel, and everything in between.
Tech
This ride comes with everything you need for urban biking and commuting. It's outfitted with front and rear fenders, a rear bike rack, and an ultra-plush vibration-dampening seat. The bike also comes with 21-speed shifting, so you never have to worry if your daily commute involves a significant climb.
Cost
This folding hybrid MTN bike is shockingly expensive. While we love the design and the compactness of the bike once it's folded down, you pay a high premium for foldability. It helps that this bike is outfitted with numerous accessories, but it can still be hard to justify the sticker price.
Overall rating : 4 / 5
This foldable hybrid bike is designed with commuters in mind. It has a lot to offer, including plenty of accessories and 35mm wheels that can handle a wide variety of surfaces. But, the high sticker price may drive a lot of riders away from this bike.
Max4out Folding Mountain Bike
This 21-speed folding mountain bike from Max4out is built for adventure. The bike features a rugged high-carbon steel body, a spring-loaded dual suspension, and wide knobby tires that can handle rocks and mud without a hitch. To top it all off, this bike is priced at a pretty reasonable price for beginner and expert riders alike.
Specs
This 26" foldable MTN bike is equipped for serious trail riding. It comes with a dual suspension system and heavy-duty disc brakes that offer enough stopping power for wet and muddy conditions. On top of that, it's built with lightweight aluminum wheels and outfitted with wide knobby tires that pair well with any trail.
Tech
This bike looks pretty unique, and that's because it is. The seat tube doesn't extend to the rear fork, so the only connection between the top tube and rear triangle is via the spring-loaded rear suspension. That means you get phenomenal vibration dampening on the rear end of this bike – not to mention the powerful suspension front fork.
Cost
The Max4out folding bike is very reasonably priced, given the quality of the build. To sweeten the deal, the bike includes with front and rear fenders – all the more encouragement to hit the trails when conditions are rough.
Overall rating : 4 / 5
The Max4out folding bike is the ideal MTN bike for aggressive trail riding. It offers a ton of shock absorption in the folding dual suspension system and has a relatively lightweight steel construction. Just plan to check out the parts and possibly spend money on a few upgrades before you put the bike through the ringer.
Kingttu KTG6 Folding Mountain Bike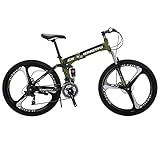 This folding mountain bike from Kingttu packs up relatively small thanks to a single hinge point in the center of the frame. The bike is built for riding in a variety of conditions, with disc brakes for steep trails and knobby tires that can handle anything from the road to gravel to mud. On top of that, 21-speed shifting means that this bike is ready for hills.
Specs
The Kingttu folding MTN bike is built with a heavy-duty steel build, which makes it very durable but also quite heavy. This bike weighs in at close to 50 pounds. However, the weight is offset to some extent by the fact that the bike folds compactly in half, making it easy to transport. The bike is designed for shorter riders up to 5'9", so it's significantly smaller than some other folding MTN bike models.
Tech
The KTG6 comes with a lot of travel in the front suspension fork, which is great if you spend time on bumpy or rocky trails. The rear suspension isn't quite as fluid, but there's still plenty of vibration dampening. It's also worth noting that the diameter of the disc brakes is on the small side, so the brake system can heat up if you spend a lot of time downhill riding.
Cost
This bike is relatively inexpensive, which is great, especially if you're buying it primarily for ease of travel rather than as your go-to MTN bike. That said, beware that this bike doesn't come with any accessories. So, you'll probably need to spend a little extra on fenders at the very least.
Overall rating : 4 / 5
The Kingttu KTG6 is an all-around quality 21-speed folding mountain bike. While the steel frame can be heavy, the compactness of this bike is a major plus, and the 3 x 7 speed shifting ensures that you can power over hills. Plus, the bike comes in at a very attractive price for beginner riders.
Eurobike TSM G7 Folding Mountain Bike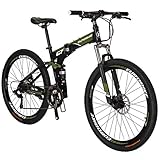 This folding bike is 27.5" rather than the usual 26". That makes it half as compact when folded, but also twice as fun on the trails. Thanks to the larger wheel size, you can move faster through the terrain and keep your rolling momentum. Plus, this MTN bike is compatible with any accessories that work with traditional 27.5" mountain bikes.
Specs
The jump from 26" wheels to 27.5" wheels is significant. You get a higher angle of attack, which allows you to roll more smoothly over rocks and logs. Plus, the bike keeps its momentum better and offers better traction in wet and slippery conditions. While you'll lose some maneuverability and compactness when folded, there's a reason why the 27.5" wheel size is the standard over 26" for traditional MTN bikes.
Tech
The TSM G7 is a well-built folding MTN bike, with a long-lasting steel frame and large-diameter disc brakes to ensure you have the stopping power you need. The suspension front fork offers a surprising degree of travel, which makes this bike a lot of fun to ride. Better yet, the rear suspension on this bike is very solid, so you'll hardly notice a medium-sized drop from the saddle.
Cost
This MTN bike is surprisingly inexpensive, especially considering that it's a 27.5" size. That said, the bike doesn't come with any accessories like fenders, and you'll also have to pay to add pedals to the frame.
Overall rating : 4 / 5
The Eurobike TSM G7 is a very attractive foldable mountain bike thanks to its 27.5" wheel and frame size. While it's relatively large when folded, the bigger wheel size and long front suspension travel combine to make this bike a lot of fun to ride.
Eurobike 26" Full Suspension Mountain Bike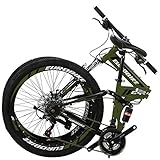 If you're looking for a bike that can take on hard-hitting trails, look no further than this 21-speed Shimano gears mountain bike from Eurobike. This folding dual suspension bike ensures that you can bounce down roots and rocks without losing control. The mountain bike also comes with front and rear disc brakes. That braking system ensures you have plenty of stopping power in wet or muddy conditions.

The bike is built with 26" wheels, which makes it very small when folded down. We also liked the simple quick release folding mechanism, which latches in seconds so that the bike is easy to assemble. The downside to the 26" wheel size, though, is that the bike won't fit well for anyone over about 5'9" tall.

This bike comes with 21-speed Shimano drivetrain, so you have plenty of gears to get up and down hills. The stainless steel folding frame can be slightly heavy, but it also keeps the cost of the bike down and ensures a long lifespan.
Advantages of Folding Mountain Bikes
---
Is a folding MTN bike a better choice for you than a traditional MTN bike? There are a lot of advantages to being able to fold up your bike into a small package, especially if you live in an urban environment.

To start, folding mountain bikes don't take up much space in your home. For apartment dwellers who are perpetually tight on space, that's a major advantage. Folding MTN bikes can easily tuck away in a closet or corner, and it's much easier to get them up a flight of stairs or through narrow hallways compared to a traditional bike.

On top of that, it's possible to take a foldable mountain bike just about anywhere. There are few restrictions on these bikes on trains, subways, and ferries, and they typically fit in the trunk of even small sedans. Thanks to this, you can easily explore new trails that would otherwise be inaccessible if you had to transport a non-folding MTN bike.

There aren't many downsides to folding bikes. Perhaps the biggest is that most of the options out there are 26" MTN bikes, as opposed to more popular 27.5" and 29" models. But, you can find some 27" options like the Eurobike TSM G7.
How to Find the Best Folding Mountain Bike?
Choosing the right foldable mtn bike for you isn't always easy – there's a lot to consider.
In this part of our foldable mountain bike review, we'll take a closer look at the features you need to consider when buying a folding mountain bike.
Frame Material
Foldable mountain bikes are made with either a steel or aluminum alloy frame. You won't find carbon folding MTN bikes since carbon loses it's a strength once it's split into two pieces.

Both steel and aluminum are extremely durable, so you don't have to worry too much about breaking your bike on rough terrain. Steel tends to be cheaper, but also heavier – aluminum can cut the weight of your bike in half. If you have the budget, an aluminum alloy folding mountain bikes will accelerate better on the trail and be easier to carry when folded.
Folded Size
If you're opting for a foldable mountain bike because you're tight on space, it's worth checking on how small your bike will be when folded. Most MTN bikes fold in half, but some hybrid models like the Montague bike can fold up to a very compact package.

Also, you'll want to make sure the folding mechanism is simple and durable. All of the models in our folding MTN bike review have a large quick release clamp, which makes folding and unfolding the bike extremely fast.
Suspension System
Most foldable MTN bikes are equipped with a front suspension fork to dampen vibration on your front wheel. Also, full-suspension folding bikes feature a spring-loaded rear shock that connects the top tube to the rear fork. If you plan on riding bumpy, rough trails, having a full-suspension system will make your ride much more comfortable.

Alternatively, some hybrid bikes like the Montague don't have any suspension system at all. These bikes are best for relatively smooth trails, like gravel and dirt roads or bike paths.
Wheel Size
The vast majority of folding bikes are built for 26" wheels, which are on the smaller side of what's popular on traditional mountain bikes. This is something of a trade-off – a 26" MTN bike will fold to a much smaller size than a larger bike with bigger wheels. That said, you can find some 27.5" folding mountain bikes like the Eurobike TSM G7 model
Braking System
Most modern mountain bikes use dual disc brakes. However, you might find some older mountain bikes with V brakes as the braking system. When possible, avoid V brakes. They don't provide nearly as much stopping force as disc brakes, so they're not always reliable if you're riding on rough terrain.
It was tough to declare an overall best folding mountain bike – all of the models in our foldable mountain bike review have a lot to offer. But the Xspec 26" foldable MTN bike is hard to beat when it comes to both build quality and cost. It's easy to assemble and the bike comes with a 21-speed Shimano drivetrain with a 48T cog in the rear.

If the Xpsec doesn't cover your needs, the Cyrusher FR100 folding mountain bike is another one of the best folding mountain bikes. It stands out for its full suspension 24-speed shifting and surprisingly small folded size. On top of that, the FR100 has a lightweight aluminum alloy frame that allows this bike to crush hilly terrain.

If the FR100 is out of your price range, we also really liked the Max4out folding mountain bike and the Eurobike TSM G7. The Max4out is modestly priced and offers a very aggressive full-suspension design. The Eurobike model stands out because it's one of the few 27.5" foldable mountain bikes on the market today.

With our reviews of the best folding mountain bikes, you can easily find a ride that you can take anywhere and stow away easily. So, get ready to hit the trails with the best folding mountain bike for you.