Best Folding Electric Bikes | My Reviews & Ratings
Electric bikes have made it possible to zip around town on two wheels as part of your daily commute or to power up steep roads and trails with ease. But, if you're short on storage space at your home or office, it can be hard to find an e bike that's compact enough to meet your needs.

Quick Answer: Best Folding Electric Bikes
That's where folding electric bikes come in. These bikes have all the motor power of standard electric bikes, but they fold down to a fraction of their normal size when you're not using them.

In order to help you find the best one for you, we've put together this folding electric bike review. We'll highlight five of the best electric folding bikes on the market right now, as well as explain in detail everything you need to know when choosing a new e-bike.
Here Are The Reviews of Best Folding Electric Bikes
There are a lot of high-quality best folding electric bikes to choose from. But, these five stand out for offering the best combination of performance and value. We've highlighted what each folding e-bike excels at so you can easily decide which one is best for your needs.

ANCHEER Folding Electric Bike, 20 Inch with 36V 8Ah Removable Lithium-Ion Battery.
This 20-inch electric folding bike from ANCHEER offers everything you need for smooth riding. It's built with commuters in mind and can handle a wide range of terrain, including smooth trails. With a seven-speed drivetrain, three adjustable electric assist settings, and hydraulic disc brakes, this folding bike has everything you need to go from city streets to trails with ease.
Specs
This folding e-bike from ANCHEER is made with an aluminum frame and a carbon front suspension fork. The wheels are a bit too small to use it as a hard-hitting e-mountain bike, but you'll experience smooth riding on potted city roads. Disc brakes are a plus, too, enabling you to stop easily from high speeds.
Tech
The bike is built with a three-speed motor that tops out at around 15 mph. You can control the motor power with a simple LED screen built into the handlebars, which is nice. The battery is nice too – at 8 AH, it offers up to 30 miles on a single charge when you're pedaling along with the bike.
Cost
This isn't the cheapest on the market, but it's a pretty good deal for what you're getting. Since it's equipped with lights and a rear rack, you won't have to spend any extra money to get this bike into shape for commuting.
Overall rating : 5 / 5
The ANCHEER 20-inch electric bike is one of the best options on the market. It comes ready for commuting, which is a huge draw for city riders. While the wheels are a little small for riding technical trails, you could also use this as a gravel or relaxed trail bike. It would be great to see a larger battery, but that won't be a problem as long as you charge the bike after every use.
Aceshin 20" Folding 7 Speed E-Bike
This quality folding e-bike from Aceshin has a lot in common with our top pick from ANCHEER. It offers a seven-speed drivetrain, three motor speeds, and hydraulic disc brakes, all in a versatile 20-inch frame. It's a great choice for commuters in particular because it comes with fenders, front and rear lights, a rear pannier rack, and even a kickstand. But, watch out for the price, which is a little bit high.
Specs
This aluminum folding e-bike is surprisingly lightweight, weighing in at around 50 pounds. That's a big advantage if you need to carry this bike up and down stairs between your home and office. On top of that, it comes fully ready for commuters – it includes front and rear fenders and lights, a kickstand, and a rear rack to hold your panniers.
Tech
This e-bike sports a burly 250-watt motor, which is capable of producing speed of around 15 mph in throttle mode. With the motor turned to the highest of the three speed settings and your own pedaling power added in, it's relatively easy to match the speed of cars on city streets. Note that the motor is mounted on the rear wheel, so you may feel like you're being pushed from behind.
Cost
The Aceshin folding e-bike is pricey, but well worth it for commuters. You won't need to put money into any accessories, and the low weight of the bike is a huge plus. Just bear in mind that there are some cheaper options out there if you're on a tight budget.
Overall rating : 4 / 5
This foldable electric bike is the perfect choice for bike commuters. It comes packed with all of the accessories you need to ride safely, whether in bad weather or at night. The battery is a little bit limited in range, but that's a small price to pay for the light weight and compactness of this e-bike.
Tomasar Folding Electric Bike with 26 Inch Wheel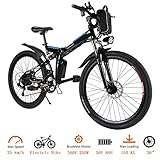 If you're in the market for an e-mountain bike that you can fit in your apartment or office, this model from Tomasar hits the spot. It comes with burly 26-inch wheels, disc brakes for added stopping power, and a fully suspended ride for comfort. Just keep in mind that it only offers two electric assist settings and a relatively small battery, so it's less than ideal for long days on the trail.
Specs
This foldable electric mountain bike offers a full suspension, making it the perfect choice for taking on steep trails that you wouldn't be able to tackle with a non-motorized bike. The 26-inch wheels are larger than what most other folding bikes offer, but they're ideal for rolling over obstacles. Tomasar also added hydraulic disc brakes and grippy tires so you can feel confident riding on wet or muddy terrain.
Tech
Unlike many other foldable e-bikes, this bike only has two motor modes: fully electric and assist mode. Switching is simple – just press a button on the handlebars – but some riders might wish for a little more control in the motor assistance. Also bear in mind that the 8 AH battery is limited to 30 miles in assist mode or 15 miles in throttle mode.
Cost
For a motorized full suspension mountain bike, this model is a steal. Yes, it's more expensive than a lot of other folding e bikes. But, you're getting a rear suspension system and 26-inch wheels for that price. It's hard to argue with those upgrades if you're planning to hit the trails with your bike.
Overall Rating : 4 / 5
This foldable electric bike from Tomasar is designed with trail riders in mind. It features large 26-inch wheels that can easily roll over obstacles, along with mechanical disc brakes and grippy tires to help give you peace of mind on slick trails. A larger battery would be good to enable longer days on the trail, as would more assist modes so that you could conserve battery as needed.
shaofu Waterproof Folding Electric Bike – 350W 36V with 15 Mile Range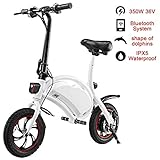 This folding e-bike from Shaofu is quite unique. You can tell just by looking at it that it stands apart from the rest of the e-bikes we reviewed – it has a center-mounted battery encased in a somewhat circular frame. It doesn't come with pedals, as this one only works in throttle mode. So, it's a great choice for quick trips around town, whether you're commuting or stopping at the store.
Specs
This folding e-bike is in many respects more like an electric scooter than a bike. It doesn't come with pedals and there's no assist function in the motor – it only works in throttle mode. Because it doesn't need a traditional bike drivetrain, Shaofu was able to pare this one down to a weight of just 26.5 pounds.
Tech
The design of this bike is somewhat unique because the battery and a Bluetooth receiver are housed inside a box in the center of the frame. Shaofu actually has a mobile app that allows you to lock or unlock the motor with a password, which allows you to leave the bike just about anywhere without worry.
Cost
This folding electric bike is so inexpensive that there's almost no reason not to get one. It costs less than most comparable electric scooters, and far less than standard e-bikes. Just keep in mind that the battery life is limited and it's mostly limited to riding on flat roads.
Overall rating : 4 / 5
This handy and best folding bike from Shaofu is more akin to a budget scooter than a true e-bike. It doesn't have pedals, so you're completely reliant on the battery and motor for propulsion. If you live in an area with smooth, flat roads, this bike is a great option. But, it won't do well in areas with hills or lots of potholes.
RINKMO FEB-S1
If space is an issue for you even with a folding e-bike, check out this extremely compact option from RINKMO. When folded, it's just a fraction of the size of other bikes we reviewed. It's not fully equipped for commuting – there's no rear pannier rack – but that won't be a problem if you typically commute with a backpack anyway.
Specs
This folding electric bike swaps out the standard 20-inch wheels in favor of smaller 14-inch wheels. That allows it to be much more compact than comparable bikes, although it also somewhat limits you to riding on smooth roads. Beware also that it doesn't have a front suspension fork, so you'll feel every bump.
Tech
Although the wheels are smaller, this bike doesn't skimp on the motor specifications. The bike is able to zoom ahead at 15 mph thanks to a 250-watt motor and 8 AH battery. The battery is removable for recharging, which is a nice touch that allows you to charge it inside your house or office. Just keep in mind that even though the bike is smaller, 8 AH will still only deliver about 30 miles in e-assist mode.
Cost
This bike is somewhat cheaper than its competitors, but not quite as inexpensive as we'd expect. RINKMO cuts costs by eliminating the front suspension fork and rear pannier rack, and by shrinking the wheels to 14 inches. Those aren't necessarily bad things, but the price doesn't seem to reflect this design.
Overall rating : 4 / 5
This folding electric bike is designed for riders who are extremely tight on space. The bike foregoes some of the welcome features we've seen in other models – such as a front suspension fork and a rear pannier rack – in favor of shrinking the folded size of the bike. Keep in mind that this bike is only suitable for smooth roads, since you'll feel every bump acutely on the tiny 14-inch wheels.
How to Choose the Best Folding Electric Bikes
Buying a best folding electric bike is a big decision. You not only have to think about the standard features that go into choosing the right foldable bike – you also have to consider the motor and battery specs. In order to help you find the best folding electric bike for your needs, we'll highlight some of the most important things you need to consider when inspecting these bikes.

Motor Placement
Electric bikes can have the motor positioned in one of three places: on the front wheel, on the rear wheel, or in the center on the drivetrain. These three placement options affect how the bike feels when the motor is engaged.
When the motor is on the front wheel, it can feel as if you're being pulled along by an invisible hand in front of the bike. That might be okay if you're leaning into the throttle rather than pedaling, but it's not a feeling that most cyclists like.
If the motor is on the rear wheel, the sensation is reversed – that is, it feels like you're being pushed from behind. This still isn't ideal, but being pushed is something that feels much more natural to most cyclists. It's like riding with a tailwind. Rear-mounted motors are what you'll typically find on folding e bikes, since this ensures that the motor does not get in the way of the frame folding mechanism.
Center-mounted motors are rare on foldable e-bikes because they inhibit actually folding up the bike to a compact size. This motor placement does tend to feel the most natural, since the electric assist is coming from the drivetrain rather than from one of the wheels.
Battery Range and Charging
The battery range is extremely important to look at when choosing an electric bike. After all, you want to make sure that the battery has enough juice to get you to your office and back or to the grocery store – and ideally, enough juice to do it without you having to pedal at all.
Most of the folding electric bikes we looked at have 8 AH batteries, which provide a range of about 15 miles in throttle mode or 30 miles in pedal-assist mode. Depending on how you plan to use your bike, that may be plenty of distance or not nearly enough. For example, 15 miles may be fine to commute to work, but it won't help you spend a long day riding trails if you opt for an e-mountain bike.
The other thing to think about in the equation of battery range is charging. Ideally, your bike's battery will be removable so that you can take it into your home or office with you and charge it throughout the day. If it's not removable, you'll have a lot more trouble keeping the battery fully charged for your next ride.
Most e-bike batteries can be fully charged from a standard wall outlet in about four hours. But, make sure that you double-check on how long charging is expected to take for the bike and battery you're interested in.
Electric Assist Modes
When it comes to the actual delivery of power by the electric motor, most folding e-bikes give you a few options. Most commonly, there are three different electric assist settings – two pedal-assisted power levels and full-throttle mode, in which you don't have to pedal at all and the motor will take care of all the propulsion. On many modern foldable e-bikes, you can switch between these settings using a small LED screen mounted on the handlebars.
However, not all bikes share this system. For example, the Tomasar folding mountain bike only has two settings – full throttle or one pedal assist mode. In addition, that bike uses a button to switch between modes rather than an LED screen. Ultimately, it's up to you to decide whether having only one pedal assist setting is enough for you. For some riders, that won't be a problem, while others may find that they can't settle into a pedaling rhythm with the single assist mode.
Suspension System
Many folding electric bikes come with a suspension system, which can be very important depending on where you plan to ride your bike.
A front suspension fork is very common on e-bikes, since you're likely to hit at least a few bumps while riding along with the throttle engaged. The front suspension fork will help absorb the shock of these bumps, ensuring that you don't unexpectedly lose control of the handlebars. A front suspension fork may even be enough vibration dampening for riding on moderate trails and gravel.
Dedicated electric mountain bikes typically come with both a front and a rear suspension. The rear suspension helps isolate the saddle from shocks to the rear wheel, which can make riding over bumps and obstacles far more comfortable and less technical. You probably won't need a rear suspension for riding on roads, but having one doesn't preclude you from sticking mostly to road riding, either.
Keep in mind that not every foldable electric bike has a suspension system. For example, the RINKMO folding bike. These bikes should generally be used only on smooth roads, since any bumps can be very jarring.
Wheel Size
The size of the wheels on a folding e bikes affects both how you'll be able to ride it and how small a size it will fold up to.
In general, larger wheels are better for handling and efficiency. The bigger your wheels are, the less affected the bike will be by rolling over bumps and obstacles. That's a major reason why the Tomasar e-mountain bike is equipped with extra-large 26-inch wheels. If you plan on spending a lot of time pedaling, larger wheels will also help you get more forward momentum out of each pedal stroke.
However, the bigger the wheels are, the larger your foldable bike will be when the frame is folded up. Wheel diameter plays a big role in frame size, and even with the world's best folding mechanism there's no way to shrink the wheels on your bike. So, choosing the right wheel diameter for you is something of a balancing act between optimizing your riding experience and having a bike that's small enough to fit your available space.
Weight
Weight is often overlooked in favor of foldability, but it's equally important if you expect to spend a lot of time carrying your bike around. For example, if you live on the top floor of a walk-up apartment building or take the stairs to your office, you'll definitely notice a difference of five or 10 pounds in the weight of your bike.
Most foldable electric bikes are built with an aluminum frame, so weight savings mostly comes from eliminating other features. For example, the Shaofu e-bike cuts its weight down to just 26.5 pounds by eliminating pedals and a front suspension system. Again, choosing the right weight is something of a balancing act that requires you to decide what's most important to you in a foldable e-bike.
Frequently Asked Questions
Can I get a foldable e-bike with a top speed higher than 15 mph?
Yes, there are some best folding electric bikes with high-wattage motors that can exceed 15 mph. However, be sure to check your local laws before opting for a faster bike. Not all cities and states allow electric bikes that are faster than 15 mph on their roads.
Can I ride my folding e bike without pedaling?
Yes! Folding e-bikes can be operated in throttle mode, in which case you're relying entirely on the electric motor for propulsion. Just keep in mind that using the bike in throttle mode will run through your battery's juice faster, so you'll have a somewhat limited range.
Is it possible to mount a larger battery on my foldable e bike?
Unfortunately, you can't mount a different battery on your foldable e-bike than the one that it comes with. Most e-bikes are specifically designed to work with a specific battery – alternative models simply won't fit on the frame, or could even damage the motor by delivering a different current.
However, if your bike's battery is removable, you can buy a spare and carry it with you. This would effectively double your range.
How do foldable e bikes fold?
Most folding electric bikes have a clamp mechanism on the frame that holds it together. To fold up your bike, all you need to do is release this clamp and then fold the two halves of the frame together. Typically, you leave the wheels on the bike, although you could take them off if you need to save even more space.
A folding electric bike is a great way to get around, without worrying about how much space your bike will take up in your home or office. Whether you're looking to commute or hit the roads and trails for fun, an electric bike can get you where you need to go with less work and more fun.
We'd highly recommend the ANCHEER bike as the overall best folding electric bike. It sports 20-inch wheels and a three-speed motor, plus comes equipped with everything that commuters need to ride in bad weather or at night.
The Aceshin bike is similar, but it's slightly pricier without adding much in the way of features. For mountain bikers, it's hard to beat the Tomasar e-mountain bike, which offers burly 26-inch wheels for tackling technical trails.