​
Retrospec Bikes
Combination of Style, Durability and Performance
---
​​Reviewed & Compared
by Daniel Atlas
​Finding an affordable yet high-performance bike that works well both for covering miles on the road and commuting around cities can be difficult.
After all, a good bike needs to hit a lot of different notes – it needs to be comfortable to ride, able to bear the weight of saddle bags when commuting, easy to maintain over years of use, fast when you want it to be, and stylish.
In searching for a bike, it becomes clear very quickly that few affordable bikes can do all of these things well.

The fixed-gear bikes from Retrospec change all that.
Retrospec's bicycles are designed with the serious urban commuter in mind and extend easily to the recreational cyclist, yet amazingly cost barely more than a decent used bike. Since Retrospec is a lesser known company in the world of bicycles, this guide offers Retrospec bikes reviews to help you decide if this is the bike company you've been looking for.

​Things to Consider Before Buying a Retrospec Bike
---
​Before buying a bike from Retrospec or any other company, it's important to think hard about what activities you plan on using your new bike for.
Commuting cyclists will have different priorities for how their bike is designed and used than an endurance road cyclist or a mountain biker.
Retrospec is designed with the daily city road commuter and recreational cyclist in mind, and their bikes are optimized for this dual purpose.
For example, the steel frame offers stability when carrying saddle bags but is lightweight enough not to slow you down when road riding. The skinny tires also make for a fast ride whether exercising or commuting, but won't work well on gravel or dirt paths for those who plan to go mountain biking.
​Also, you'll want to think about the topography you'll be riding over since this affects whether you want a single-speed or multi-speed bicycle.
All Retrospec bikes use a fixed-gear design, which is a single-speed for which the pedals have to be moving whenever the wheels are moving.
The lack of multiple gears can make bike maintenance drastically easier since there are no gears or shifting cables to repair but can make your ride extremely difficult if you plan on going up or down hills or can't avoid hills on your commute route.

The other important consideration when choosing a bike is comfort – if your bike isn't comfortable to ride, you'll be less likely to head out on the roads.
Road bikes come in a variety of designs, from traditional road bike frames with a drop or flat handlebars to laid-back comfort bike frames that leave you sitting far back from the handlebars but make it easy to stand up when stopped at a light.
The frame type that is right for you depends largely on what is comfortable and how aggressively you aim to ride when exercising or commuting.

Retrospec Mantra Fixie Bicycle
---
Quality
​The hand-built tig-welded "urban comfort" design high-tensile strength steel frame and fork have bar spin clearance.
​Comfortability
​sealed cartridge bearing hubs Improve the smoothness
Our Rating
​Reliability and low maintenance cost makes it more popular among Commuters
​Reversible Fixed-Gear to Single-Speed Hub
​Most bikes have a single type of gearing system – the bike is either a fixed-gear, single speed, or multiple speed bike. The Mantra breaks this paradigm by pairing the rear wheel with an unusual hub that has a fixed-gear on one side and a single speed gear on the other so that it is easy to switch the two by simply releasing the wheel from the frame and flipping it around.
Because the wheels are bolted onto the frame rather than attached with a quick release mechanism – an adaptation to city life to make wheel theft more difficult – this does require a wrench and a few minutes of work.
While most people will simply stick to one gear side over the other, this design is a good non-committing introduction to fixed-gear bikes for riders who are used to riding single speed or multi-speed bikes.
​Steel Frame
​The frame on this bike is made entirely of steel all the way down through the front fork. The steel is strong enough to hold both a rider and multiple loaded saddlebags, which is essential if you plan to use the bike for commuting on a regular basis.
However, the frame is not your typical heavy solid steel design and weighs less than many comparable aluminum frame bikes so that it won't slow you down on long road rides. Steel is also a particularly good choice for a bike frame because of its vibration dampening qualities – this bike can ride over cracks and potholes in the road without leaving your bottom and hands aching.
While it comes standard with a water bottle mount and a kickstand mount, the rear fork lacks eyelets. This is not essential but may limit your choice of accessories when looking for saddle bag racks or a rear fender.
Brakes
Unlike many bikes on the road, the Mantra lacks a rear brake. This is not uncommon on fixed-gear bikes but is an important consideration before buying the bike – especially if you are uncomfortable riding in traffic in an urban area.
Although most of the braking power on a bike comes from the front brake, using the front brake also increases the chances of being tossed over the handlebars if you brake too suddenly.
The rear fork has an eyelet drilled into it in case you wish to add a rear brake after-market, although this is an expensive addition as it also requires you to add brake cables and a rear brake handle to the handlebars.
Wheels
The highest quality component that comes standard on the Mantra is the wheels, which would easily be at home on a much more expensive road bike. The wheels are double-walled super deep-V rims made by Stars.
​They are more aerodynamic than most stock bike wheels, extremely durable, and great at absorbing shock from bumps in the road.
The wheels also come stocked with Kenda Kwest tires, which offer a nice compromise between grip in wet road conditions and reducing rolling resistance for faster speeds.
The only downside to the wheelset is the stock inner tubes, which are thin and flat easily. However, you can easily replace these for only a few dollars.
​Pedals
​The pedals that Retrospec added to the Mantra were designed for commuters rather than recreational cyclists.
The pedals are large and flat so that they can easily be used with whatever shoes you wear to work and provide plenty of base for your foot whether you are wearing flats or work boots. However, they will not accept the cycling cleats favored by recreational cyclists to get more power out of your pedaling.
The pedals do come with a nylon strap to help you pull up on the pedals, which can easily be removed if you find it gets in your way more than it helps when riding.
​Handlebars
​One of the great thing about fixed-gear and single-speed bikes is that they since they can't shift, there is no shifting apparatus required on the handlebars.
This drastically reduces the number of things you need to worry about reaching with your hands and allowed Retrospec to focus on making the handlebars as comfortable as possible.
As a nod to commuters over road racers, Retrospec chose to go with flat handlebars rather than drop bars and gave them a grippy rubber padding that absorbs any shock traveling up the front fork.
This adds some aerodynamic drag but helps to ensure that your hands do not get sore. The front brake lever is easily accessed with your left hand, and the short cable from the lever to the brake is the only cabling found on the bike, which drastically reduces the maintenance you need to put into the bike.
​Seat
​The seat that comes standard on the Mantra is the type of stiff, aggressive seat you would expect on a road bike.
This will be appreciated by recreational cyclists wearing padded bike shorts but does make it uncomfortable for commuting to work in jeans or dress pants for more than a few miles.
Riders using the bike primarily for commuting may want to replace the seat with a more cushioned seat, although for riders using the bike for a mix of recreational riding and commuting can add an easily removable gel seat topper to switch between the two modes of riding.
​Style
​One of the nice features of this bike is that it comes in a wide variety of color combinations, which adds to its overall style.
​The color includes not only the frame, but also the handlebars, seat, and even the deep wheel rims.
​what people are saying about this
​Your Mantra may look unique thanks to the wide variety of color choices available, but chances are you won't be the only commuter or road cyclist in your city riding one of these bikes. Retrospec is extremely popular among commuters and recreational riders alike, and many happy riders offer testimonials attesting to the high-quality build at a budget price. For example, reviewers on ​"westridgeoutdoors" routinely rate the Mantra with five stars and share their customized add-on features, while the bike has also performed well in a video review on Youtube.

​Different Retrospec Bikes
---
​The Mantra isn't the only popular bicycle that Retrospec makes – in fact; they have a whole lineup of bikes designed specifically for recreational riders and urban commuters in mind.
We'll briefly discuss some of their more popular bikes to compare and contrast to the Mantra and identify the best uses for each bike.
​Retrospec Mantra V2
---
​The updated version of the Mantra is now available and offers a few changes from the original Mantra.
​The biggest change is that the V2 offers your choice of either the reversible fixed-gear and single speed rear hub or a more traditional seven-speed cassette on the rear hub.
Also, the V2 adds a rear caliper brake and switches out the pedals for a flatter, lighter pedal that lacks the removable strap.
If you tend to ride in a hilly area and love everything about the Mantra except the lack of shifting, the seven-speed version with a rear brake to slow you on the descent is a great option.
​Retrospec Mars Hybrid
---
​The Mars blends some of the urban commuting features of the Mantra with more traditional features of hybrid bicycle design.
It is comfortable but lacks the quickness of the Mantra's lightweight steel frame and super deep-V rims.
​The Mars comes in single speed (without the reversible hub), three-speed, or seven-speed versions, allowing you to choose based on the degree of hilliness in your commute and your willingness to deal with maintaining the shifting mechanisms.
The bike comes standard with more accessories, including a rear saddlebag cage, kickstand, a bell, and front and rear fenders, so it is much more ready for commuting out of the box than the Mantra.
​Retrospec Venus Dutch Step-Thru
---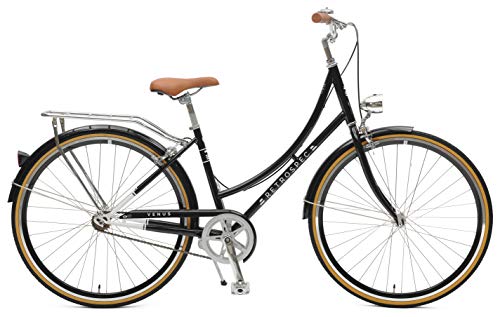 ​The Venus Dutch is perhaps the furthest cry from the Mantra in Retrospec's lineup.
This hybrid bicycle is designed in the comfort style, with a low seatpost that is reclined backward so that you reach up to the handlebars rather than forward to them.
This position is far less aggressive than the road cycling position found on the Mantra, so is more suited for short commutes over flat terrain and getting around town without a car.
The Venus Dutch is available in single speed, three-speed, or seven-speed versions, although the latter is likely unnecessary given that the relaxed position makes climbing hills very difficult.
The frame also differs from the Mantra in that it is step-through, meaning that the top tube swings downward in front of the seat post so that it is easier to straddle the bike while standing – perfect if you encounter a lot of stops during your commute and are uncomfortable stopping without standing over the bike.
The Venus Dutch comes standard with everything you need to start riding, including front and rear fenders, a rear saddlebag cage, a kickstand, a bell, and front and rear lights.
​Biking is a great way to stay in shape and travel to work each day, but finding a bike that has all of the features you need at a price that won't cost you a month's paycheck can be a daunting task.
The Retrospec Mantra is a great bicycle at a budget price that is much-loved among the recreational and commuter cyclist communities.
The Mantra offers a low-maintenance and unique reversible fixed-gear and single speed rear hub that takes much of the additional work beyond riding out of the bike, while the comfortable, sturdy, and lightweight steel frame delivers great performance when weighted down with bags.
Combine that with a great sense of style, and the Mantra easily deserves your attention in the search for a new bike.