Best Electric Commuter Bike Reviews
Electric bikes have transformed the way people get around cities by taking much of the work out of cycling. For commuters who want to ditch their car to save money on gas and spend less time sitting in traffic, e-bikes are a great option that does away with the traditional problems of bike commuting like getting sweaty on the way to work or having to fight your way up hills.
Quick Answer : Best Electric Bikes
The Goal Of This Article Is To Help You Find The Best Electric Bike For Commuting. We'll Cover Everything You Need To Know About Choosing The Best Commuter E-Bike And Highlight Five Of Our Favorites For Any Budget.
We hope you will love the products recommended here, FYI we may get a small share of the sale if you buy through our links and it will not affect product price in any way
Elby Electric Bike
The design of this electric commuter bike from Elby screams electric bike since it sports an elongated and futuristic frame design not found on any standard commuter. However, this unique design is for a reason – the Elby bike sports among the longest battery life found on e-bikes thanks to a custom battery that is capable of regenerating power as you ride.

The trick to this battery is that rather than wasting energy when you brake by fully applying the integrated disc brakes, the electric motor helps you brake by sucking up energy from the rotation of the wheels. This means that when you're going down a moderate hill, you can stay off the brakes completely, turn off the electric assist, and allow the battery to recharge and slow you down as you pedal downhill. Even without this regeneration feature, the lithium-ion battery is rated to last for up to 90 miles in the lowest electric assist mode and fully charges from a wall outlet in under four hours.

The motor is also deluxe, as it kicks in as soon as you start pedaling rather than halfway through your pedal stroke – a sensation that can be quite jarring on other e-bikes. Also, the location of the motor in the center of the drivetrain gives pedaling on this bike a more natural feel compared to bikes with motorized hubs on the wheels. When riding in fully electric mode, the bike is capable of speeding down flats at up to 20 mph and can be upgraded to a 28 mph top speed at some Elby dealerships.

The bike comes with fenders on both the front and rear wheels as well as a bell and LED display with an integrated USB charger for your phone. However, plan to spend a little extra on a rear rack and a set of lights to fully outfit this e-bike for commuting.

FLX Electric Bike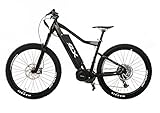 This high-end electric mountain bike is designed with power and battery life in mind. The bike is available in either 750 W or 1000 W versions, with the decision coming down to whether you plan to use the bike for activities in addition to commuting – the 750 W motor is street-legal in the US and other countries as an electric scooter, while the 1000 W motor is designed for off-road use. Note that while the maximum speed on the 1000 W motor in fully electric mode is 35 mph, the top speed can also be electronically limited to comply with local speed limits using the onboard LED display. The motor is located on the drivetrain to give a natural feel to the electric assist.

Despite boasting so much power, the battery on this bike has a huge lifespan – it is rated to last for more than 90 miles on the lowest electric assist setting and charges in under four hours. Plus, the battery is IP65 waterproof rated and is removable with a key lock so you can easily take it inside to charge.

The bike itself is constructed in much the same way as a high-end mountain bike and features a full aluminum frame with a 63 mm suspension on the front fork. Both front and rear wheels are 30 mm wide for added stability and come with disc brakes and studded mountain bike tires that won't blow out when you hit a pothole during your commute. Meanwhile, the bike is equipped with an 11-43-tooth rear cassette that offers a huge range for climbing and descending during hilly commutes.

Note that despite the high price, this bike does not come with essential commuting accessories such as fenders, a rear rack, or lights in the standard version, although a more expensive touring version is available that includes these accessories

Breeze Electric Mountain Bike
This hefty e-bike is designed to go toe to toe with the most rugged mountain bikes, which would ordinarily be too heavy duty for a commute – but the pedal assist makes it easy to ride this heavy bike quickly to work without breaking a sweat. The motor is available in either 500W or 750W versions, with the choice coming down largely to whether you'll be riding off-road or climbing steep hills during your commute.

The lithium-ion battery can last for up to 50 miles in pedal assist mode and up to 21 miles in electric-only mode – perfect for those days when you want to ride to work without putting in much effort at all. Also, in electric-only mode, the bike is capable of a maximum speed of 28 mph, which is faster than the speed limit on many inner city roads. The battery charges via USB and can be fully charged in just a few hours.

The pedal assist has three modes - low, medium, and high – corresponding to the speed you wish to go. High is typically only used when pedaling up steep hills and using the bike in electric-only mode, so there is not a huge range of choice for using the pedal assist. An LED screen mounted just below the handlebars allows you to select your assist mode and check on the remaining battery life.

The bike also comes with four-inch fat tires rather than standard road or mountain bike tires, which are perfect for rolling over potholed and bumpy roads without feeling a thing. These tires can also be used off the road and provide excellent handling compared to standard bike tires. Note that the heavy design of this bike means that most riders will need to use at least the low mode pedal assist all of the time to get it moving.

The bike comes outfitted for commuting, complete with front and full rear fenders and a pannier rack over the rear wheel. Also, the bike comes with a front headlight and reflectors on both wheels.

Story Electric Bike
This electric commuter bike mimics the design of popular urban and hybrid commuter bikes, featuring a step-through frame to make it easy to get on and off the bike at the frequent intersections found on inner city roads. The bike is also stylish like its non-electric counterparts – the battery is tucked away inside the frame, out of sight, and the handlebars and seat are covered with faux leather.

The motor itself is located in the drivetrain, which gives the electric assist on this bike a more natural feel and provides 350 W of power. The battery lasts only up to 45 miles in pedal assist mode, and less when riding in fully electric mode, so this bike is best used for shorter commutes around the city if you'll be relying heavily on the electric assist.

An advantage to this electric assist is that it can be set on up to six different levels or turned off entirely, which gives you a wide variety of options to choose from depending on whether you want to get to work without breaking a sweat or get in a workout on your way home. Also, the rear cassette features seven speeds, giving this bike the unique ability among urban bikes to tackle hills by combining the low gears with the pedal assist. In fully electric mode, the bike can travel up to 20 mph.

The bike features a set of hybrid wheels complete with disc brakes to stop you on a dime even when pedaling along at high speeds with the electric assist. The wheels have an extremely high spoke count, so hitting bumps along the road while carrying your weight and several panniers will not be a problem.

The bike also comes with a rear rack and front and rear fenders so you can start using it for commuting immediately. Two bonuses are the included kickstand and the integrated USB port under the handlebars that allows you to use the bike's battery to charge your phone.

Schwinn Sycamore Electric Mountain Bike
This unique e-bike from Schwinn is a true hybrid, blending the best aspects of road and mountain bikes and pairing the result with an electronic pedal assist in making the ride to work less tiring. The design of the bike is reminiscent of a mountain bike frame, with a slightly aggressive seat position and flat handlebars, but the frame itself is less burly and made entirely of aluminum to save weight. The front fork features a 63 mm suspension system that allows this bike to feel at home on wooded trails – or reduce the shock of riding over potholed city roads.

The electric motor on this bike packs 350 W of power and is located on a rear hub, which gives a feeling of shooting along while pedaling this bike on the flat road. The battery is quite large and lasts for up to 60 miles in electric assist mode on a single charge. However, note that unlike other e-bikes that charge through a USB port, this battery requires a special adapter to charge that you'll need to carry with you if you plan to charge the bike at work. Thankfully, the battery itself can be easily detached from the frame so you can leave the bike outside and take the battery into your office.

The electric assist can be controlled from an LED screen mounted on the handlebars and offers five levels of assistance, including a fully electric mode that pushes the bike at up to 20 mph on flat roads. A nice feature is that the display shows not only battery life, but also your current speed.

Although the bike does not come with commuter-specific features like a fender and rear rack – you'll need to add this after-market – it is ready to take on even the hilliest commutes thanks to an eight-gear rear cassette. Also, both the front and rear wheels are equipped with disc brakes so you can count on this bike's stopping power even when pushing the 20 mph speed limit of the electric assist.

What are Electric Bikes?
Electric bikes take the tried-and-true bike design and add a battery-powered motor into the heart of the bike. The electric motor doesn't replace your pedaling – it simply augments it to add power every time you turn the pedals. That means that for every pedal stroke you put in, you get far more power and speed out than you would on a normal bike.
Why Use an Electric Bike for Commuting?
Electric bikes are perfect for commuting because they increase your speed without you having to break a sweat. That means that for short, urban commutes, you can wear your work clothes during your ride and not have to worry about getting them sweaty, all while making it to work at the same pace as you would if you were pedaling aggressively on a road bike.

Electric bikes are also perfect for commutes that involve hills. The electric assist motor works even when you are pushing hard on the pedals or pedaling in a low gear, so it can make it easier to work your way up steep hills.

An advantage for commuters thinking about making the switch to electric bikes is that they largely use the same design as traditional bikes. That means they have much the same handling despite the added weight of the motor, which means you won't need to re-learn how to ride a bike to use an e-bike.
Similarly, because most of the parts are the same, you don't need to learn anything new about maintaining the e-bike, and most bike shops can repair everything but the electric assist components.
Read about best commuter bike helmet

Features to Know on a Commuter E-bike
In addition to all of the standard considerations that go into choosing a commuter bike, choosing the best commuter e-bike requires understanding some of the differences between the electric assist functions and batteries on these bicycles.
Motor Location
One of the major differences between how e-bikes are constructed lies in where the motor is located.

Many e-bikes place the electric assist mechanism right inside the front chainring, which provides a natural feel to the boost because it is adding power directly to the drivetrain as you pedal.

Other e-bikes place the motor on a hub on either the front or rear wheel and provide power by spinning the wheel. Rear-wheel hubs feel as if they are pushing the bike forward as you pedal, while front-wheel hubs feel as if they are pulling the bike forward – a feeling that some riders don't love after switching from a traditional bike.

Wattage
The electric motors found on electric bikes range in power from 200 watts to more than 1,000 watts. For short urban commutes on flat roads, bikes with 200-400-watt motors provide plenty of power to get you to and from work.
However, if you expect to be taking your bike up steep hills, having a more powerful motor – 600 watts or higher – can be helpful for ensuring the electric assist can keep up with your pedaling.
Bikes with 1,000 watts or more are specifically designed for commuters who want to take their electric bikes off-road and typically resemble mountain bikes more than urban commuters.
Battery Life and Charging
Most commuters will be glad to hear that battery life is virtually a non-issue on modern electric bikes – even the lowest capacity batteries last 20 miles per charge. Higher capacity batteries can offer up to 60 miles per charge, which is plenty of charges even for riders with an extraordinarily long commute to and from work.

The exact number of miles that you can expect to get out of your battery depends in part on your riding style and the terrain you'll be riding over. Nearly all electric assist bikes allow you to switch into manual mode – turning off the electric assist – to conserve battery life when you are riding on easy flat road or downhill. On the other hand, riding with the electric assist on its maximum level, as well as riding up steep hills, will drain the battery faster.

Another thing to watch for when examining the batteries on electric assist bikes is the time it takes to charge the batteries fully. Less expensive batteries typically charge slower and can take up to eight hours to charge, while higher-end batteries can fully charge in just a few hours.

Finally, be sure to check on the type and expected lifespan of the battery. Nearly all bikes sold in the US and Europe are lithium-ion batteries, which last between 500 and 1,000 charges – enough for 3-5 years of consistent use for most commuters. On the other hand, the majority of e-bikes sold in Asia come with lead acid batteries, which last only 200-400 charges. The batteries on e-bikes can be replaced, although this is one of the more costly maintenance activities you'll need to undertake.

Gears and Pedal Assistance
Just because e-bikes give you an electric boost when pedaling doesn't mean multiple gears aren't needed for climbing hills. If you have a long commute with rolling hills or even the possibility of a headwind, it is a good idea to look for an electric bike with at least seven to ten gears on the rear hub and potentially two gears on the front chainring.

Also, keep in mind that most e-bikes offer multiple levels of pedal assistance. These levels can be adjusted as needed to help you power through a headwind or up a hill, or to conserve battery when coasting downhill. If your commute involves a lot of hilly terrains, pairing more levels of pedal assistance with additional gears gives you the largest variety of options for your ride.

Frequently Asked Questions
How much power does my electric bike need?
Most electric bikes on the market today come with motors that offer at least 300 W of power, while the most powerful electric bikes sports motors with 1,000 W or more of power. For a standard urban commute without steep hills, 300 W is more than enough power to augment you're pedaling or even to ride at up to 20 mph in fully electric mode. Bikes with motors in the 750 W range can go somewhat faster – up to 28 mph – but are typically more expensive and are suitable primarily if you have steep hills along your commute route or plan to use the fully electric mode for long commutes. Bikes with more than 750 W are not street legal in many areas and thus should not be used for commuting.
Can I turn the electric assist off when I don't need it?
Yes. All electric bikes offer multiple levels of electric assist and allow you to turn off the electric assist when you don't want it – such as when coasting down a hill or when you want to use your bike to get in a quick workout on the way home from work.
How long does it take to charge the battery on an electric bike?
The time it takes to charge the battery on your electric bike depends on the quality and capacity of the battery. While smaller batteries can charge in just a few hours, the batteries found on most commuter bikes take between four and six hours to charge fully. Note that some batteries can be removed from the bike to charge inside, while others are permanently fixed to the bike.
Does gearing matter on an electric bike?
Although you might think that gearing is unimportant since you have an electric assist, unless your commute is completely flat, you'll be glad to have a wide-ranging cassette on the rear of your bike. This is because the electric assist should be used to supplement, rather than replace, your pedaling. On steep hills, you'll need to pedal – ideally in a low gear – as well as use the electric assist.

Choosing the best electric bike for commuting depends in part on the characteristics and length of your commute route and in part on your budget.
We feel the electric bike from Elby is the overall best electric commuter bike because of its impressive battery range.
While the batteries on any of the electric bikes we highlighted can handle a long commute, even in fully electric mode, the 90-mile range of the Elby bike is extremely impressive and is improved even further by the ability to regenerate the battery when braking.
The Elby bike also features a motor emplaced in the drivetrain for the most natural feel when riding and kicks in immediately upon starting to pedal rather than halfway through a stroke.
Although the bike does not come with a rear rack, it has all of the other accessories you need to get started commuting.