Fat biking not only allows you to ride in gnarly weather and on terrain that even a mountain bike can't handle. It's also enormously fun.

But to get the most out of your fat bike, it's important to have the right tires. Fat bike tires are the source of most of your traction, so you need to have rubber that matches the terrain and weather you'll be riding through.

There are a ton of tire options out there, which can make it hard to figure out what's best for your fat bike. Today, we'll take a look at what you need to consider when choosing fat bike tires and highlight six of the best fat bike tires for your ride.

​The 6 Best Fat Bike Tires
Mongoose MG78456-2 Fat Tire – Best 20" Fat Bike Tires
This small but capable fat bike tire from Mongoose is designed for 20" wheels. The tires are aggressively studded, which puts them somewhere in between a pavement tire and a tire that's best suited for loose dirt and gravel. In addition, the tires have a pretty thick sidewall and base, so they're virtually impossible to puncture unless you find a nail on the road or trail.
​​Beware that these tires are not particularly easy to get onto your bike. You'll definitely want to wet the bead with soap and water to help force them onto your wheel's rim. Thankfully, since they're so puncture resistant, you'll probably never have to take these tires back off to fix a flat.
​​The reinforced casing allows these tires to ride at a relatively low pressure – just 20 PSI – compared to most road bike tires. This is a big plus if you take your fat bike onto sandy terrain or loosely packed dirt, where higher pressures can cause your tires to become bogged down. If you do use these tires predominantly for pavement, bear in mind that the studs can wear down pretty quickly.
​​These tires are pretty inexpensive, which isn't surprising given that they're only 20" in diameter. Still, they're not exactly a budget-friendly fat tire given that the cost is on par with some cheaper 26" options.
​Origin8 Supercell Wire Bead Fat Bike Tires – Best Street Fat Bike Tires
​These four-inch wide fat tires form Origin8 are designed for road-ready fat bikes. Instead of an aggressive stud, the tread pattern on these tires is flat with deep grooves to move water in bad weather. That said, these tires have no trouble handling dirt and gravel, and many riders who have switched to the Supercell tires have never gone back to their knobby tires.
​

​​​​Note that there are two casing options for this tire – 120 TPI and 30 TPI. The 120 TPI tire is a bit lighter and more supple, so it's great if you want an extra bit of speed and acceleration out of your bike. The 30 TPI option is more puncture resistant, so it's great if you ride on rougher roads or want to run a lower tire pressure.

​​The smooth tread on these fat bike tires allows for incredible cornering. The tires make it surprisingly easy to maneuver a fat bike – not something these bikes are otherwise known for – and you can feel confident in the grip when taking turns. Even better, these tires develop more grip, not less, once you've worn them in for a handful of miles.

​​​The Supercell fat bike tires are pricey, but not over the top. Given how long these tires last and how much you can use them for, the price represents a pretty good value in the long run.

Mongoose MG78251-2 Fat Tire – Best Budget Fat Bike Tires
​This budget-friendly fat bike tire from Mongoose is essentially just a 26-inch version of the MG78456-2. It features the same moderately aggressive tread pattern and thick 30 TPI casing that's perfect for riding on a wide variety of terrain styles.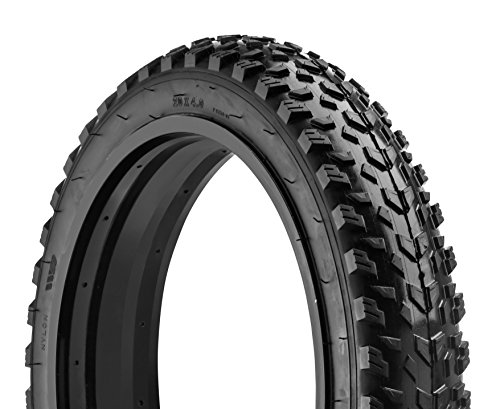 Mongoose recommends a maximum pressure of around 20 PSI for these tires, which is a bit low for a nylon-reinforced rubber. In addition, the MG478251-2 is pretty heavy for a fat bike tire at more than three pounds per tire.

​The budget price is reflected in the rubber quality – as for the 20-inch version of this tire, the studs can wear out within a matter of months if you spend a lot of time riding on pavement. In addition, the heavy rubber means that you lose out on a fair bit of acceleration when mounting your bike with these.

​If you're looking to replace your tires and don't want to break the bank, there's a lot to be said for these tires. They are extremely resistant to puncturing and the heavy weight isn't an issue for most fat bike riders. If you spend most of your time on gravel and dirt, these tires can last for years, so you get even more riding for your money.
​ChaoYang H5176 Fat Bike Tire – Best Fat Bike Tires for Snow
​These winter fat bike tires feature a supple and speedy 120 TPI rubber casing and an extra wide 4.9" carcass. That gives them extra traction when riding through slippery terrain. The 20 PSI pressure rating is also a plus when you consider the extra width of these tires.

​​Down the center of the rubber, you'll find horizontal studs that give you a ton of grip in loose snow, as well as in dirt and mud. For cornering on slippery surfaces like icy conditions, a snow-packed road or trail, there are additional studs just above the sidewall that are angled at 45 degrees to catch as you lean into the turn. On top of that, the tires are made from Dual Compound Technology that dramatically increases the lifespan of the rubber.

​​Given the modest price of these tires and how long they last, they represent a pretty incredible value. In addition, the tires are foldable bead and don't have a heavy wire bead, so they're as much as 25% lighter than some similar snow tires.

Maxxis Minion FBR Tires – Best Studded Fat Bike Tires
​This heavy-duty fat bike tire from Maxxis is adapted directly from the super popular Minion mountain bike tire. It's built with an impressive 4.8" wide carcass and weighs just a scant 815 grams, so you can throw concerns about rolling resistance slowing you down out the window. In addition, this tire comes tubeless ready. If you've already made the switch or are thinking about jumping to a tubeless setup in the near future, these tires can work for you with just a tube of sealant.

​The Minion FBR tire is made with Dual Compound Technology to ensure that it will last through years of riding. In addition, Maxxis built it with proprietary EXO sidewall protection to ensure that the weakest point of your tire doesn't give in to the pressures of riding hard.

​​This tire is specifically designed to be used on your rear wheel, since it features large lateral knobs that are designed to push you forward from behind. Those, along with the sparse placement of the studs, make this one of the best studded fat bike tires for dirt that we've seen. It's hard to beat in loose, unconsolidated soil, and it performs quite well if your riding takes you through muddy trails during the summer and through snow during the winter.

​​There's no way around it: this fat bike tire is expensive. However, we think it's well worth the cost if you're looking to upgrade. For the price, you get an extremely lightweight studded tire that will last for years of riding and can even make the transition to tubeless if you switch wheels in the future.

​Maxxis Minion FBF – Best Fat Bike Tires for Sand
​The construction of the tire casing itself has a lot in common with the FBR. The rubber features Dual Compound Technology to extend the life of the studs and the sidewall is backed up with EXO protection. That same EXO skeleton underlies the center of the tire, too, so this tire is more than strong enough to handle jagged, rocky terrain if that's your preferred riding surface. The FBF is also tubeless ready, so you can make the switch and reduce the amount of time you spend dealing with flats.

​​This tire is one of the best fat ​tires for sand. It features a rectangular stud design that improves grip as you turn and lean your bike, so you won't get bogged down in loose sand grains. Grooves in the knobs also help your wheel track straight when you want it to, no matter how thick the mud and sand under your bike gets.

​​As for the Minion FBR, the FBF is expensive. But again, if you're in the market for a tire that will last for years to come, we think the high price of this fat bike tire is well worth it.

How to Choose the Best Fat Bike Tires
There's a lot to think about when choosing a set of tires for your fat bike. On top of figuring out what size you need, you have to consider what type of terrain you'll be riding through, in what weather conditions, and so much more. Here, we'll take a look at some of the most important factors you need to decide on in order to get the ​ideal fat biking tires for your ride.
1. Size
The best place to start with considering fat tires is to figure out what size tires you need. That means determining both diameter and tire width.
The tire diameter you need is easy to figure out – it's determined by the diameter of your wheels, which in turn depend on what your bike frame is designed around. Most fat bikes use 26" or 27.5" tires, but there are plenty of 20" fat bike wheels out there as well.
As for tire width, the right measurement depends in part on what you'll be riding through. Four-inch wider tires are great for groomed snow trails and loose dirt. If you'll be spending a lot of time riding through deep mud, sand, or unpacked snow, tires that are five inches wide or even wider may be a better choice. Just make sure that your tires and rims will fit within the front and rear forks of your bike frame if you decide to go wider than four inches.
2. Tread Patterns
Every fat bike tire sports a different tread pattern, and sorting through all the different options can be dizzying. Ultimately, what style of studs, grooves, and other rubber patterns are right for you depend on what terrain you'll be riding over.
If you plan to spend most of your time on pavement, tires with relatively smooth surfaces will produce the least rolling resistance. Plus, they'll last a lot longer since there are no rubber studs to wear down by riding on a hard surface. Keep an eye out for deep channels in the treads, since these allow the tires to push water out of the way and ensure you'll have good handling in bad weather.
Loose dirt, mud, snow or sand all call for rubber studs and lugs to help you keep traction. Stud design differs widely – some studs are designed to help keep your bike steering straight ahead, while other studs are designed to provide grip. In addition, it's a good idea to look for lugs just above the sidewall of your tire. Those studs will dig into the ground when you're cornering, which helps to keep you from sliding out during a turn.
​3. Puncture Resistance
You're probably planning on taking your fat bike over some pretty gnarly terrain, so it's important that your tires can stand up to whatever jagged and unfriendly material they roll over. The TPI (threads per inch) describes the number of threads in the tire casing. Counter intuitively, a higher TPI actually makes for a more supple, but also easier to puncture, tire. That's because the tire is made up of more thin threads rather than a few thick threads. If puncture resistance is more important than minimizing rolling resistance to you, than go for a tire with a lower TPI count.
Don't forget to check whether a tire's sidewall is reinforced, either. The sidewall isn't repairable like most of the rest of a tire's casing is, so a rip or puncture in that area can spell the end of your tire. If you want your tire to last for thousands of miles, sidewall protection is essential.
4. Tire Pressure
Most manufacturers offer a recommended maximum tire pressure, which is worth taking a look at. The pressure you'll want to run your fat bike tires at depends on what terrain you'll be riding over.
In general, snow and sand require very low tire pressures so you can get the most surface area of your tire in contact with the ground. On these surfaces, you'll want to run pressures between around 5-8 PSI. You won't have to worry quite as much about flatting at low pressure on these surfaces, either, since there shouldn't be anything sharp enough to cause a puncture.
For dirt and trail riding, you'll want a bit more pressure to ensure you don't flat. Most cyclists recommend pressures between 8-12 PSI, although higher may be better if you're on rocky trails.
For street riding, maximum tire pressure matters. You'll probably want to run your tires at the maximum pressure they can handle safely, which is around 20 PSI for most of the tires in our fat bike tires review.
5. Weight
Finally, keep in mind that many of the things that make a fat tire desirable – more lugs, thicker casing, and a wider base – also add weight to your bike. A heavier tire will take more work to accelerate, so there's a trade-off to be had between durability, traction, and speed. Some manufacturers use slightly thinner casings or a less dense rubber composite to reduce weight, but remember that this could increase the frequency of punctures.
6. Tubeless Tires
Do you have tubeless-ready rims, or are you thinking of making the switch to tubeless in the near future? Tubeless wheels and tires allow you to run your tires at a lower pressure without risking punctures. The result is less rolling resistance and less weight on your wheels. If you're thinking of going tubeless, make sure you get fat bike tires that can be used either with tubes or in a tubeless setup with the addition or tire sealant.
Choosing the right set of tires is essential to getting the most out of your fat bike. ​It can improve your bike handling, traction, and speed, all while reducing the amount of time you'll spend fixing flats. Plus, your bike tires influence what terrain your fat bike will be most suited for to a surprisingly large extent.
The sheer variety of fat bike tires on the market today can make it hard to find the perfect set for you. But with our fat bike tires review, you can be confident that you're getting a solid pair of tires and get back to riding in any conditions.