Best Electric Bikes Under $2000 Reviews
You either love electric bikes or haven't tried them at all; there's no in-between. Anyone who uses one quickly warms up to the idea for their daily commutes or exercise. Even so, their exorbitant price may turn off many from purchasing them.
Quick Answer: What is the best Electric Bikes Under $2000?

W WALLKE X3 Pro - Overall Best Electric Bikes Under 2000.

NCM Moscow Plus - Ideal for high-tech bike enthusiasts.

Eahora AM 100 AM 200 - Ideal for the mountain biking pros.

PASELEC - Best E MTB Bikes.

Gotrax - Best Commuter Electric (BMX)

DJ - Power Electric Bicycle.

ECOTRIC - UL Certified Powerful Fat Tire Electric Bicycle.

EZ Breeze - Ideal for Amateurs.

MOJO Lynx Pro - urban commuters Electric Bikes.

Ecotric 1000BW - Fat Tire Electric Bike.

Most people will think that it is crazy to buy a $2000 electric bike. Well, that is what this review is all about; people who are crazy about bikes and would go to any lengths to own them.
My best electric bike under $2000 is the W WALLKE X3 Pro Electric Bike. It is well designed, highly functional and features essential accessories that boost its performance.
Its hydraulic brakes are highly responsive and are instant regardless of the terrain.
Also, it's foldable and easily transportable. There are other outstanding bikes that give this one a run for its money. Here are the best electric bikes under 2000.
Read about Best e bikes under $1000

Best Electric Bikes Under 2000 Reviews and Recommendations
W WALLKE X3 Pro Electric Bike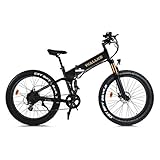 An adrenaline-seeking adult will unmistakably love this one. Made by a brand well known for precision and intention with their creations, this W WALLKE e bike certainly lives up to its name.

At first glance, you will notice its solid aluminum alloy frame that is clean, sleek, and rustproof, assuring you of long smooth life for your e bike.
On top of this, the welding frame is seamlessly finished, thus giving a touch of class that makes it aesthetically pleasing.
It helps to have more than one mode of riding, and three options will excite any biker who loves to enjoy different experiences.
Ranging from pure electric mode, pedal-assist, and human riding, you can go all in switching from one to the other depending on the condition of the trail, battery power, or simply pleasure.
This electric bike is also fitted with double-disc hydraulic brakes that will have you fearlessly pushing your limits with speed because you are confident about its stopping power that is immediate regardless of the terrain. Your safety is guaranteed.
For proper shock absorption, the electric bike is fitted with 26"* 4.0-inch fat tires and a larger pneumatic front fork that is lined with a thick outer wall so that you are comfortable riding on that heavily bumpy trail.
Furthermore, it is built with high grip and remarkable rolling resistance abilities made possible by the 180mm double disc hydraulic brakes.
A large capacity 48V 14Ah Lithium Battery that is neatly packed from view will allow an incredible 70 Mph on a single charge while you are on pedal-assist mode and up to 40 miles while you are on throttle mode.
You can even choose between direct or unloading charge systems based on what suits you for a period of 5 to 7 hours.
To enable a super speed of up to 36 Mph, the manufacturer has installed a 750W brushless rear motor which provides strong power.
In contrast, the Shimano 8 speed derailleur will help a rider safely and steadily switch between the speeds.
Adding on to the easy to its easy to foldability, the bike is equipped with other conveniences such as an LCD display for your statistics, a headlight for easy night rides, and an adjustable, cushy seat to keep you comfy during long and challenging trails.
NCM Moscow Plus Electric Mountain Bike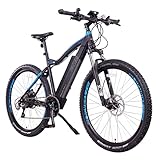 So you want it all, a high-performing, long-lasting yet affordable combo for mountain electric bike, NCM has you covered.
With the new special additional features like the 100mm Suntour XCM with preload adjustment, this legendary e-bike has leveled up and is certainly what you need.
This incredible feature will let you set your bike ride in advance based on the weight you are carrying and riding mode, so you don't have to keep stopping to adjust on your way.

This company has set its mark with the inventive Das- kit system, which contains a 750wh Dehawk 36/48V 16Ah Lithium-ion battery which grants you the power to cruise up to an impressive 60 mph per charge depending on what you prefer that day. This battery can also be removed for charging and safe storage.

Additionally, the system holds a 500W/48v motor hub on the rear that will enable a biker to reach top speeds of 20mph on pedal assist and 60mph on electric mode without a worry in the world.
The electric bike is furnished with a high contrast LCD display whose controls can be detached to help you adjust your statistics for better controls. A Das-Kit 6T 3.7mph throttle control is strategically placed on both handlebars for easy thumb maneuver.

Given the spectacular power of this e-bike, there needs to be equal responsibility, ensuring a biker's safety.
Therefore, it is outfitted with Tekro HD –E350 forged aluminum brake calipers for adequate stopping power. The eight-speed Shimano derailleur ensures proper changing of speeds so that you do not crush in this process.

You will be grateful while on any treacherous terrain, thanks to the 27.5" or 29 "fat tires will massively help shock absorption that occurs on such rides.
The ergonomic structure of the bike takes care of your form so that you are feeling okay on particularly tedious and long rides.

EZ Breeze Electric Bike
There is a lot of goodness packed with the simple yet clever electric bicycle model. Before you skip to the next one, I must warn that simple doesn't equate to low quality.
This electric bike will appeal to the pro bikers as well to fairly new riders who want to push the limits.

The EZ breeze has previously been highly ranked in effectiveness mostly because of the clear, concise, and easy-to-use elite design.
The powerful 750 W motor will permit you to reach up to 20mph when you are on manual mode and when you need to rest on the move, you could easily switch to electric or pedal assist mode for easier fun.

The E breeze is designed with a premium alloy Rust-proof frame so that you don't have to spend time at maintenance or, worse, buying a new one simple because of mediocre quality material.
I told you this guy was impressive, right? The thick Kenda Juggernaut 4" fat tires keep you riding in difficult conditions such as mud, snow, and even sand.
This means that you do not have to miss your biking trip just because of the weather. The Mozo fork suspension shock absorbers will concede an easy glide on snow or bounce on that rugged stretch without you feeling a thing.

Any biker wants to efficiently ride no matter what time it is, so rear reflector light will come in handy for nighttime rides so that vehicles can see him from behind and a headlight for you to easily see forward.
This electric bike also has a speed control sensor that will alert you when your speed level isn't safe anymore and a dual-disc braking system that to help you with those quick speed decisions.

Eahora AM 100 AM 200 Electric Bike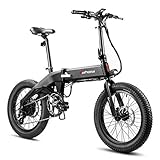 The Eahora AM200 is synonymous with freedom and edge for most seasoned mountain bikers. It is structurally designed for one unforgettable experience after another, for you will likely have this electric bike for a long time regardless of how edgy your exploration may be.
As most efficient mountain electric bikes, it is forged with a 500W Brushless motor to support speeds of up to 30mph while you ride your way up that mountain or on your daily commute to and from work.
To boot is the sturdy 48V 10.4AH Samsung Lithium battery that is built to let you easily reach up to 50 miles on electric mode and up to 80 miles while on sport mode without a hitch.
The electric bicycle also has an exclusive E-PAS system made for Eahora to help the company's efforts to be environmentally friendly.
The system does this by recharging the battery power when the PAS level is 0/1, and the speed is more than 13mph. This will consequently lengthen the motor's life so that you ride for longer without worrying about charge.
If you have been ardently riding on mountains, you know that the terrain is unpredictable no matter how many times you've been on that trail; hence an effective transmission system is dire.
The Shimano 9-speed gears will help elevate your climbing power and better equip you to adjust to changing terrain.
Besides, the AM200 has built with F/L Hydraulic brakes, which ensure that you are powerfully and effortlessly in control of your braking force.
For all that this E bike has, it also caters to people of different heights thanks to its adjustable air suspension element, an improved suspension fork with lockout, and a preload adjuster.
This means that the seating saddle can easily be altered to fit people of different heights.
Finally, a feel-good ride is given with the 26''*4.0" fat tires that help balance, guard against punctures, and shock absorption on different topography.
I would comfortably declare this electric bike a winner for those who wish to traverse perilous areas. Go on.
MOJO Lynx Pro Sport Folding Electric Bike
This e bike may have a standard LCD display, but there's nothing basic about this foldable e-bike. The ability to fold makes it easy to pack for destination activities or even use the public transport system without worrying about space restraints.
The highly powered 500W brushless motor boosts you through the uphill journey, while the 48V/10.4ah lithium-ion battery efficiently powers through your riding activities with a decent speed of 20mph for up to 30 miles on a single charge.
As a plus, this battery can charge for as little as 4 hours, which means an easy prep as you organize biking activities.
The famed Shimano 7-speed gears coupled with front and rear tektro-Disc brakes will help you calculate and control your ride on uphill climbs and quick descents so that you are assured of a safe and stable ride.
It is equipped with 4.0R 20" Kenda tires that can withstand rough rides for longer without wearing out for longevity.
As a result, you also won't have to feel every crooked bend and corner on a rough trail because of the tires with better shock absorption.
Remember the LCD display earlier mentioned? That will help you easily navigate and regulate your controls with a click of a button.
Ecotric 1000BW Bison Fat Tire Bike
The newly released Bison is a brilliant addition to Ecotric's already reputable electric bikes collection. Built with 4" tires, you can confidently celebrate the start of an idyllic biking adventure.
Be it on the muddy, wet, snowy, or sandy road; these fat tires will sort you thanks to the anti-skidding ability. To match this power, the bike has a 48v 1000W Motor and a 48V 17.6 battery that will enable you to reach top speeds.
The battery can live through a 600 cycles before you have to get another one.
Like the components, the bike features an Aluminum Alloy frame that keeps the bike light in weight but strong in durability structure.
You can also change between the pedal assist and throttle riding mode based on what you seek an adventure.
For example, for an easy, relaxing kind of ride, pedal-assist would be perfect, but for a competitive energy-filled, and fast-paced ride, the throttle will grant you that.
While no rider goes biking expecting to finish their trip spotlessly clean, the creators were thoughtful to add front and back fenders to protect you from flying debris and excessive dirt.
The thick tires will let you give you excellent traction so on the bumpy roads, thus reducing injuries that could occur from frequent falls.
To alter your controls and keep tabs on your performance, you have a smart LCD display whose use is comprehensible.
The only downside would be the long charging time that means you must prepare for the bike's use long before or end up with a halfway battery whenever you are rushing.
Conclusion
There you have it—a list of some of the best electric bikes that the market has to offer. There is something for everyone; from amateurs and city commuters to pros and mountain bike enthusiasts.
Every bike in my list is of high quality, highly functional and worth every cent.

Whichever option you decide to go for, ensure that the bike meets your needs. And whenever in doubt, feel free to cross check with my list.

Which bike from my list has caught your attention?