Best Bikes for College Students
Having a bike on campus during college is an easy way to cut down on the time spent traveling between classes or to the library, avoid crowded parking lots, and enable quick trips off campus. Plus, a bike can be a great way to make new friends and stay in shape during college.
Quick Answer : Best Bike for College
This guide introduces the best bikes for college students to make it easy to get moving around campus.
Best Bikes for College Commuting| In-Depth Review
Schwinn Discover Men's Hybrid Bike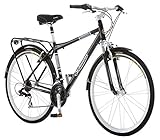 This hybrid-style bicycle is constructed with an aluminum frame that looks like a cheaper steel frame, making it less of a target for thieves while improving the quality of your ride. At 34 pounds, the bicycle is a far cry from a lightweight road bike but won't slow you down nearly as much as a 50-plus pound steel frame bicycle.
Combined with the smooth 21-speed shifting that makes it easy to adjust for steep uphill climbs or fast descents, this bike is a prime candidate for being ridden for exercise on off-campus roads as well as for on-campus commuting.
As for the bicycle's commuting prowess, the bicycle comes with many of the accessories you need to start riding it to class right out of the box. Fenders and a rear pannier cage are included, so simply add saddle bags – or even bungie cords – to start carrying your stuff around campus.

The only flaw in the design of this bike are the included wheels. Both the front and rear wheels have 24 spokes, which is unnecessarily heavy for the front wheel. Combined with the shocks on the front fork, this design requires much more energy input to move the bike forward.
The stock wheels are also relatively weak and are prone to broken spokes, so it may be worth investing in a better set of used or new wheels to add to this otherwise solid bicycle.
Sixthreezero EVRY journey Men's 26-inch Hybrid Cruiser Bicycle
When space is at a premium in your dorm room or apartment or you'll be storing the bike at the top of a multi-story walk-up apartment, this miniaturized aluminum frame hybrid bicycle from Sixthreezero is a great option.
What sets this bicycle apart are the 26-inch hybrid-style wheels – although only slightly smaller than the standard 700c (approximately 28-inch) wheels used on most road bikes, they are significantly lighter because of the decrease rim material and shorter spokes.
The wheels also have 36 spokes each, which is overkill on the front wheel but helps to ensure the wheels' durability over the life of the bike.

This bicycle is designed in the beach cruiser style, with swooping handlebars and a low, laid-back seat post. While some people find this style comfortable since it results in a reclined position while riding, it does limit this bicycle to commuting and easy riding since it is difficult to tackle hills from this position.
Although the bike is available in a 21-speed version, the 7-speed version is likely the most useful for commuting purposes given the difficulty of riding this bike for extended mileage.

The bike comes with an aluminum cover over the chain. Although this vastly improves the aesthetic appearance of the bike, it also makes it significantly harder to access the chain for maintenance.
Schwinn Men's Network 3.0 700C Men's Hybrid Bicycle
This 21-speed aluminum-frame hybrid bicycle is a great choice for those who want a commuter bike that can also hold its own on the roads for long mileage workouts.
The seatpost is designed to provide a similar forward position as found on mountain bikes, but is perfectly comfortable either for commuting or for spending several hours in the saddle.
The integrated shocks in the seatpost and the cushioned seat also ensure that the bike won't leave your but aching after long rides on the weekends.

The main downside for using the bike as a road bike in addition to a commuting bike is its weight.
At 35 pounds, this bicycle is much heavier than a standard road bike and the hybrid-style wheels, while great for avoiding flat tires during a commute, have 32 spokes and come with highly treaded, low pressure tires.
Changing out these wheels for a cheap set of road wheels can make a huge difference in the road mileage readiness of this bicycle, though.
The front fork is steel rather than aluminum, which also increases weight and requires integrated shocks for vibration dampening that further reduce energy transfer from the pedals to the bike's momentum.

Unlike other commuting bikes, this model does not come with commuting accessories like fenders or a rear pannier cage.
However, it does have eyelets in the rear frame to add these accessories after-market and the caliper brakes are wide enough to add fenders
.
Schwinn Men's Volare 1200 Bike
This bicycle looks like a classic aluminum-frame road bike in everything but the handlebars, but has some interesting technical twists that push it closer to a commuter bike than a true road bike.
First, this bike comes with true 700c road wheels, complete with road tires – these wheels are designed for exercising first and foremost, although they can certainly handle the weight of commuting baggage as well.
Unlike many hybrid bikes, the frame and front fork are both fully aluminum, so there are no front shocks or shock pad integrated into the seatpost.
The seat itself is also a traditional stiff road bike seat rather than a comfort seat.
Although these features reduce comfort when the bike is used without wearing bike shorts, they vastly improve the mechanical efficiency of the bike – making it perfect for workouts and long miles on the open road.

However, this bicycle stops well short of being a true road bike so that it retains features loved by commuters.
The handlebars are flat bars rather than drop bars, which increases the overall comfort of the bike when riding non-aggressively and makes it easier to shift and apply the brakes. The 21-speed shifting is also the same as that found on many hybrid bikes rather than the 20- or 22-speed shifting found on road bikes.
The front cassette has three rings, rather than the two found on most racing-style road bikes, which increases weight and makes the gear more prone to cross-chaining.

Sixthreezero Women's Hybrid Cruiser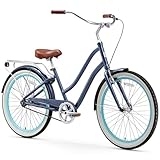 This beach-cruiser style bicycle from Sixthreezero is marketed specifically for women because of the smaller sizes and feminine paint colors it is offered in.
The bicycle frame is fully aluminum and features some interesting design features, the most important of which is the step-through design. The top tube on this bike drops nearly to the level of the chain in front of the seatpost, making it easy to step over the frame and stand upright in front of the seat.
This is perfect when you are frequently getting on and off the bike, for example when there are numerous stop signs or lights on your commute route.

The frame and seatpost are also designed so that the rider is in a very reclined position, which some riders find comfortable for commuting but makes the bike very difficult to ride up hills or at high speeds.
The curved handlebars are placed high relative to the seat so that the rider reaches up to them, which can improve stability for those who are uncomfortable riding. In addition, the hybrid wheels are 26-inch diameter, which together with the aluminum frame make this bike relatively lightweight and easier to store in small apartments.

The bike comes with integrated front and rear fenders, painted stylishly to match the bike, as well as a rear pannier cage. Eyelets are included in the frame in case it is desired to swap out these accessories after-market.

Schwinn Discover Women's Hybrid Bike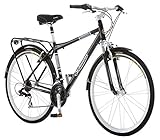 This bicycle is the women's version of the Schwinn Discover, and offers many of the same features as the men's version.
The main differences are the bike's frame size, which is smaller to fit women's bodies, and the white paint color. The bike still comes with a rear pannier cage and front and rear fenders.

The aluminum frame is lightweight to make commuting easier and to enable riding as a workout bike on the open roads.
The bike comes with a 21-speed shifting system that is easy to use and offers a wide variety of speeds for climbing hills, carrying a heavy set of bike bags, or pedaling hard downhill.
However, the steel front fork does add significant weight and requires the addition of a front suspension system to keep the bike riding comfortably over bumps in the road.
While this smooths out the ride and is more comfortable for commuting use, it does reduce energy transfer from the pedals when riding for exercise and speed.

The wheels on this bike are full-size, 700c rims with 24 spokes on both the front and rear wheel. While this makes the front wheel slightly heavier than absolutely necessary, the rear wheel offers the support needed for carrying heavy bike bags on the rear pannier cage.
While the hybrid tires won't compete with skinny road tires for speed, they are convenient for commuting because they are less prone to flats and can more easily handle bumps in the road.

What to Look for in a Bike for College
Intended Use
The first thing to think about when purchasing a bike is what activities you plan to use it for. There is a world of bikes on the market, from road bikes to mountain bikes and everything in between.

For college students looking for a bike primarily to get around campus, with the option of occasional use for exercise, a hybrid bike is typically the best since it offers a good mix of value, durability, comfort, commuter friendly features. Mountain bikes are also a great choice since they are easy to outfit with weather-ready accessories and are less expensive and more comfortable than road bikes.

If you are considering a bike to use primarily for exercise or long excursions off campus, a road bike may be the better option since it is more aerodynamic and weighs less. However, these are typically more expensive – so a good bike lock is a must when parking your bike on campus – and are more prone to flat tires than hybrid or mountain bikes.
Buying Used
If you're on a budget, buying a used bike can be a great way to save money while still getting a bike that fulfills all your needs. When purchased from a trustworthy source, used bikes can offer terrific value since new bikes depreciate similarly to cars – they lose a huge amount of their sticker price in the first hundred miles.
However, Be sure to ask detailed questions about the used bike, visually inspect it, and take it for a test ride before purchasing – wear and tear is fine. But damage to essential mechanical components or the frame can be expensive to fix later. Questioning the owner about the bike's origins can also help you avoid purchasing a stolen bike, which can leave you without a bike if the true owner comes to claim it later.
Frame Type
Bike frames are typically made of either steel, aluminum alloy, or carbon fiber – and which one is right for you depends largely on how you intend to use your bike and how much money you want to spend.

Steel frame bikes are perfect for commuting with heavy bags, since they offer unparalleled vibration dampening and can support baggage loads up to those found on bike tours.They are also typically the cheapest frame type. Of course, because steel is heavier than aluminum or carbon, steel frame bikes are significantly slower to ride.

Aluminum frames are extremely common on road, hybrid, and mountain bikes, largely because they offer the best compromise between value, load-bearing, vibration dampening, and weight.
Aluminum bikes can easily handle any commuting baggage and will last a lifetime of riding, and for the price do an excellent job competing with carbon bikes on weight and aerodynamics.

However, if speed is your target, there's no substitute for a carbon frame bike. Carbon frames are lightweight and highly aerodynamic – and expensive to match.Although they can bear some weight, carrying textbook-filled bags on a carbon bike is not recommended.
Carbon frames are also less durable than aluminum and steel frames, since a small bit of damage to a carbon frame can compromise the entire frame's integrity.

Bike Fit
Once you have decided on what type of bike you need, the next most important factor is fit. Getting a bike that fits your body is critically important not just for comfort, but also for avoiding injury from riding. If you are planning to buy a new bike, try it out in the bike shop and ask for a professional fit before purchasing. If you are purchasing a used bike, gauge the size by trying out a similar bike at your local shop and take a test ride on the used bike before committing to buying it.
Handlebars
Another important feature to consider is the handlebars. The type of handlebar your bike has, whether the drop bar common on road bikes or the flat bar common on hybrid and mountain bikes, determines your position and comfort on the bike as well as how easy it is to shift gears and access the brakes.
Many people who are new to cycling prefer flat bars because they allow your center of gravity to be shifted further back onto the saddle than drop bars. Flat bars also make it easier to reach the gear shifter and brakes without changing hand positions.
Saddle
If the saddle isn't comfortable, you're not going to want to ride. Be sure to sit on the saddle before making a bike purchase – while this won't reflect how the saddle feels over miles of bumpy road, it at least gives a sense of whether it is particularly comfortable or uncomfortable.
In the case that everything else about the bike is worth purchasing, it is possible to purchase a new saddle from your local bike shop later or, if you're on a budget, to put a comfort pad over the existing saddle.
Gearing
Is your campus hilly or flat? The answer may determine what gears you want on your bike. Since the intention for commuting bikes is typically easy riding at a steady pace, finding a bike with a relatively easy gear set can save you money by not forcing you to replace the gears later.
Easy gears are especially important if there's a big hill between you and your 8 am class and you're carrying heavy textbooks in your bike bag.
However, if you plan to use your bike more for exercise, having a rear cassette with larger gears or a bigger spread between the small and large gears can be useful.
Commuting
Since college bikes are most frequently used for commuting between classes or between campus and town, look for commuting-specific features on the bike frame.
Many bikes designed with commuting or bike touring in mind have eyelets on the rear of the frame, which make it easy to install a frame for carrying bike bags. If you live in a wet area, make sure the rear brake allows enough clearance for attaching a strap-on fender over the wheel.
When making a purchase, ask if the bike shop or previous owner will throw in fenders to keep you dry in the rain or bike lights for riding at night – although small, purchasing these accessories later can add up in cost.
Brakes
While most road bikes and many hybrid bikes come standard with caliper brakes, that doesn't mean that caliper brakes are the best braking option for your needs.

Caliper brakes offer a reasonable amount of stopping power and are easy to adjust and maintain, but can be too slow to bring your bike to a stop if you frequently ride in a high-traffic area or in wet conditions. Disk brakes, which are frequently found on mountain bikes, have been increasingly appearing on road and hybrid bikes because of the excellent stopping power they offer even in slick road conditions.
However, disk brakes are typically more expensive, heavier, and harder to adjust without taking your bike into the shop.
Wheels
One of the most important components of a bike is the set of wheels it rides on.
First, when considering the price of a bike, ask whether it comes with wheels – not all bikes, new or used, do, and this can be an expensive after-market purchase. For college bikes that will be used primarily for commuting, skinny road wheels offer the least rolling resistance and weight, making it easier to get around faster.
However, they are also more prone to flat tires and the tires can be more difficult to change after a flat.

Mountain bike tires are much burlier and rarely flat – and they can be filled with goo to allow you to keep riding when they do. The downside is that mountain bike wheels are significantly heavier and slower. Hybrid wheels, which offer a compromise between road and mountain bike wheels, are increasingly common on commuter bikes.
While any of these bikes would make a great bike for riding around campus, the overall best bike for college students is the Schwinn Men's Volare 1200 Bike.

This bike stood out because unlike many of the bicycles designed specifically for commuting, with hybrid designs and comfort features, it focuses on features needed for serious road riding that are hard to add later.
The skinny road wheels make the bike significantly more efficient whether riding for exercise and commuting and the fully aluminum frame with aluminum front fork is a higher-end frame for the money for anyone not anticipating riding on gravel.
The handlebars and shifting system retain the versatility needed for commuting without hindering use for long miles on the road.
The only downside for commuting is the stiff seat, although this can easily and cheaply be made more comfortable by adding a gel seat top.

Overall, any of the bikes we reviewed will make a great choice for college students looking to mix campus riding and exercise. Remember to think about your needs for a bike in order or priority, and from there it should be easy to choose the bike that is right for you.