What You Need To Know Before Buying The Best Bike Inner Tubes
Most bicycle wheels are clincher-style wheels, in which pressure for riding is maintained not by the tire itself but rather by a replaceable inner tubes between the tire and wheel rim.
Quick Answer: Best Bike Tubes
Having good bike tubes can be the difference between an enjoyable and fast ride, and spending the day fixing flats. In this article, we'll cover everything you need to know about bike tubes and highlight the five best bike tubes for your next ride.
We hope you will love the products recommended here, FYI we may get a small share of the sale if you buy through our links and it will not affect product price in any way
Here Are The Review Of Our Best Bike Tubes
Continental Bike Tube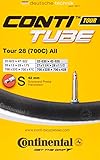 The Continental bike tube is a classic – it is the same tube you'll find sold at many local bike shops and in the wheels of nearly all road cyclists during training rides. The tube is primarily available in three diameters specific to road wheels – 26", 29" and 700c – and comes in a variety of widths for each diameter class.
Although Schrader valve tubes are available, their size availability is limited and this is primarily considered to be a Presta valve tube. The 42 mm valve stem is long enough for most road wheels, and a 60 mm version is available for most of the tube sizes for riders with deep rims.
Plus, all of the Presta valve cores are removable in case you need to add a valve extended. The tubes themselves are made of butyl rubber and are highly durable, if somewhat heavy for racing purposes.
Goodyear Bicycle Tube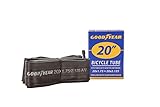 This bike tube from Goodyear presents a nice combination of price point and options in terms of tube sizing. The tube is available in most standard wheel diameters, although some diameters only have a limited range of widths manufactured. The tube itself is constructed out of durable butyl rubber for putting in many miles without flats.
However, like many inexpensive tubes, this tube suffers from manufacturing defects in which a significant number of tubes leak air on their first use or develop a puncture around the base of the valve. Although careful placement of the tube on the wheel can partially mitigate the latter, the manufacturing issue can be infuriating when a new tube fails to hold air.
Slime Self-Sealing Smart Tube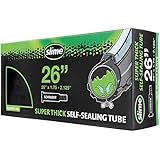 This bicycle tube comes pre-filled with Slime, a market-leading sealant that drastically reduces the air leakage following a punctured tube. The tube itself is made of extra thick butyl rubber to be even more resistant to punctures in the first place and to resist degradation of the rubber from the sealant over time.
The sealant inside remains fluid for up to two years of use, although frequent riders are likely to go through tubes at a much faster rate than that in any case. The disadvantage of the Slime-filled tube is that in the case of large holes, the tube cannot be patched with a standard flat repair kit because the patch will not stick to the tube.
In addition, the tube is only available in one size – despite the fact that mountain bikes wheels come in a variety of diameters and widths. In many cases, it may be more cost effective to simply buy the tube and Slime sealant and fill the tube yourself.
Sunlite Standard Schrader Valve Tubes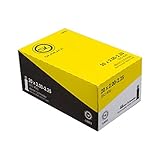 This bike tube is extremely inexpensive, which can be a huge asset if you ride a lot and go through a lot of tubes. It is manufactured in a wide variety of tube diameters in order to fit nearly any bicycle wheel. The downside to this bike tube is that the valve stem is extremely short, at only 32 mm on most of the tube diameters.
Although this may be long enough for many mountain bikes wheel, depending on your pump head it may make it difficult to latch on to the valve in order to inflate the tubes. Only a few sizes come in standard 48 mm valve stem lengths, and only one size comes in a longer 60 mm length.
In addition, this bike tube appears to have a common manufacturing problem that causes it to fail critically around the valve. Some bike tubes will spontaneously pop within hours of being inflated, regardless of whether they were actually ridden or not. This defect makes it difficult to trust any of the tubes, even the ones that don't pop immediately.
Bell Universal Inner Tube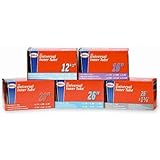 This bike tube from Bell is designed to be universal – but only if your wheel will fit the limited range of sizes. The tube comes in only range of widths for each diameter class, which means that many wheels will not be able to use this tube.
In addition, Bell decided to measure the tube widths in inches, while most wheel widths are measured in millimeters – an easy conversion, although this can be the difference between ordering a tube that fits and one that doesn't.
If the tube does fit your wheel, however, it is a reasonable quality rubber and should last for many miles. The Schrader valve head is durable and the tube is plenty strong to hold sealant without causing degradation issues. The bike tube is slightly cheaper than competitor Schrader valve tubes, which can make a big difference when you are buying multiple bike tubes.
Things to Know Before Buying Best Bike Tubes
Valve type
The most important decision you'll need to make in choosing a bike tube is what type of valve you need on your tube. Most bike tubes designed for road bicycling use what is known as a Presta-style valve, while most bike tubes designed for mountain biking use a Schrader-style valve.
Presta valve tubes use a smaller diameter valve, which fits in the smaller valve hole found in most road bike tires – and which won't fit larger Schrader valves.
Schrader valves are typically easier to inflate and have easily removable cores in case you wish to put a flat sealant material into the tube.
When purchasing Presta tubes, look for those with a removable core since this gives you the flexibility to add a valve extender or sealant if you so desire and they are often the same price as those without a removable core.
Tube Diameter
The bike tube you purchase must also match the diameter of your wheel and tire. While most road bike wheels are 700c, other sizes do exist, and mountain bikes wheels can vary dramatically in size. To determine the diameter of your wheel, check your bike tires – the number before the x symbol is the diameter.
Tube width
Another important consideration when purchasing a bike tube is matching the width of the tube to the width of the wheel and tire you plan to sandwich it between. If you purchase a bike tube that is too narrow, it will not fill out the tire when inflated, while a tube that is too wide will be spilling out of the sides of the tire. To determine the width of bike tube that you need, check the markings on your tire – the number after the x symbol is the width needed in millimeters. Many bike tubes come rated for a range of widths, such as 20-25 mm.
Tube Material
Bike Tubes are available in either butyl rubber or latex. Butyl rubber bike tubes are the most commonly used because they are relatively inexpensive and relatively durable. Plus, these tubes can be easily fixed with a standard flat repair kit on the road. Many bike tube manufacturers also make a lighter weight butyl rubber tube for racing purposes. These bike tubes use a thinner layer of rubber to cut weight, but the downside is that they are typically more expensive and are more prone to punctures. Latex rubber bike tubes are the lightest of all, but also the most expensive and least durable. They can be difficult to fit onto a wheel without immediately pinching and ripping them, and latex tubes cannot usually be repaired with a flat kit once they are ripped. Plus, latex tubes leak air faster than butyl rubber tubes, so you'll need to pump them more often. As a result of these downsides, latex tubes are typically only used for short races.
Valve length
The valves on both Schrader- and Presta-style tubes come in a variety of different lengths. For typically shallow-rim road bike wheels and most mountain bikes wheel, any length of valve will work. However, if you have wheels with deep rims – which provide aerodynamic benefits – you will need to choose bike tubes with a longer valve length or valves with a removable core so that you can add a valve extender.
Adding sealant
If you aren't worried as much about speed as you are about dealing with a flat tire out on the road or trails, it can be a good idea to add sealant into your tube. Sealant materials fill the tube after it is inflated and help to plug up small punctures after they happen. Adding sealant requires a valve with a removable core – all Schrader and most Presta valves – so that you can add 25 to 30 mL of sealant directly into the tube. Note that sealant will typically prevent tube patches from adhering to the tube if you do get a hole and sealant will not prevent air from leaking out of a large hole. In addition, sealant should not be used with latex tubes since it can degrade the rubber over time and cause the entire tube to fail.
Repair
If you do end up with a flat while you're out biking on the roads or trails, the easiest solution is to have a fresh spare tube that you can replace the punctured tube with.
However, it is also possible to repair a bike tube after it has been punctured and simply put it back onto the wheel to keep riding. Any bike shop sells flat repair kits, which include butyl rubber tire patches and an adhesive to fix the patch onto the tube. To repair a bike tube on the go, first thoroughly inspect the leaking tube to find the puncture. Adding some air and listening for the hiss of escaping air can make this process easier.
Once you have identified the spot where the tube is leaking, also check the spot on the tire that the leaking area was in contact with and make sure it is free of debris that could cause another puncture. Typically, repairing the punctured area of the tube with a patch takes 5-10 minutes of waiting for the glue to dry – and obviously requires having a hand pump or a CO2 canister to inflate the tube after it has been patched.
Frequently Asked Question
What size tube do I need?
Determine the size of tube needed for your wheel by checking the markings on the outside of your tire. 700 x 25, for example, means you need a 700 mm diameter tube with a width of 25 mm.

What valve type do I need?
Most mountain bike wheels use Schrader valves, while most road bike wheels use narrower Presta valves. When in doubt, measure the width of the valve opening in your wheel.
What valve length do I need?
Unless your wheels have deep rims, the valve length will not matter. When in doubt, look for a tube whose valve has a removable core so that you can add a valve extender if needed.
The overall best bike tube in the roundup is the Universal inner tube from Bell.
Although it comes in a limited range of diameters and widths, for those sporting wheels that this tube will fit the tube comes at a bargain price and is very durable. The Schrader valve has a stem length of 35 mm – enough room to fit a pump head onto for most mountain bike wheels – and the removable core allows you to add sealant after market or to add a valve extender when needed. These features, combined with the excellent price, made this one of the best bike tubes available on the market.