Best Bikes for Wheelies - Buying Guide
No girl likes a guy who can't get it up. If you want to be the center of attention, from both ladies and guys, then you have to learn how to do the wheelie. For those who aren't conversant with this term, a wheelie is a stunt performed where the rider lifts their bike and rides with the front wheels up in the air.
What Bike Is Best For Wheelies?
The wheelie is a difficult stunt that may take years to master. As a kid, I spend hours watching with great admiration videos of the legendary Doug Domokos performing the wheelie. Fast forward to today and I can successfully claim that my hard work paid off. But in my quest to learn this popular trick, I learned one important thing: not all bikes can do the wheelie.

With this, I quickly tried to figure out the best bike for wheelies. And here I am, after months of research, presenting to you my final list.

The best bicycle for wheelies is the Moongose Legion Freestyle BMX Bike. This bike has all the features needed for a good wheelie. It is lightweight with a durable frame and has a good braking system.
This wheelie bikes is also attractive and affordable.

Here Are Other Best Bikes For Wheelies.

Mongoose Legion Freestyle BMX Bike
Best Bicycle For Wheelies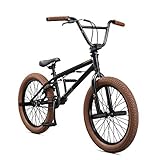 Key Features:
Chromoly steel frame, forks, and handlebar.
Aluminum double-wall rims.

Removable brake mounts.

If you're yet to perform a perfect wheelie, then what you may be missing out on is the best bicycle for wheelies, the Mongoose Legion BM bike Line. The BMX Freestyle by Mongoose Legion is a perfect bike for amateurs still trying to master their way around this trick.

Even so, when taken good care of, this bike can be equally good for pro-level stunts. Bikers often find it difficult to steer when performing stunts, especially with the wheelie. Mongoose Legion tried to tackle this by installing high-quality steering option in their bike.

Every spec of this bike work together hand in hand for the overall performance. Its steel frame is solid and sturdy. Its handlebars are also made using similar material giving the bike the needed strength and support.

The saddles are a bit challenging but stable and reliable. As for speed and safety, the U-brake works quickly and precisely.

My verdict? The Mongoose Legion Freestyle BMX Bike is an excellent choice for both beginners and pros looking to perform the wheelie.
It is affordable, has good steering options, and a tough frame. Moreover, its braking system is perfect and will assist you to avoid injuries when you land.
Dynacraft Tony Hawk Park Series BMX Race Bike
Best Bike For Wheelies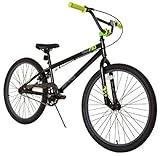 Key Features:
Solid Hi-Ten steel construction.
Weight capacity of 275 pounds.

Alloy clamp seat and handlebar stems.
Rear U brake.
BMX race bikes have been around for half a century, and they still continue to dominate the market. The Dynacraft Tony Hawk BMX Bike is one popular BMX bike. This is another big contender for the best bicycle for wheelies.

Dynacraft Tony Hawk BMX Bike is described as a boy's bike, but it contains plenty of space for adults. Before considering buying the bike for wheelies, however, you should check that its size isn't too small for you. Similarly, if the bike's 2-inch wheel is too big for you, you can always opt for the 20-inch wheel variant instead.

The bike comes in an all-black version, inspired by the legendary Tony Hawk, which looks pretty solid. It's manufactured using Hi-Ten steel and has a weight capacity of 275 pounds. The weight factor is somewhat an issue when performing the wheelie.

To make up for this limitation, Dynacraft BMX Bike features an alloy clamp seat stem, a Promax rear U brake, and an alloy handlebar stem. You'll also love the saddle and pedals on this bike.

This race bike comes with a chain guard. While I am aware of its importance, it's a big NO for me. Chain guards are prone to dirt and get scratched easily. You could change it for something else, or better yet, lose it completely.

This way, you have nothing to hinder you from a good wheelie. Moreover, this bike is very heavy and would be best if it lost some excess weight.

Roadmaster Inches Granite Mountain Bike
Bike For Wheelies
Key Features:
Features a steel frame and handlebar.
38.6 pounds in weight.
18-speed gear shifters.
Rims made of alloy.
26-inch tires.
Roadmaster Mountain Bike is inarguably one of the best bikes for both on-road and off-road riding. The manufacturers put great emphasis on every of its features; all of which play a huge role in its performance.
I especially loved its suspension system that absorbs much of the shock encountered while landing after a good wheelie. Even when riding on rough terrains, your ride still remains to be smooth.
Its 18 speed Shimano gear system is also one to take note of. Its 3-piece crank makes shifting gears super easy. This comes in handy when you want to climb mountains fast and go downhill with your desired speed.
The bike's tires are packed with high-end tread grips for maximum grip on any wet, dry or dusty surfaces. You're less likely to skid off wet roads that may result to injuries. Its improved treads also make sure of high stability when riding at high speeds.
As for the braking system, the bike has linear-pull brakes that are highly efficient especially on slippery surfaces. The grips on the tires play a huge role in this.
Other recognizable features with this bike are its well-built handlebars and padded seats for added comfort.
Huffy Hardtail Mountain Bike
Wheelie Bikes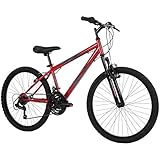 Key Features:
Aluminum hard-tail frame
Alloy wheels
26"×1.95" tires
Highly functional front suspension fork
The top considerations when purchasing the best bicycle for wheelies are style and substance. What's even more exciting is finding a bike with both. That's the Huffy Hardtail Mountain Bike.
Why do you need the Huffy Hardtail Mountain Bike in your life?
It is attractive, affordable, incredibly durable, comfortable and above all, it can ride anywhere.
This bike's yellow and blue frame is gorgeous, and let's be honest – everyone loves good-looking bikes. Its gear shifts are smooth, its frame is durable and the finishing sleek. What more could you possibly ask for in a mountain bike?
Aside from this, the Huffy Hardtail Mountain Bike has front and rear mechanical disc brakes that are highly responsive and consistent. They prove to be useful in hills and rocky places.
What's the catch? Huffy Hardtail Mountain Bike could have done better with the weight of this bike (honest opinion). Some users complained that the weight made the pedaling slightly difficult.
If you are a beginner or getting back into riding after a long time, you may want to opt for a lighter bike, unless you are up for the challenge. Still, this bike is among the best bikes for wheelies and worth the try.
Schwinn High Timber Youth/Adult Mountain Bike
Best mountain bike for wheelies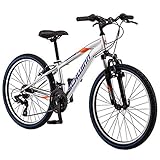 Key Features:
Features 29-inch wide wheels
Made using a 17-inch strong aluminum frame
2.25 inch wide tires
Has rear and front Shimano derailleurs
High profile double-wall alloy rims.

If you are bike savvy, then the schwinn bonafide mountain Bike is one beauty you should be well conversant with.

The bike's dual color scheme of black and red color is the first thing to notice, which for many is a huge turn-on. It gives the bike an intimidating look that depicts serious business.

But that's just the tip of the iceberg. Every feature of this bike makes it perfect for the wheelie. It receives a big boost given that it is lightweight and sturdy, making it perfect to lift the front wheel.

It will easily maneuver through bumpy and rocky roads courtesy of its Schwinn suspension fork. This absorbs almost every shock leaving you with a smooth and pleasant riding experience.

The bike comes with an aluminum frame which plays a huge role in its lightweight and comfort. This isn't to forget the incredible Shimano derailleurs and 24-speed Shimano EZ fire trigger which help in changing gears, giving the bike a smooth ride.

What's even more exciting with this bike is that it's front and rear mechanical disc brakes. These provide the bike with maximum control and make stopping it easy even in crisps

Conditions. Combine this with the bike's 2.25-inch tires and the Schwinn Mountain bike will effortlessly dominate any terrain.

Finally, this bike comes with double-wall alloy rims for added stability, durability, and of course, a high profile. The rims look so elegant with the bike's 29 inch big wheels.

How to Do a Wheelie
We learn techniques to become better bikers. Tricks, on the other hand, are things we learn for fun. Well, wheelies are one of the most difficult and time-consuming tricks to master out there. And one of the reasons behind this is that all the movements happen at once.

Some riders, even in national tournaments, cannot ride a good wheelie. But guess what, just like other tricks, a wheelie requires constant practice and patience. Rome wasn't built in one day, and neither is learning a wheelie.

Here are a few steps to help you do a wheelie like a real G. The secret to doing a wheelie is accelerating very quickly. On normal acceleration, you'll naturally lean forward. As for wheelies, you'll need to sit up straight and lock your arms. Enter into a low gear, move slow then burst into quick pedaling. This makes you do a little wheelie.

But a little wheelie doesn't make you a pro. The aim here is to wheelie through long trails with all eyes on you. This needs a balance on the rear wheel which will be far back, making you uncomfortable. With this, always have your rear back within your instant reach.

Hitting the rear brake brings your wheelie into an instant brake. You can try this out to remove your fear of falling backward and boost your confidence. Also, since you're a beginner, it may be a good idea to learn on platform pedals, or better yes, leave one foot unclipped.

Your first task is to reach a balance point, which is only achievable through constant practice and repetition. The second task is to avoid falling over sideways. Like riding a bike normally, you have to steer to remain up.

During a wheelie, you steer with your handlebars and knees. This is an essential part of a long wheelie, so take time to master it.

Up to this point, here is the summary: begin in a low gear as a starting point to quick acceleration. You should be seated up straight and your arms should be locked. Accelerate real fast and your front wheel will rise.

Continue to accelerate until you reach a balance point, and then sustain your spin. If you fear falling backward, quickly tap your rear brake. If you feel the front wheel is coming down, continue to accelerate forcefully.

To turn or lean, use your knees and handlebars.

The part where most bikers have a problem is getting their front wheel up. Some even turn the blame to their heavy bikes. This is usually never the case. True, not all bikes can do the wheelie (cross-check with my list). But in most cases, the riders simply give up too quickly.

With enough practice and consistency, you can wheelie with almost any bike. The next time you want to announce your entrance, do so while doing the wheelie.
Here is a video with clear instructions on the same.
How to Choose the Best Bicycle For Wheelies
Make no mistake, choosing the best wheelie bike is no one-second affair. If you want to land the perfect bike, then you must be willing to spend a couple of minutes and look into specific features; features that will assist you to make a smart choice.
Here are a few things to consider when purchasing a wheelie bike.
Type of Wheelie Bikes
The type of wheelie bikes to settle for is determined by the type of terrain you'll be riding the bike on. Will you be riding on a pavement, tarmac road or against rocks and bumps?

Mountain bikes are made for rugged trails, road bikes are designed for pavement rides while hybrid bikes for the pavement.
Mountain Bike

Mountain bikes make the best bikes for wheelies thanks to their amazing braking system and shock absorbers. You can perform a variety of stunts with these bikes safely and effectively. If you're looking to boast of your prowess to friends and family, mountain bikes are the option to settle for. They are not only suited for all types of terrain but can also handle riders of different weights. Not to forget that mountain bikes are super fun too!
Road Bikes
Road bikes are super lightweight, making them perfect and best for wheelies. Race bikes, in this category too, are also perfect for wheelies. They are fast, lightweight and come in a slim-down design which makes turning easy.
Endurance Bikes
Endurance bikes take pride in being able to perform a wide variety of stunts. They are designed using high-quality materials and have a more heads-up riding style, thus perfect for wheelies.

These bikes are super comfy thanks to their geometrical frames that reduce the pressure on your neck and back.
Cyclocross Bikes
Cyclocross is other tough and lightweight bikes designed to perform maneuvers and stunts in extremely rough conditions. They have customized tires that help them handle all-terrain challenges. They are compatible with grass, pavements, hills, and dirt trails.
Frames
There is one rule when it comes to wheelies and frames – the longer the bike's frame, the less suited it is for wheelies. Bike with shorter frames is perfect for wheelies because they offer higher levels of control.

Moreover, short-framed bikes are lighter and hence suited for this kind of stunt. Aluminum and steel are among the materials used in constructing a bike's frame. These are light and strong. Moreover, they are also affordable and easy to repair.
Frame Materials
Manufacturers use different materials to construct the frame of wheelie bicycles. These include aluminum, titanium, steel, and carbon.

There are different schools of thought on which frame material is the most superior. I'll not tell you which one is wrong or right, but it's best to test your wheelie bike before taking it home. At the end of the day, the material used to make your bike has a huge impact on its performance.

Steel is the most popular material for bike frames because it is lightweight and durable. It's also affordable, easy to repair, and offers the rider a smooth and comfortable ride. Bikes made from steel are the least expensive.

If your budget is slightly higher, then you can opt for carbon and titanium. Both are quite pricy, which makes their bikes expensive.

Carbon frame bikes are lightweight, highly resistant to corrosion, and are excellent at absorbing vibration.

Titanium, just like steel and aluminum, is comfortable to ride as well as scratch and rust-resistant.
Wheels
Since a wheelie relies only on the rear wheel, you need them to be robust and reliable. Off-road wheels are perfect for the job.

Brakes
Modern bikes often come in two choices, rim and disc brakes. Rim brakes are more aerodynamic and lighter. Disc brakes, on the other hand, provide the rider with better control of the braking power. This is mainly because they are attached to the middle of the bike. In doing so, you don't suffer a huge performance loss during rainy conditions.

Some bikes feature hydraulic disc brakes. These are amazingly reliable and offer high stopping power. Also, hydraulic brakes are long-lasting and you'll incur minimal maintenance costs for your bike.
Pedals
Choose a bike whose pedals have straps and toe clips. These will give you the needed support in all-around riding. Also, the pedals should be spacious enough for your feet to help you manage different terrains.
Seat
Your bike seat should be comfortable. You must test the bike to make sure this is the case. Take your bike for a spin to feel the seat's comfort.

It may seem obvious but you also have to make sure that the bike you are buying has a quick release seat clamp. Not all bikes do. A clamp allows you to change the height of your seat whenever the need arises.

It's essential that you be comfortable when riding a wheelie bike. And one way to achieve this is by having the right seat height. Bikes whose seat positions are high in relation to the handle offer good balance. This makes them perfect for the wheelie.

Handlebars

There are two types of handlebars in mountain bikes: flat and riser handlebars. Depending on the frame design, the flat handlebar is lighter and sits at a lower position. They are perfect for long-distance bikers. Riser bars, on the other hand, are higher, broader, and more comfortable to handle.
Suspension
Suspension in bikes is the system used to insulate riders from rough terrains. Suspension enables the bike tires to move up and down effortlessly. Having suspension in your bike is an excellent way of ensuring that your ride is safe and smooth.

In wheelies, you need suspension to absorb the impact when your front wheel hits the ground.
Price
Of course, you don't want to spend more than you should do on a wheelie bicycle. But this is where it gets tricky – wheelie bikes are costlier than the average bikes, especially in terms of repairs and maintenance.

The more the features in your wheelie bike, the higher the overall price. Things like derailleurs, cassettes, and disc brakes all have a direct impact on the bike's price.

But if you want to settle for good wheelie bikes, then the last thing on your mind should be the price. Your focus should be on the

quality of materials used to purchase the bike. However, you could always peruse online for good deals if you want to save a few bucks.

Best Bicycle for Wheelies FAQs
What type of bike is easiest to wheelie?
Without any doubt, the Mongoose Legion Freestyle BMX Bike stands tall above the rest as the easiest and best bike to wheelie. There's a lot to like with this bike. It is incredibly lightweight, its frame is tough and it also comes with good steering options. All these features are perfect for the perfect wheelie bike.
Are BMX bikes good for wheelies?
Yes. In fact, BMX is the best bicycle for wheelies. This is because they have a low center of gravity which is required to pull off the trick. Most BMX bikes are made using aluminum or steel making them strong, lightweight, and able to withstand wear and tear.

Are wheelies bad for your bike?
Wheelies are not bad for your bike. Bad wheelies are. When you perform a bad wheelie, you torture your clutch and make the clutch basket and friction plates to wear. Slamming the front wheel of your bike hard enough blows the fork seal. This results in barfing oils all over the brakes and having to incur lots of expenses.
Is popping wheelies illegal?
Wheelies are perfectly legal. They are stunts or as bikers refer to them 'the new way to ride. However, there have always been complaints forwarded to the police department from people who fear for their safety. The police have strict instructions not to arrest any rider performing the wheelie but instead monitor their rides. (Source)
Conclusion
Doing a wheelie is tough. That's why it requires constant practice. I'm confident I have stayed true to my course and provided you with everything you need to know about best bike for wheelies. When in doubt, you could always cross-check with the article.

Remember, you'll not always be performing the wheelie with your bike. That's why you need to look out for features that meet your other needs. Most importantly, your bike should be comfortable with a suspension fork that absorbs all shocks.

What best wheelie bicycle are you getting this summer?