Best Budget Bike Computer Reviews
Bike riding has massively transformed over the years. Clever inventions such as bike computers have massively helped track and store riders' statistics for both personal and professional use.
Quick Answer: Best Budget Bike Computers
The smartphone is sometimes used for similar purposes but bike computers are better suited for the job. This data is often used to monitor and review the basic functions of a bike.

The best budget bike computer is the CATEYE –Velo 7 Wired Bike. It is affordable, durable and easy to use. It's highly accurate and stops with your movement. With an array of options available, below are some of the best budget bike computers that lead the market way.
Best Budget Bike Computers | Reviews and Recommendations.
CatEye padrone Wireless Best Bike Computer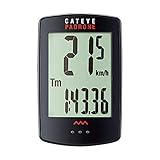 Cateye brand has been reputable since its inception. They have taken things a notch higher with the edition of their wireless bike computer. Notably, the design of this wireless bike computer was born from their client feedback.

Built with a large easy to read screen display, avid riders who often take on long distances can smoothly view and adjust their statistics. The setup is also simple to understand and navigate. For a sleek and stylish design, this Cateye cycle computer is 22% thinner in frame which helps to negate bulkiness.

The device has an optional out front mount which is useful for the proper positioning of the bike computer. This way you can adjust it as is comfortable for your viewing. For further support, it is fitted with a universal speed sensor to process your current maximum and average speed. It would be ideal for competitive enthusiasts.

An odometer with a manual setting option is a thoughtful fitting as you can still keep existing data after removing the battery for charging. The smart Cateye Padrone system will detect your movement and sudden stops and match that while recording.
CATEYE – Velo 7 Wired Bike Computer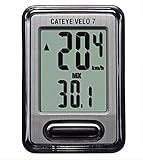 Second on my list is yet another incredible product from CATEYE, proof of how effective the company is. The seventh model of the Velo series comes with better and improved customer-tailored features.

For a rider on a small budget, this wired cycling computer has got you covered. You get to keep up with information on your current speed, average and maximum speed. The trip distance, elapsed time and clock can be accessed too on the Velo 7.

With a long battery life giving you up to three years of service, the Velo is definitely worth the bargain. Even better is that you install it once and forget about it breaking down too soon unlike wireless cycling computers that detach for charging.

Better yet, this smart bike computer can imitate your movement. This means that at any stop, any functions stop recording and picks up when you continue with your ride. For a ride that needs concentration, it prevents jumbling up of statistics at every stop.

Therefore, the Velo 7 would be a good choice for an entry-level biker looking for a cheap bike computer of decent quality.
Sigma Pure 1 ATS Wireless Bike Computer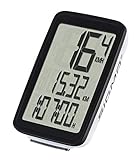 If you are a simple guy who prefers gadgets whose use is direct to the point, the Sigma pure 1 ATS bike computer is for you. Like its name, it purely displays the important insight namely. Easily read your speed, distance and time. For this reason, new riders who are only seeking conventional data insight would love the Sigma Pure series.

Among other great features, is the choice between wired and wireless bike computer design. The wired model is traditional and involves manually entering the data setting of your bike while the wireless cycling computer model comes with an encoded wireless system.

To enable easy control, Sigma Pure 1 Series has a large, easy-to-read display with one-button operation. The time, distance and speed data display is also in large font thus legible- good news for a biker with slight eyesight problems.

It is has a simple tool-free mount that is easy to attach and detach the device. Additionally are the flexible handlebars that help with easy adjustment of the cycle computer when you are riding. You will further appreciate the unique property that gives riders the liberty to customize the preferred tire size which assists to adapt well to different topography.

Lastly, changing the battery is simple with the twist of coin technique used when opening and closing the compartment. This reduces the possibility of incorrect positioning.
Bryton rider 320E GPS Bike computer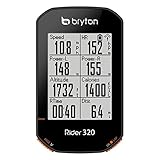 This GPS cycling computer model is certainly pricey but in turn, gives value for your money. The first thing to notice with this device is its large 2.3" display. It is intentionally designed to grant one a clear and adaptable view of the biking data for a pleasant experience.

The 320E GPS Bike computer series features a full Global Navigation Satellite System (GNSS). This provides a vast and more reliable satellite coverage when riding on trails widely covered by trees, tall buildings and mountains.

The battery can last up to 35 hours granting you plenty of time to explore without having any uncertainties.

The Bryton Active APP improves the setup and insight analysis. A rider can customize and set their individual training needs and with the Auto sync feature, they can sync this information. You can share and compare personal data with other bikers from your Bryton active account on your Smartphone.

The Bryton rider 320 has incorporated a heart rate sensor, ANT+/BLE speed sensor and cadence sensor to enhance accessibility and compatibility when paired. The ANT+ meter is responsible for providing a rider with real-time power reading on your gadget. Furthermore, it can display your real-time altitude and temperature and with the help of the Bryton Active up detect and calculate the same data of nearby locations.

Finally, this computer bike shows your notification e.g. calls, emails, or texts when paired with a smartphone. While the remarkable features would tickle a high-tech bike computer enthusiast, this option might be hectic for an entry-level rider.
iGPSPORT Bike computer GPS Wireless 20E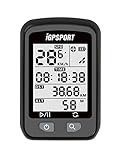 This device stands out balancing the best budget and quality characteristics. To begin with, the wireless bicycle computer is able to display up to 12 different functions on three pages. This way you remain aware of statistics like average speed, total distance, maximum speed, turn navigation and the unique kind like gradient and altitude.

To safely ride in the dark, I would safely bet on this bike computer as it is equipped with a smart backlight that calculates the sunrise and sunset time and then turns on one hour before either time to light the trail for you. There is no setup needed as it is automated making it easy to operate.

A highly sensitive GPS feature comes in handy for a curious biker who wishes to take on new routes as they will get correct positioning whilst tracking the speed and total distance applied.

Made with the power save feature, the battery can be used for up to 20 hours after full charge so you can ride with no interruption. You can also be able to access real-time ride information that permits you to anticipate and adapt accordingly to changing conditions such as weather and temperature.

The easy-to-read display screen is anti-glare for comfortable reading and analyzes your cadence, average speed, total distance elapsed time and more.

However, you must note that the device displays speed and distance measurement in kilometers rather than miles.
Garmin Edge 130 Plus GPS Best Cycling Computer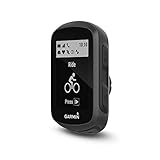 The garmin edge wireless bike computer is made for ultimate support. Do not be thrown off by the high price range as you will certainly purchase it once you understand the power granted by the Garmin brand.

The Garmin Edge 130 plus features a decent 1.8" display that is rugged in design with a crisp feel that makes it easy to read in harsh and low light. To enhance riders' training, you can sync organized indoor and outdoor exercises from the Garmin Connect App or other designated Apps like Trainer Road or Training Peaks. Plenty of bikers have already joined this online community to share their adventures and participate in events.

A special feature known as ClimbPro has been incorporated to increase power when riding on extra steep slopes and improve their fitness by the display of vital data such as VO2 and heart rate when connected with an appropriate heart rate monitor. This feature is so good that It still a highlight in one of the best bike computers in their new series, the Garmin Edge 1030 Plus.

Like other GPS bike computers, you get insight on speed, total distance, altitude and distance time with help of the GPS, GLONASS and Galileo satellites.
Furthermore, the GLONASS and Galileo satellites will help track location in places that the GPS finds hard to locate.

To ensure that you have peace of mind when exploring new places, there is a turn navigation prompt and a simple map to guide your direction.

When coupled with a heart rate monitor, the bike computers will promote the safety of a rider by transmitting real-time information on your vitals and location. This way, people with access to the data can respond promptly in case of a health or safety emergency.
You can consider purchasing the Garmin edge 530 sensor bundles to pair with your cycle computer as it is cheap as a package. A battery can last upto12 hours which is enough for a day's ride.

---
Buyer's Guide: How to Choose the Best Bike Computers
Here are things to look out for when selecting a best budget bike computers.
A large display screen with contrast lighting to ease your visibility regardless of the light conditions.
The bike computer should be weather resistant, suited for all elements like rain, gravel, dust, etc.
It should be easy to use with a simple navigation menu that is not bound to fail. The layout should be comprehensible and its font legible.
A strong mounting bracket that is firm and secure but still easy to attach and detach.
The necessary sensors for your riding needs. You can separately purchase the missing or extra sensors you require.
Price – If you are looking for a cheap wireless cycling computer or wired one, understand that it is only designed to keep track of a few basic functions like trip distance, speed and distance. For bikes with more advanced features, the price will go higher.

FAQs
Are bike computers worth it?
Yes! For competitive bikers, bike computers are a must-have as they assist to review and improve performance. They are incredible additions to manage bike rides. New and averagely experienced riders will require a bicycle for monitoring and guidance.
Wired or wireless bike computer, which is better?
Both of these bike computers give you insight into basic functions like current, maximum and average speeds, cadence, elapsed time, clock and much more. Their pros and cons almost balance each other out.

Wired computers have longer battery lives and are often cheaper. On the other hand, wireless bike computers can be synced to other devices for data storage and transmission. But they are more expensive with lower battery lives. With this, I would advise that you pick something suited to your needs and budget.
How accurate are GPS bike computers?
GPS in bike computers are highly accurate when in good coverage. If their coverage is distracted, the reverse is true.
Do all bike computers have GPS?
No, not all computer bikes have GPS. It all depends on the brand and price range of the computer bike. Bike computers with GPS are slightly expensive.

Conclusion
One important yet underrated bike accessory is the bike computer. If you want to know your progress in terms of speed and time, then this is your go-to bike accessory. My best budget bike computer review contains some of the best products you can land.

You can also get to join a like-minded community of bikers and settle for bike computers with advanced features. You are in complete control of your experience. You can customize your riding preferences with any of the above-budget bike computers.