Best Bicycle Bells And Horns Reviews & Ratings
Getting the best bike bell is important for both your safety and the safety of those around you. Just like you need drivers to see you, you also need pedestrians and other cyclists to hear you loud and clear.

Looking For The Best Bike Bells?
In this guide, we'll help you find the best bell for any bike and explain how to choose a bike bell.
We hope you will love the products recommended here,FYI we may get a small share of the sale if you buy through our links and it will not affect product price in any way
The 10 Best Bicycle Bells
Accmor Classic Bike Bell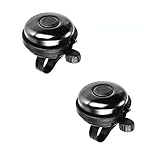 This high-quality bike bell from Accmor rings loud and clear in any setting. The crisp ring can be heard even at high speeds on a road bike. So it's perfect for both training and commuting. Another plus is that this bell is easy to install and adjust. All you need is a screwdriver or a bike tool to fix it to your handlebars.
The Accmor bell is great for almost any rider. It's especially suitable for road bikes and urban commuters.
Knog Oi Bike Bell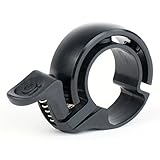 This simple Knog Oi bell is designed to close completely around your handlebars. That means it takes up less space than a traditional bike bells. Even better, this bell is designed with slots for your break and shifter cables. So, you can clean up your bike while adding an important safety tool. The only downside is that it's not as loud as traditional bells, since the handlebars mute the sound somewhat.
This Knog Oi bike bell is great if you don't have much space on your handlebars thanks to the wraparound design. But if you have room to spare, we'd recommend a louder bell.
REKATA Aluminum Bell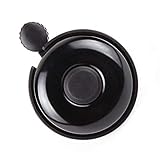 This long lasting bike bell looks good and rings loudly. It offers a traditional 'ring ring' sound that's both recognizable and polite. The lever is easy to operate, and it fits on almost any set of handlebars. Just note that while the bell is advertised as aluminum, it does have some plastic parts inside. The good news is that REKATA offers a lifetime warranty.
This is a great bell if you need to be heard over the din of traffic. However, we do have to ding it for the plastic construction on the inside.
Bell Minnie Mouse Bike Bell
If you're looking for a long lasting bike bells for a child, it's hard to beat this Bell made Minnie Mouse-themed bell. It's good looking, so your child will be more excited to use it to make themselves heard. The biggest downside is that the bell's construction is almost entirely plastic, so it may not survive a small bike crash.
The Minnie Mouse bell is a great way to get your kids into cycling. It's cute, loud, and looks great.
Sportout Bike Bell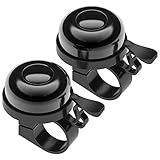 It's hard to beat this deal from Sportout. You get two bike horns for under $6. That means you can outfit both your bike and a partner's bike, or your road bike and your mountain bike. The bell is loud enough to be heard by cyclists 50 yards ahead of you, so you can plan your pass in plenty of time. On top of that, the bell is small in diameter so it doesn't take up much space on your handlebars.
If you're looking for a bargain, this is the bell for you.
BONMIXC Bike Bell Brass Mini
You want your bike accessories to look good on your handlebars. This brass bell does just that, plus keep you safe thanks to it's loud ding. Short of putting a horn on your bike, this bell is the next best thing to help you be noticed on the road or trail. One thing to keep in mind, though, is that it only fits on narrower bars between 21 and 23 mm in diameter.
If you want to give your commuter bike a stylish look, this BONMIXC bike bell will help you get noticed.
Firmstrong Classic Beach Cruiser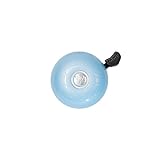 This old school bike bell from Firmstrong comes ready to fit on any bike. It's particularly suited for cruiser bikes that can match its unique aesthetic. Plus, this bell is available in multiple color options so you can show off your style. This bell can fit most handlebars or even your seat post, but the bell comes with more hardware than you might expect. Installation takes a few minutes.
As a cyclist, you want your bike to look good. This colorful bell can help while also helping you be seen and heard.
Pioneeryao Bike Bell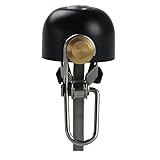 This stainless steel bike bell has a unique look that's sure to turn heads. The odd looking bell dome is tall and narrow, so it sticks up from your bike's bars. The tall dome allows it to produce one of the best, most crisp rings of any bell we've reviewed. It's loud enough for other cyclists and pedestrians to hear you clearly. The biggest downside to this bell is the cost - steel construction doesn't come cheap.
Don't let the large size of this bell dissuade you. It looks great and it's highly durable thanks to the steel construction.
JAOK Bike Mtb Bell
This O-shaped bike bell is perfect for mountain bikes. That's because the wraparound design won't come loose or fall off your handlebar even if you're bouncing roughly down a trail. The bell's diameter is highly adjustable, from 22 to 31 mm, so it fits almost any handlebars - including drop bars if you do want to use it on a road bike. Like other bells of this shape, though, the JAOK bell isn't as loud as a typical bell with a dome.
If you spend most of your time as a cyclist on rough trails, we recommend this bike bell. It's sturdy, durable, and highly adjustable.
Mirrycle Incredibell Original Bicycle Bell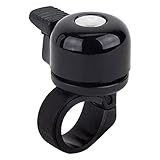 The Incredibell is a simple removable bell that does almost everything well. It offers a loud sound so that you can be heard clearly whether you're on the road or trail. Plus, it's available in two sizes. The bell fits almost any handlebar and goes on and off with just a screwdriver for fast removal.
The Incredibell is a good all-around choice for any cyclist. If you really want to make sure pedestrians see you, upgrade to the XL version.
How to Choose a Bike Bell
With so many bicycle bells on the market, how do you make sure to buy the right one for you? Let's take a closer look at why you need the best cycling bell and how to select a model.
Why Do You Need a Bicycle Bell?
The number one reason to add a bell to your bike is for safety. As a cyclist, you have to worry about more than just cars. You also have to worry about running into pedestrians and other cyclists.

While you could yell out to people before you pass them, that often doesn't work as well as you might think. In many cases, people simply stop and turn - causing you to run into them. Or they might react in ways you don't expect, causing a cycling crash.

With a bell, your intentions are instantly recognizable. Every time you ring your bell, the people ahead of you know you're coming and can safely get out of the way. In many cities, a bike bell or bike horn is legally required for cyclists. They're simply that effective at preventing cycling accidents.
Ring and Volume
The most important thing you need to consider when choosing a bicycle bell is whether it's loud enough. All of the top bike bells produce a surprising amount of volume so that anyone up to 100 feet in front of you can hear you coming.

If you ring your bell and no one notices, it's probably not a very good model. Loud bike horn are the only ones you should consider.
Another important thing to consider is the type of ring your bell produces. Some bicycle bells make a classic "ring" sound, like the dialer on an old rotary phone. Others have a more clear and crisp ring. Some bells make a ding dong sound, similar to a doorbell.

Any of these sounds can work for ensuring that your noticed. You should feel free to choose a bell that best suits your style. However, keep in mind that you're going to be listening to the sound thousands of times over the years to come. So stick to a sound that won't get on your nerves over time.
Bell Design & Installation
Just like bells come with many different noises, they also come in many different designs. You can find models with tall domes that stick up from your handlebar, or you can find models that are wide and flat. Again, this is mostly a matter of choosing the style that best suits your bike and your personality as a cyclist.
If you ride a mountain bike, you might want to consider choosing a wraparound-style bell rather than a more traditional design. The advantage to these O-shaped constructions is that they affix more firmly to your handlebar. So, even if you are bouncing aggressively down trails for most of your riding, you won't have to worry about your bell falling off.

Installation is also worth thinking about. Many of the best bicycle bells install in seconds with just a screwdriver or bike tool. But some models require a bit more work or even specialized tools. In general, simpler is better. That way, you can reattach or tighten your bell while out riding if you need to.
Construction
Bike bells are made of all different materials. The most common are aluminum, steel, brass, and plastic. Aluminum and steel are both inexpensive, light, and extremely durable. Whenever possible, we recommend opting for bike bells that are made entirely out of these materials.
Brass bells tend to be a bit more expensive, but they share many of the properties of aluminum and steel models. Many cyclists prefer a brass bicycle bell, in fact, because they gave a classic look. On commuter and cruiser bikes, this vintage style can be a significant asset.

Many bike horns incorporate at least some plastic into their construction. After all, plastic helps keep the cost of your bell down. But keep in mind that plastic is much more prone to breaking than any metal material, so plastic can significantly limit the lifespan of your bell. If you do choose a model with a plastic design, make sure to check reviews and see if the manufacturer offers a warranty.
Handlebar Diameter
The design of most modern bicycle bells requires them to fit around the handlebars of your bike. So, you'll need to check the size of your handlebars ahead of time and make sure that the bell you want will fit.
The good news is that compatibility issues are rare. Most bells are versatile enough to fit handlebars of any size, since they can be tightened or loosened with a screw. But there are typically limits to how far they can stretch or shrink. It's better to check ahead of time than end up with a bell that won't fit on your bike.
Competition is fierce when it comes to choosing the best bike bells. But we think the Accmor Classic Bike Bell stands out the overall best bicycle bell for any user. This bell delivers a high volume sound that's loud and clear in almost any setting.
Plus, the bell is made with a durable aluminum construction and installs with just a single screwdriver. Just be sure to check the size of your handlebars, since this bell doesn't work with as wide a range of bikes as some other models.

Having the best bell for bike is essential to your safety while riding. Whether you're on the road or trail, being heard by pedestrians and other cyclists can help avert accidents.
Always user your bell when coming up on another person, and encourage other cyclists to use bells, too. That make the entire riding community safer.